World Cup: Clint Newton reponds to criticism of USA team
Clint Newton has hit back at criticism that the USA team are merely flying a flag of convenience at the World Cup.
Last Updated: 13/11/13 2:40pm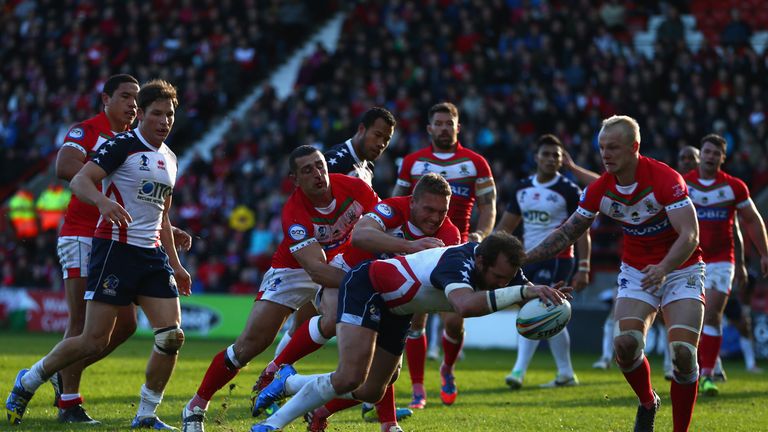 Although, like the vast majority of his team-mates, the former Hull KR forward speaks with an Australian accent, he is one of a host of players with immaculate American credentials.
And the South Carolina-born Newton says no one will be prouder to wear the stars and stripes when the Tomahawks take on Australia in Saturday's World Cup quarter-final in Wrexham.
"I'm a very passionate United States person," he said. "It really does get my back up when we've copped a load of criticism over the last few weeks from the foreign press over here saying we're bending the rules and that some of us shouldn't be qualifying.
"You don't have to look too far, at some of your local sides, to count how many players were actually born and bred in certain countries that are playing in this tournament.
"It's no different to the Olympics. England seem to be pulling people from all over the place to represent them in the Olympics, aren't they?
"We've played by the rules - we've got 11 nationals and this is something that we're proud of."
Newton, 32, who was born in America while his famous golfing father Jack was playing on the US circuit, has played a key role in the Tomahawks' surprise wins over the Cook Islands and Wales that enabled them to top Group D and earn a place in the knock-out stages.
The ball-playing back-row forward, who spent four seasons in Super League with Hull KR from 2008-11, realised a long-held ambition when he made his debut for the USA in their opening World Cup match in Bristol.
"It's taken the best part of 13 years for me to get to his point," Newton said. "David Niu got in touch with me in 2000 but I was playing with the Junior Kangaroos at that point.
"Then unfortunately pretty much every year after that I was either injured or suspended or was needing operations and what not.
"I can't thank the guys enough who got us into this position by winning the qualifiers to let me be a part of this. It's a pretty humbling experience because those guys worked their tails off to get us here.
"For me to now jump on at the business end of the trip, I'm honoured and just hopeful to do them proud."
Minnows
Newton has also been impressed by the displays of other 'minnows' like Scotland, Italy and the Cook Islands in helping turn the 2013 World Cup into probably the most successful to date.
"The tournament has been tremendous in a lot of aspects, not least in the closeness of games, and that's why it's frustrating to hear people say the qualifications need to be looked at," he added.
"If you're solely reliant on guys that are either born there or were based there or bred there, then would we be having a World Cup at all?
"Or would there just be blow-out scorelines everywhere and that's not good for the game is it?
"Shouldn't people be wanting us to go well?
"If the United States perform well at this tournament and it gets half a per cent of recognition in the United States, then that's bigger than the whole television audience that watches rugby league in Australia just about."