NZ ready for the unexpected
Dan Carter has urged New Zealand to be prepared for the unexpected when they take on France in Sunday's World Cup final.
Last Updated: 20/10/11 5:48pm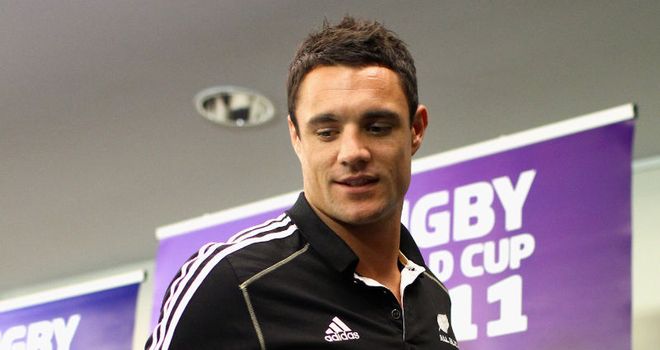 Dan Carter has urged New Zealand to be prepared for the unexpected when they take on France in Sunday's World Cup final.
The All Blacks star, out of the tournament with a groin injury, acknowledges France are dangerous opponents - especially when they have been written off.
"France are our nemesis at World Cup time - we all know the past that we've had with the French," he said.
"They are such a dangerous side, especially when their backs are against the wall. Having a lot of doubters, that is when they step up, which they showed in 1999 and 2007 (against New Zealand).
"We have to expect the unexpected. The French are the best at doing something to surprise us, so the guys realise that we are in for a huge challenge."
Emotions
Carter, meanwhile, has reflected on the emotions he has gone through since seeing his World Cup ambitions so cruelly destroyed by injury.
"I went through all sorts of emotions," he added.
"I was pretty gutted the first few days. I guess anger did creep in a little bit because I was just so gutted and didn't really want anything to do with the World Cup.
"And then it kind of hit me after five or six days that I realised the World Cup is here in my home country and I was going to make the most of it, like everyone else, and get to the games."
And Carter has been playing a role working with his squad replacement Aaron Cruden, who is set to start in the number 10 shirt against France.
"I continue to work pretty close with the nines and 10s, so my job as part of the team has just continued in that role," he said.
"I have been really impressed with Aaron. He's been involved with the team all season, he's just slotted in nicely and he is making the most of his opportunity, which is awesome."
Steve Hansen, meanwhile, has straight-batted speculation about his coaching future as New Zealand prepare for the final.
Former Wales coach Hansen, current assistant to All Blacks supremo Graham Henry, is among the favourites to succeed his boss when he steps down after the tournament.
But Hansen said today: "It's not even something I am thinking about at the moment.
"Four years ago we got knocked out in the quarter-final of a World Cup, and three coaches (Henry, Hansen and Wayne Smith) made a decision to try and re-get the job, and we did that.
Sacrifices
"We were lucky enough to get reappointed, and last weekend we earned the right to turn up on Sunday at nine o'clock to try and win the thing.
"That is the only thing I am thinking about. I don't really care what happens after Sunday. All I am focusing on is trying to get a team ready to turn up to win.
"We are really excited, and there is no room for anything else at the moment.
"It's just a total focus on trying to get the team together to play really, really well because we know we're going to have to. The French are going to turn up and play well.
"Not too many times in your life do you get the opportunity for something special to happen.
"You are now not only doing it for yourself, you're doing it for all the people who have made sacrifices and for our country, so you've just got to make sure you get it right."