Top 14: Clermont Auvergne pull off late escape against Bordeaux-Begles
Last Updated: 21/12/12 9:59pm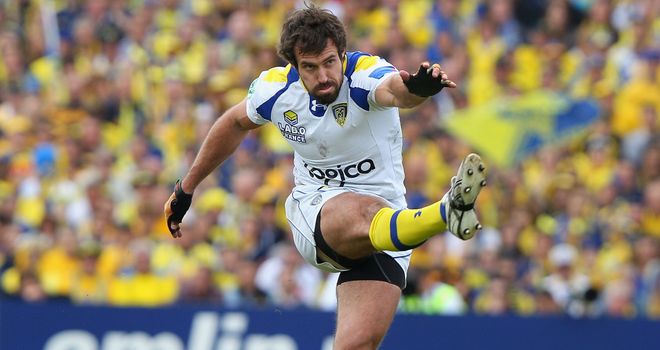 Brock James: Clermont's match winner in Bordeaux
Two late Brock James penalties saw Clermont Auvergne come from behind to win 28-24 at Bordeaux-Begles in the Top 14.
Bordeaux took the lead late in the second half thanks to tries from flanker Louis Benoit Madaule and hooker Wayne Avei, before James struck with two penalties in the final seven minutes.
Regan King's try in the 50th minute edged Clermont ahead after a narrow first half saw Camille Lopez and David Skrela trade penalties, with Clermont scrum-half Ludovic Radosavljevic adding a drop goal.
Bordeaux were unable to hang on to a 22-24 advantage as James struck to give Clermont's much-changed side a narrow victory.
Top 14

Fri 21st Aug

Toulon

0 - 0

Racing Metro Paris

Sat 22nd Aug

La Rochelle

0 - 0

Clermont Auvergne

Bordeaux-Begles

0 - 0

Castres

Grenoble

0 - 0

Agen

Montpellier

0 - 0

Oyonnax

Stade Francais

0 - 0

Pau

Toulouse

0 - 0

Brive

Sat 29th Aug

Agen

0 - 0

Toulouse

Brive

0 - 0

Stade Francais

Castres

0 - 0

Toulon

Clermont Auvergne

0 - 0

Grenoble

Oyonnax

0 - 0

Bordeaux-Begles

Pau

0 - 0

Montpellier

Racing Metro Paris

0 - 0

La Rochelle

Sat 5th Sep

Oyonnax

0 - 0

Clermont Auvergne

Agen

0 - 0

Racing Metro Paris

Bordeaux-Begles

0 - 0

Montpellier

Grenoble

0 - 0

Pau

La Rochelle

0 - 0

Brive

Toulouse

0 - 0

Castres

Sun 6th Sep

Stade Francais

0 - 0

Toulon

Sat 12th Sep

Brive

0 - 0

Agen

Castres

0 - 0

Oyonnax

Clermont Auvergne

0 - 0

Bordeaux-Begles

Montpellier

0 - 0

Stade Francais

Pau

0 - 0

Toulouse

Racing Metro Paris

0 - 0

Grenoble

Toulon

0 - 0

La Rochelle
Related
Poll