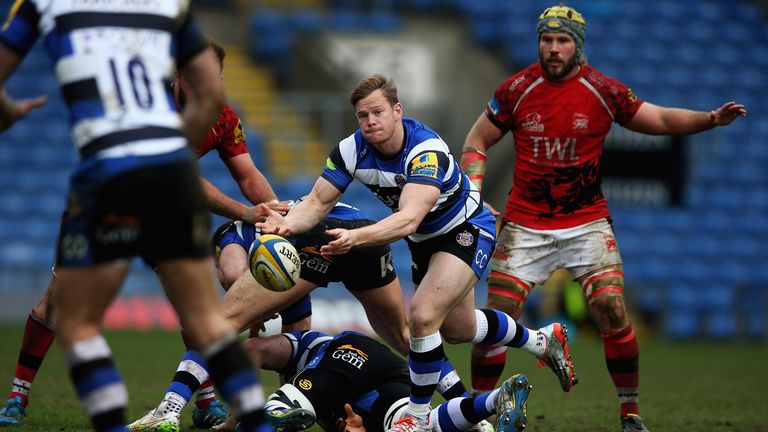 London Welsh will be relegated from the Aviva Premiership at the end of the season following a 29-14 loss to Bath on Sunday.
After Bath notched up two tries in the first quarter of the game it seemed as though Mike Ford's men would ease to a comfortable victory over a winless London Welsh outfit, but the home side - fighting to stay in the top flight - fought admirably to the end before defeat reduced them to a stint in the Championship next season.
London Welsh, who face an uncertain future, now find it impossible to remain in the Premiership next season - even if they win all their remaining games with bonus points.
The loss would have disappointed the coaching staff, given the consequences of it, but the first-half performance was one of London Welsh's better this season, with only three points in it at the break.
However, it was a familiar points flurry that befell the Exiles in the second half, as Sam Burgess, Leroy Houston, and Alafoti Faosiliva all dotted down for the visitors in the second half.
The scoring was opened by a catch-and-drive lineout from Bath, with hooker Rob Webber claiming the opening score for Bath. When Welsh fell foul of the referees whistle in the 23rd minute it looked to be more of the same as Bath opted for the corner once again.
The lineout was messy, however, which did not allow for a driving maul, but did allow for No 8 Leroy Houston to ghost through the defence and cross the whitewash in the corner. In windy conditions, Tom Homer failed to convert either score.
The deficit seemed to encourage the Exiles, who scored five minutes later through outside centre Nic Reynolds. The conversion from Tristan Roberts was successful, meaning the teams went into the break with Bath hanging on to a 10-7 lead.
In the second half Sam Burgess got the scoring underway for Bath, but still Welsh remained in the encounter as Bath were forced to wait until the 64th minute before securing the win with a try from Houston. Faosiliva's effort followed two minutes later to make it 29-7, but it was Welsh who had the final say in the match.
The home side won a series of penalties which they sent to the corner, and eventually the rumbling pack of forwards managed to drive Opeti Fonua over the line for the last try of the game.
A difficult touchline conversion was successfully negotiated by Will Robinson, but Bath held out for the final five minutes for a 29-14 win to send the home side crashing out of the Premiership.