The Rugby Championship: Our experts name the players to watch
Panel assess their nation's chances...
Last Updated: 12/08/14 2:27pm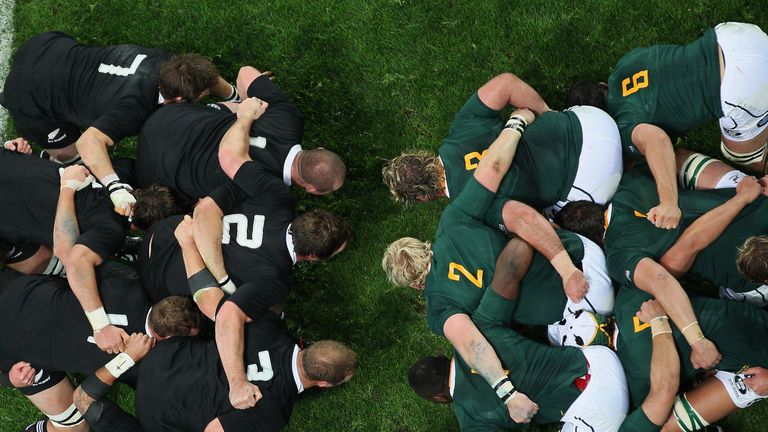 The 2014 Rugby Championship - which begins on Saturday - has a hard act to follow after the superb fare offered up 12 months ago.
Last season was the year of 'that game' – one of the greatest matches ever played as New Zealand retained The Rugby Championship title after a thrilling 38-27 victory over South Africa at Ellis Park.
It has been a season for rewriting the record books, though. So far in 2014 we have seen the New Zealand 7's side lose their unbeaten streak at the Commonwealth Games and the Black Ferns succumbing to only their second ever defeat at a Women's World Cup. Is the writing on the wall for the All Blacks as they look to extend their 17-game winning streak?
Being ranked the second best team in the world is not good enough for South Africa who will be looking for the top spot come the end of the tournament. They were the most improved team in 2013 and much is expected of them this year. There are slight concerns over some of their big ball carriers who have had a bruising Super Rugby season but there is a welcome return for the impeccable Juan Smith who showed he is still at his best in the Heineken Cup final.
Under Ewen McKenzie, Australia have really developed and the Waratahs' success in the Super Rugby competition has added an extra swagger to their step. They have found a few forwards and have always had backs dangerous enough to scare anyone. In Michael Hooper and Israel Folau they have two of the most influential rugby players of the year.
Argentina have yet to find a win since they joined the competition in 2012, however they have drawn with the Springboks and pushed both Australia and New Zealand close: will 2014 be the year they record their first historic win?
Here, our experts give their views on the state of affairs for their teams and select their players to watch...
Sean Fitzpatrick on New Zealand
New Zealand are in good shape to maintain their 100 per cent record in the Rugby Championship – and I can see them winning all six matches for a third year in a row this season.
With the World Cup 12 months away, the next 10-12 Tests are really important and New Zealand know that. Every game matters because they don't want to lose and give their opposition any confidence. Australia, for example, have had a really good Super Rugby campaign and have become a real threat. The first match of the Championship in Sydney is set to be a cracker – but the All Blacks will be determined to put a stake in the ground and squash any enthusiasm Australia may have out of them.
In terms of injuries, the loss of Dan Carter for the first half of the tournament is a blow but Aaron Cruden has done really well and this New Zealand side has plenty of depth now. The squad is pretty settled and the majority of the players involved in the Rugby Championship will be going to the World Cup next year.
So, the focus for the All Blacks is very much on their own level of performance. In every game they play they are trying to get better and match the standards they've set for themselves.
South Africa have shown, in terms of Test rugby, they're as good as anyone and the final match of the tournament between them and the All Blacks in Johannesburg will hopefully be a showdown for the title. But this is shaping up to be one of the closest Rugby Championships we've seen.
Players to watch: Dane Coles, the hooker, is now the incumbent at No.2. It's been an area New Zealand have struggled for depth in but I see him as a player who could potentially go through and dominate that position. Kieran Read, of course, should be a standout, while Ben Smith has been the All Blacks' star player this year in terms of Super Rugby and he'll probably start at 15. New Zealand have the two best locks in world rugby in Brodie Retallick and Sam Whitelock, and young centre Malakai Fekitoa, the find of the year, could get an opportunity if Conrad Smith gets injured or they want to rotate. 
Michael Lynagh on Australia
The Waratahs' Super Rugby win has really given Australian rugby a shot in the arm. A lot of those players will be involved in Australia's Rugby Championship campaign and that will definitely help give everyone confidence heading into the Bledisloe Cup and The Rugby Championship. I also think the Waratahs win has rejuvenated the public in Australia too – anyone who went to that final will definitely be turning up again because it was such a superb game.
It is great to see so much skill and talent in the backline and I think Ewen McKenzie is going to have a few selection problems – but for the right reasons. If you had said to me 18 months ago that Will Genia would be out, I would have thought that Australia were in deep trouble. That is not the case anymore – Nick Phipps and Nic White have played really well which bodes well for the Wallabies.
McKenzie has problems up front though, especially at hooker, and this is a real chance for Nathan Charles to step up and show what he can do.
I am looking to see Australia move on from where they left off last year and from their Test series against France. We saw them trounce France in the first Test and they found a different way to win the second one – it was not very exciting but showed that they can play and win in a different manner when needed. The Waratahs' style of rugby really suits Australia and I really hope they play in that style. We have all these brilliant backs who can use the ball so we should use them. Australia also have some wonderful forwards – they are getting bulky and powerful and really carry the ball well. In Michael Hooper we also have a player who can bring that all together and blend it all. I want to see Australia run the ball and score some tries.
Players to watch: Bernard Foley has been outstanding all through the Super Rugby season. His confidence is sky high and he is taking responsibility for what is happening out on the pitch. No one is questioning his position at No.10 for the Wallabies. Will Skelton is another one to look out for. He may not start but when you have played 60 minutes of rugby and all of a sudden this giant of a man walks on – well, you had better be ready!
Thinus Delport on South Africa
It's going to be a tough year for the Boks because they've suffered a few injuries and there is a resurgent Australia waiting for them this year, too. We will be looking to get that elusive win against the All Blacks but to do that our discipline levels need to be better than they were last year.
If you look solely at Super Rugby form I think the All Blacks are ahead of us in terms of depth; they had to contend with a very competitive conference. We have had some injuries and lost a few players going overseas so this will be a good test of our strength in depth.
We did really well in 2013 in terms of scoring tries and I think we will look to build on that. Heyneke Meyer will be focusing on keeping the ball in hand a little more but personally I would like to see more discipline from our defensive structures. Mistakes in defence cost us last year, especially against the All Blacks, which allowed them to score crucial tries when they were needed – particularly in that final game.
Our forwards will be heavily tested at the breakdown. Other teams will be looking to slow us down in that department so we will need to be clinical in protecting our ball if we are to take the trophy. Up front Duane Vermeulen will need to play really well in his battle against Kieran Read who has come back from injury and hit top form again
Argentina seem to have prepared a lot better this year; they will be a much bigger force than they were last year. It's better playing them in the first two games than it is starting a Rugby Championship with back-to-back games against the All Blacks, but the Boks' problem is that if we have an easy game first up against Argentina we tend to struggle when we play them away the next week, so we will need to focus on ensuring we are focused throughout this tournament.
Players to watch: Based on last year's form Willie le Roux will be key to the Springboks in 2014. I also think he will be closely watched by all the other teams in the competition because they now know what he can do. He had a very impressive Test series against Wales and showed again that he can turn a game around with individual brilliance. It will also be interesting to see how much game time Handre Pollard gets as one of the younger guys in the team.
Gonzalo Camacho on Argentina
Argentina will have talked a lot about the way they moved the ball around effectively in the games leading up to this Rugby Championship. They employed a much wider and more open game plan which meant they were able to expose teams in the wider channels as well as in the close quarters.
They will be looking to move the ball around and play the game with the same rhythm with which the other three countries play the game.
Last season, with the exception of the first game against South Africa, our defence was solid and we will be looking to continue that good form in the next few weeks. It's always great to see Marcelo Bosch direct the backline; he brings the line up very effectively in defence. We've always had an effective pack, but if we can combine that with solid defensive structures we will be in contention this year.
The fans and support we have in Argentina is massive. It's been increasing ever since we came third in the World Cup in 2007 and the atmosphere at our home games lifts the team enormously. The crowd will have to play its part in ensuring visiting teams don't feel too welcome when they take the field.
The team will need to vary the way it plays. You want to play your own brand of rugby but that doesn't mean you mustn't ever adapt it. In order to win this competition you have to play intelligent rugby and, depending on which team you are playing, you need to play in the right places with the right strategy.
You know that if you play close to your own line against these three teams there will be plenty of pressure on you because they are very unforgiving when that ball gets turned over.
Players to watch: Marcos Ayerza will be a big factor in the competition, not just for his ability in the scrum but for the experience he will pass on to some of the newer players in the squad. However it will be the performance of Nicolás Sánchez at fly-half that will largely determine how much success we can expect from the Pumas this year.
Watch Australia v New Zealand live on Sky Sports 4 on Saturday, with coverage from 11.05am. And South Africa v Argentina will be on Sky Sports 3 at 4.05pm.