Sport in 2014: Chris Kamara, Nasser Hussain, and more reveal their hopes
Chris Kamara, Nasser Hussain, Dewi Morris and more tell us what they want to see happen in 2014.
Last Updated: 01/01/14 10:26am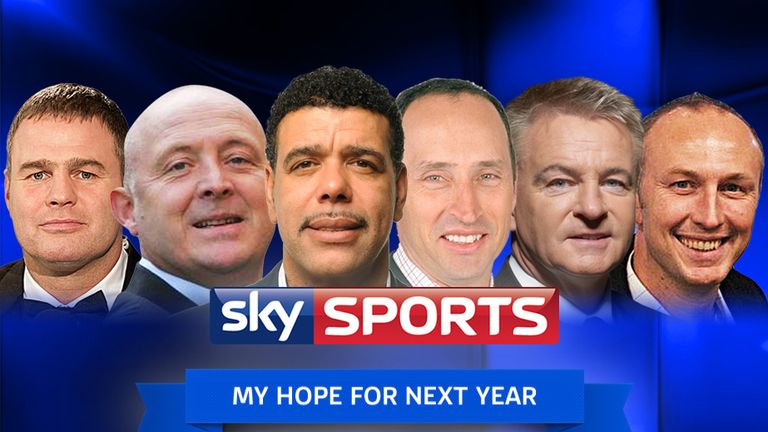 The Sky Sports pundits know most things about their sport, but even they can't get a crystal ball out and tell us what is going to happen over the next 12 months.
But all the famous faces know what they want to see transpire, so scroll down and see just what our experts are hoping for...
Chris Kamara - Football
Like most football fans, what I'm really looking forward to in 2014 is the World Cup - and I'd like to see England get to at least the semi-finals in Brazil. I was quite pleased with the draw we got and reckon we will be able to get out of that group. Although, hopefully Luis Suarez has burnt himself out by then because at the moment he's unplayable! I think we've got the players and ability to get down to the final four, though. We'll continue to get better under Roy Hodgson and, with less expectation on the England team for this tournament - some people aren't even convinced we'll get out of the group - that might help us.
Nasser Hussain - Cricket
The World T20 in Bangladesh should be great. I always enjoy the T20, a short, sharp, quick tournament, full of crash, bang, wallop and occasionally dancing - remember the West Indies doing it Gangnam Style after they won last time? It's usually a very good tournament. I'm looking forward to England against India, as well. There's always a bit of history there and with Duncan Fletcher being their coach and coming back to England there is a bit of extra spice. India lost last time 4-0 so there might be some payback this time with the likes of Virat Kohli and Rohit Sharma playing well.
Charlie Nicholas - Football
I have to go with Arsenal getting a trophy... any trophy! My preference is the Premier League and, although they have never won it, I am not sure the Champions League is that important to them right now. We have had similar periods of time where we haven't won anything but this team are gradually starting to realise they need a reward. I know I am blinkered when it comes to Arsenal - my football club - and its success, but winning that Premier League title in 2014 would be the ultimate reward for patience, persistence, loyalty to the manager and to a lot of players as well, like Aaron Ramsey. I know I was as critical as anyone but I gave them stick hoping they would transform and I think at last they are ready to do that. There will be no-one in front of me in the queue if we can watch them celebrate the Premier League title. This has got to be the time...
Dewi Morris - Rugby Union
I hope everyone sees sense and we see the English teams come back into the Heineken Cup. We have the World Cup in 2015 and the English players will miss out on that stepping stone. I want Stuart Lancaster to be able to pick his best players playing at the top level. England head to New Zealand in the summer for a three-Test series and then face South Africa, New Zealand and Australia in the autumn before the World Cup - they are going to need as much exposure to top level rugby as they can get. It would be a travesty for England if their players are not getting the game time at that level.
Glenn McCrory - Boxing
With Vitali Klitschko having seemingly retired from the game, I am looking forward to seeing whether a new heavyweight emerges from the pack. We have been hoping for a new sensation in that division for a while, and I really want to see Anthony Joshua be that man, so hopefully 2014 brings positive signs. I also want to see the continuation of good matches and boxing being really competitive - and, of course, Froch-Groves II.
Neil Reynolds - American Football
The mischievous part of me would quite like to see Alex Smith and his Kansas City Chiefs defeat the Colin Kaepernick-led San Francisco 49ers in the Super Bowl. But the biggest thing I want to see in 2014 is further growth of the sport of American football in the UK. I want to hear and see evidence of more people playing this great game we all love so much and I want British fans to send a strong message back to the NFL owners in the United States. I want the British fans to tell the owners how much we love the sport of American football and how much we deserve our own team. And for that message to be delivered in 2014, we have to see a sold out Wembley Stadium - not once, not twice but three times.