Sports in 2014: Jamie Carragher, Bob Willis and more reveal their hopes
Jamie Carragher, Bob Willis and more tell us what they want to see in the sporting world in 2014.
Last Updated: 03/01/14 7:57am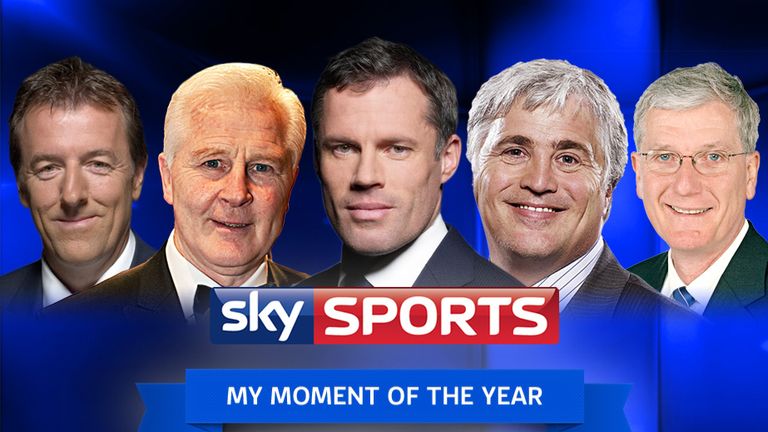 The Sky Sports pundits know most things about their sport, but even they can't get a crystal ball out and tell us what is going to happen over the next 12 months.
But all the famous faces know what they want to see transpire, so scroll down and see just what our experts are hoping for...
Jamie Carragher - Football
I'm looking forward to the World Cup, especially with it being in Brazil. World Cups over the last few years haven't really lived up to expectation but I think this one will, and I cannot wait to see the likes of Cristiano Ronaldo and Luis Suarez strut their stuff. What makes it even more exciting is that the hosts look to have a great chance; they beat Spain in the last Confederations Cup and perhaps they can win the World Cup for a sixth time.
Stuart Barnes - Rugby Union
I am looking forward to seeing whether Joe Schmidt can take the disparate Irish regions and turn them into a Test team with the passing skills, the vision and the accuracy of Leinster. I am also hoping that England will produce a midfield capable of creating as well as tackling. I am not holding my breath but let's indulge in some blind faith. I'm also looking to Our Conor winning the Champion Hurdle at Cheltenham.
Bob Willis - Cricket
I can't wait to see how the new national selector and his fellow men get on with rebuilding this England side, if that's what they are going to do. They've thrown Joe Root in, and he's had some success, and they've thrown Ben Stokes in, too, with good results. Perhaps they need to integrate more youngsters into the side in 2014 to prepare for the Australian's return in 2015 because England will be smarting after their humiliating defeat Down Under and they'll certainly want to get their own back in 18 months' time. We'll see how much progress has been made when India tour; a lot of people think India are obsessed with one-day and Twenty20 cricket but they were humiliated themselves the last time they were in England and I'd think they'd want to put that right. They've got a heavy workload but I'm sure a fine performance against England will certainly test the home side. They've certainly got some destructive batting and I'm sure that England will be preparing pitches for their seam bowlers.
Jim Watt - Boxing
It has to be George Groves. His fight with Carl Froch was such a highlight that we want to see more of him and we want to see him win a world title. I am not sure the Froch rematch will happen so I would like to see him take a different avenue in the super-middleweight division. Maybe Andre Ward is one step too far, so what about Sakio Bika (WBA) or Robert Stieglitz (WBO)? If I was looking after George, knowing he wants that rematch with Carl, I would get him a title of his own then a unification showdown would not only make it easier to sort out, but he would also get a more equal share of the money. I would love to see Groves winning his own world title.
Matt Le Tissier - Football
I am looking forward to the conclusion of the Premier League season. I am looking forward to the last couple of weeks when there is still four or five teams mathematically capable of winning the Premier League. I think the way the season has gone so far it is looking like that could well happen and we have not had that happen for many, many a year. It has been a season of crazy results and I think it will continue that way and with a couple of weeks to go we could still have at least four teams with a mathematical chance of winning the title. I said Chelsea would win the title at the start of the season and they are a couple of points of the lead now. If you are looking at the teams that have been the most expansive and played the best football, then City and Arsenal would be the two teams that you would suggest would be in with a better chance. But as I backed Chelsea at the start I will stick with them.