Will Greenwood, Dean Ryan and Dewi Morris analyse Gloucester's scrum weaknesses
The Sky Sports experts explained the lessons to be learned by Gloucester after defeat at Leicester.
Last Updated: 29/12/12 9:28pm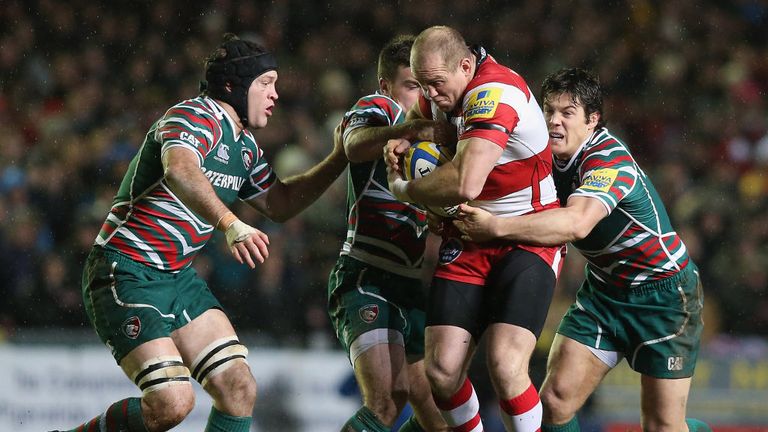 The Cherry and Whites were outplayed for much of the 17-12 loss at a rain-sodden Welford Road, but still led at half-time and almost snatched a late victory as they went agonisingly close to a match-winning try in the dying stages.
Sky Sports expert Will Greenwood said Leicester's overwhelming power in the scrum earned the victory for the home team, but said Gloucester deserve credit for hanging on to their coat-tails until the final whistle.
"It was difficult to ignore the scrum today because it was all about their domination," he said.
"In the first half their inability to take points at key times hurt them and the decisions to kick for the corners and get nothing or go for the posts and get nothing gave Gloucester some confidence.
"They played off scraps, they've got a unity and with that they'll keep coming and coming.
"There's no doubt Leicester deserved to win this, but Gloucester are showing that if you give them a sniff they'll push you all the way in this league."
Attitude
Dean Ryan agreed that Gloucester's never-say-die attitude was to be admired, but highlighted the front five as an area of weakness.
He pointed to 22-year-old prop Shaun Knight, who struggled throughout the match, and said he must improve if his side are to consolidate a top-four position.
"The game showed that Leicester aren't in great form and Gloucester won't go away," Ryan said.
"I think they've got some cracks there. That's the first time I've seen their scrum absolutely dismantled. The young lad, Shaun Knight, will need to go away and learn the lessons.
"They've been favouring Rupert Harden because he's a much bigger man and can hold that corner, but today was a serious test.
"If they are going to be contenders they can't afford to have that platform away."
Dewi Morris backed up that analysis, but as 2012 draws to a close he tipped Gloucester to remain in the top four - alongside Leicester, Harlequins and Saracens - for the rest of the season.
"You can't do anything without your props," he added. "That's why Dean Richards, when he first came to this country, said he would build it around the front five in the sense that it's where you get your platform from and where you get your base from.
"That's what Gloucester have got to learn, but they will get in the top four. The top four teams now will be in the top four at the end of the season."