Winner Gatland
Sky Sports rugby union writer Tony Curtis looks back at Warren Gatland's success as Lions coach.
By Tony Curtis - Follow me on Twitter @SkysportsTC
Last Updated: 07/07/13 2:45pm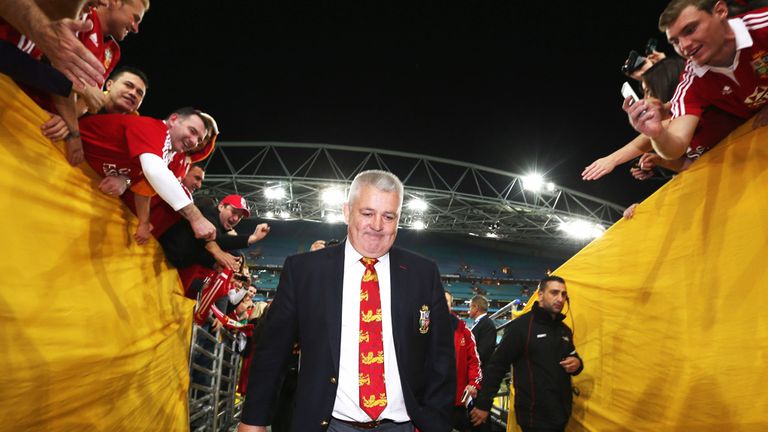 A first Lions series victory in 16 years is something that can never be taken away from him - and although he is contracted to Wales until after the 2015 World Cup, he could have his pick of jobs.
You get the feeling that the head coach role with the All Blacks is the one he would love - should it become available - however a return with the Lions in four years for the tour to his native New Zealand remains a possibility.
The 49-year-old, though, may have second thoughts after 'vitriolic abuse' following the dropping of Brian O'Driscoll.
Gatland always knew that the decision was going to be controversial, however the level of criticism was something that still came as a shock.
It was a brave decision - and one that wasn't made alone, with his backroom staff having a say - but it is one that can be totally vindicated by the fact that the Lions won the series decider in Sydney in such emphatic fashion.
And ultimately Gatland can say that all the critics of his tenure have been proved wrong.
Silenced
The furore over the number of Welshmen in the side - which was never down to some sort of nationalistic bias - and O'Driscoll's omission have been quickly forgotten.
Let's be honest, how many people remember that the line-up that won the series decider against the Wallabies in 1989 contained eight Englishmen and no Irishmen?
Gatland was employed to make the big decisions to ensure the Lions won the series and that is what he achieved. I can't imagine that anyone from the Home Union was booing as the Lions racked up a record win in Sydney because there were 10 Wales players in the starting XV.
Gatland also silenced those that said his tactics were too one-dimensional and that he had no 'Plan B'. Well 'Plan A' proved damn successful - and a record win has left those saying the Lions lacked creativity eating humble pie.
As much as the Lions are steeped in history and that the future of the most famous tourist is secured, wins will always silence the most vocal of critics and that is what Gatland delivered.
And the Kiwi can now go away and enjoy the success, and know that history will judge him as a series winner.