Rugby Championship: New Zealand v South Africa and Australia v Argentina assessed
Our pundits analyse the latest round of the Rugby Championship - including the controversy in Auckland.
Last Updated: 14/09/13 3:46pm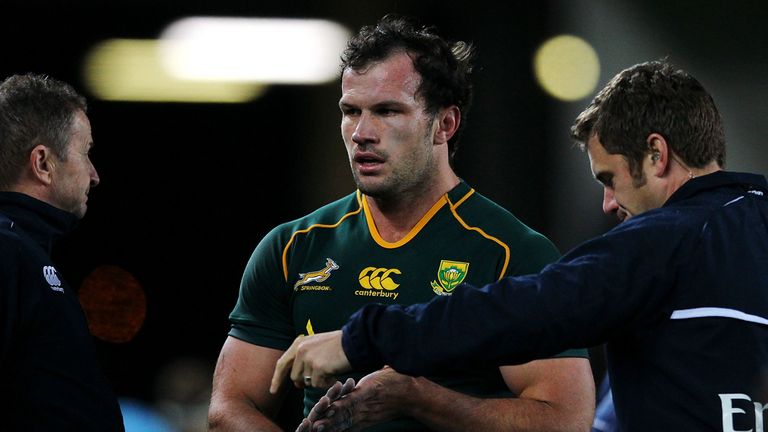 Both games were shown live on Sky Sports - and you can see the next round of fixtues on September 28 live on Sky, too.
Here's what our pundits made of the action.
New Zealand 29-15 South Africa
Former, NZ captain, Sean Fitzpatrick: The first 42 minutes was fantastic with the intensity of the two teams who were playing with real intent. There was huge physical presence and a great fight. I thought Beauden Barrett played really well when Dan Carter went off and the loose forward trio did really well. But you look at that first 42 minutes and there was concern - the All Black scrum was under pressure, the line out was under pressure... but for me it's a tragedy that after 42 minutes we have a player sent off who was yellow carded in the first half when he should'nt have been yellow carded.
Bismarck du Plessis was outstanding in the first half - it was a one man show. Was his first yellow a high shot? The call from the ref was no arms, which quite clearly was wrong; that yellow was wrong. The second yellow was a yellow, without question. But it was a result of the first yellow.
Former South Africa wing, Thinus Delport: On the back of the first yellow Brodie Retallick scored a well executed try and suddenly they went from 7-3 to 14-3 and immediately that put a lot of pressure on the Springboks.
It's hard not to bring in emotions here, but if you bring it back to the bottom line, South Africa weren't clinical enough when opportunities came along. The basic skills weren't there. There were too many passes by Ruan Pienaar down to the floor, Zane Kirchner was not able to deal with high balls and there was concern in terms of the defensive line. But that red card had a massive impact on the game. After 42 minutes you could feel the emotions drain and it was effectively game over. Yes, the All Blacks kept playing and the Springboks tried hard to defend, but it's difficult.
Australia 14-13 Argentina
Former Australia fly-half, Michael Lynagh: Critics will get off Australia's back a little, because they're now performing from a position of strength, where they've won a game. But there's still a lot to do.
It's not going to get any easier because they are going to South Africa and then Argentina after that, then come over to England. It's a long road but I was a little bit more pleased with the attitude that was shown out there. There was a great deal of intensity and the players showed it meant something to them.
It wasn't a great night for rugby but Australia applied themselves and did their job. There's a big question mark over them going to South Africa and facing that big pack but what better way to try to start turning things around - there are some tall mountains to climb, though.
Former Argentina lock, Mariano Sambucetti: Argentina can take a lot of good from this tour. They can take a lot of good from having played the All Blacks in New Zealand and there was parity, if you take away the yellow card. Today could have been for either of the two teams. Unfortunately, Australia got it. But it's step after step for Argentina and it's moving forward.
This team has to focus on rugby, playing and it will come. As hard as it is to wait for that win, it will come. The support back home will be there - any national team will always have a full crowd there supporting them.