Maggie Alphonsi returns to wreak havoc on the fields of Europe
England's Maggie Alphonsi is ready to put her body back on the line in preparation for the 2014 World Cup.
Last Updated: 05/11/13 12:16pm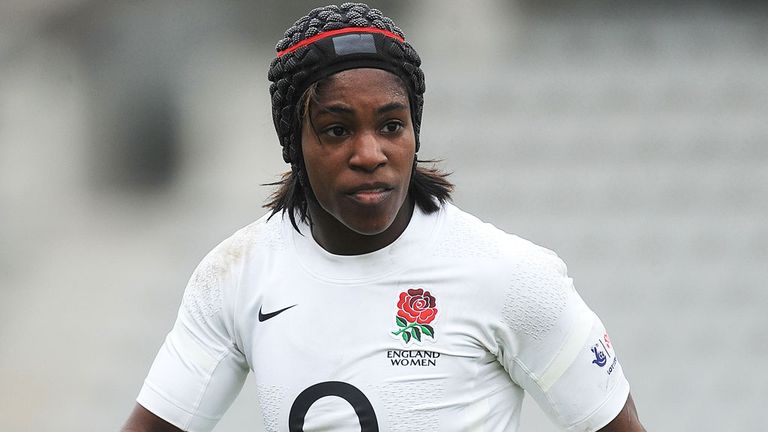 Alphonsi has been sidelined since March 2012 with injury but she teams up with Wasps' Marlie Packer and Richmond's Rebecca Essex to form an exciting backrow partnership.
"It's been tough but I am delighted to be back," Alphonsi told skysports.com.
"I worked hard over the summer - I did not play any rugby but just worked hard on getting my knee strong. You don't realise how much you miss it until you are no longer involved.
"Mentally it was very tough. I know every athlete has been injured but when you are injured and everyone else is playing well and someone is wearing the jersey you used to wear, it is hard. You have mixed emotions about it and it is hard not to make a contribution to the team. You learn to cope though and you suffer in silence."
Suck it up
Time on the side lines has given Alphonsi plenty of time to ponder how she plays the game and if putting her body on the line for club or country is worth it. Her exploits saw her awarded the Rugby Union Writers' Club Pat Marshall Award in 2011 -the first time a women has won the award, and she has no intentions of slowing down.
"If anything I am more ruthless now - I think if I get injured then I get injured; that is life. I appreciate the time I have on the rugby field even more so after spending so long on the side lines. Adapting your game is good but there is always the danger that you lose the essence of what you do well.
"For me my game is centred on hard tackling and linking - you don't want to get injured again but you cannot stop being yourself. I have not got getting injured again in the back of my mind either - you learn to suck it up.
"I love pressure, and I want it. It makes me really want to perform. I play with a fantastic team though who are all quality players. I just add to what they offer and together we get on with it."
Difficult year
Alphonsi's return is a huge boost for England after a difficult 2013. The decision to focus on the Sevens World Cup in Moscow did not go to plan as they were knocked out in the quarter-final stages.
With their experienced players concentrating on the shorter version of the game, England's young Six Nations squad could only manage third as they lost to Ireland and France.
It did not get any easier for Gary Street's young team as they travelled to New Zealand where, despite some brave efforts, they were whitewashed by the Kiwis. However Alphonsi believes this difficult year will hold England in good stead ahead of the world Cup in 2014.
"It was a tough year for England but everyone knows what we have to do now," added Alphonsi.
"Losing is never easy but a lot of young players got to experience the game at the highest level. The squad is as passionate as I have ever seen them; no-one wants to go through that losing feeling again and will do anything we can to get back to winning ways.
"No one remembers a year before the World Cup - everyone remembers what you go and do in that World Cup. In 2009 we won every game but in the 2010 World Cup final we lost to New Zealand - who did not have the best season prior to the World Cup.
"However, saying that these November Tests are big for us They are big - France at Twickenham and Canada at the Stoop - two tough games. We have to get off to a winning start and put what happened last season behind us. That starts on Saturday."
Watch England face France, 5pm, Sat, Sky Sports 3D and Sky Sports 2 HD