Phil Greening is hoping France do England a huge favour in Paris on Saturday
Former England hooker Phil Greening is hoping France do England a huge favour in Paris on Saturday.
Last Updated: 14/03/14 8:33am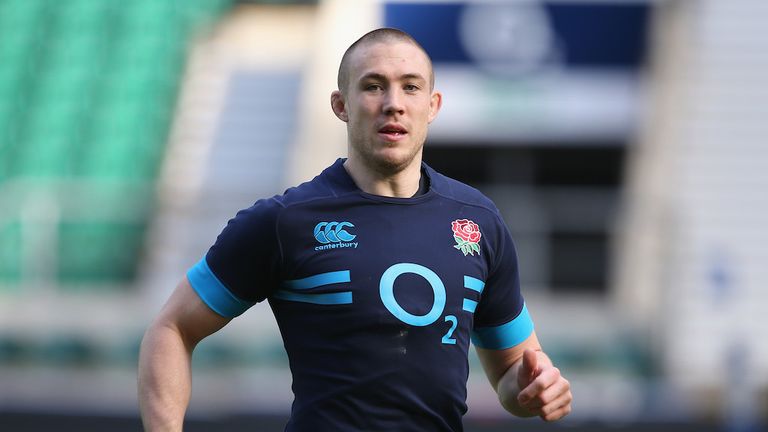 Ireland, though, will almost certainly win the title if they beat France in Paris because of their significant points advantage.
However, even if Ireland do win in Paris - something they have only done once since 1972 - England could still spoil Brian O'Driscoll's farewell party if they beat Italy by at least 50 points.
Unfortunately for the Red Rose, that is a scenario that former England hooker Phil Greening cannot see happening.
"England will have a tough game in Rome - it always is - but they should get another win under their belt," he told skysports.com.
"Italy have developed in leaps and bounds and I think they were unlucky not to get a few wins this season. Going to Rome is always emotional and full of passion and England will have to weather an onslaught from them, but England will have too much for Italy.
"However I am under no illusion that it will be by the margin we need to overhaul Ireland.
"What England need is for France to beat Ireland - but the French have been so bad I cannot see them doing that.
"I have not seen such a bad French team for such a long time and I have been pretty disgusted how France have played. However they are a different beast when they are at home - let's hope they turn up! It will be the first time in a long while that I will be cheering on the French."
Greening believes that the problem France are having is one that England used to have when they tried to change the way a player played and that French coach Philippe Saint-André needs to make the most of the incredible talent he has at his disposal.
"Looking from the outside in, it seems that the problem is that the players who are performing so well for their clubs are asked to play a different way when they enter the French camp," he explained.
"The buck has to stop with Saint-André and I think his type of play does not suit the talent they have got. It reminds me a bit of what used to happen with England - a player would play one way for his club which would get him called up to the national side but then he would be told to play in a completely different way which does not utilise his strengths."
Delighted for England
Greening has no such concerns for England this time around, though, and is delighted with the way Stuart Lancaster has developed the team.
"England have evolved really nicely through the tournament, which has been so pleasing," said Greening.
"The biggest thing that Stuart Lancaster has done is change the environment - that is the foundation of this side and they have built really well on those strong foundations.
"It took a few seasons but the players seem to have really bought into it and the likes of Danny Care, Mike Brown and Courtney Lawes have blossomed in the England camp.
"They still need to develop, especially in attack where I think they left quite a few points out there, particularly against Ireland, however I really believe that will come.
"With Lancaster at the helm and a fantastic coaching set-up, England are heading in the right direction."
Legends
Greening is currently training for the Legends Rugby festival on July 12, where he will join the likes of Serge Betsen and Dafydd James at Wimbledon RFC for a tens tournament, with proceeds going to rugby charity Tag Rugby Trust.
"I'm not sure you can call it training," he chuckled. "I try to keep myself fit by running but I'm expecting to feel a bit battered and bruised after the game!
"But it will be great to get the boys back together and that is the great thing about rugby - you may not have seen each other for ten years but when you walk into a room it's like you have never left.
"It's a fantastic tournament and I am looking forward to it - hoping there will be more games going forward."
Legends Rugby ambassador Phil Greening was launching the Legends Rugby Festival which takes place on 12th July in London. For tickets go to www.legendsrugby.co.uk