England's tour of New Zealand has been a success, says Will Greenwood
Stuart Lancaster given more options for World Cup
Last Updated: 17/06/14 3:33pm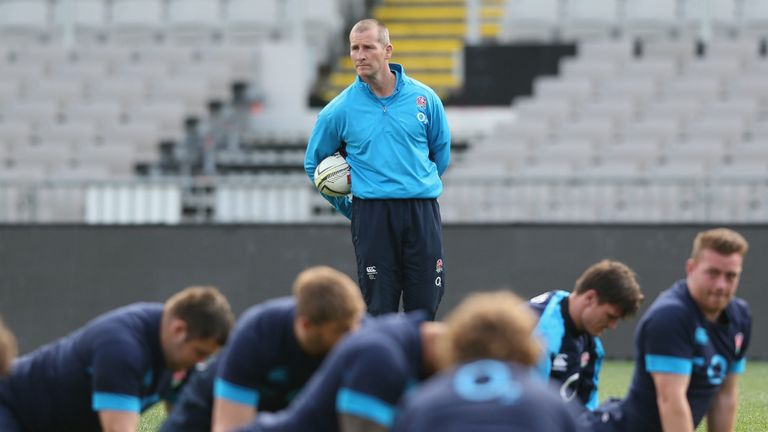 England can count their tour of New Zealand as a success, despite losing the first two tests, says Will Greenwood.
Stuart Lancaster's side have just fallen short against the All Blacks this summer, succumbing to a 20-15 defeat at Eden Park before losing 28-27 last Saturday.
England ran in six tries as they won 38-7 over Super Rugby side Crusaders on Tuesday morning, and go into the third and final test on Saturday hoping to avoid a series whitewash against Steve Hansen's side to give themselves a platform to build on going into the World Cup.
Former winger Greenwood told Sky Sports News the coaching staff are viewing the squad as a whole rather than looking at individual performances, and thinks Lancaster has been given plenty more options ahead of next year's tournament.
"Even though we're 2-0 down - and I'm not trying to be one-eyed and really patriotic - I still believe we can look at this tour in a successful light," said the Sky Sports pundit.
"They had a great win this morning and more squad players have come through.
"The whole Stuart Lancaster regime under Andy Farrell, Graham Rowntree and Mike Catt is less about having a Luis Suarez available, less about a Michael Owen or a Wayne Rooney on form – it's much more about the way the systems operate, the way they come together as a team, the way they scrap for each other for every 50-50 loose ball.
"In that context you can regard it as a tremendous success because we probably approached this tour with 23, 24 players Lancaster would be keen to take to a World Cup. I think he's looking at 35 or 36 now, and now he has the problem of trying to trim it down."
Scalps
England are tipped as the favourites among the northern hemisphere sides for the World Cup, although they haven't yet tasted Six Nations success under Lancaster.
Greenwood believes, however, their strong displays against southern hemisphere sides holds more pertinence, and hailed the impact of Owen Farrell, who will be missing from the third test with a knee injury.
"We might be accused of not winning any tournaments – second in the Six Nations again – but we can claim some pretty big scalps", he added.
"New Zealand at Twickenham [in 2012] was a huge one, we've beaten Australia and drawn in South Africa, so in terms of northern hemisphere teams that can compete in the southern hemisphere you can't argue that England are the most successful at that.
"At the very heart of those performances has always been Owen Farrell, and he was also part of the Lions last year. He's a tough, tough young man and mentally very stong.
"He'll kick the clutch kicks when you need him to, he'll lead the defensive line and there's no doubt he'll be right at the heart of Stuart Lancaster's plans building forward for the World Cup next year.
"There's another chance on Saturday to go against the mighty All Blacks, who have struggled to put us away. Yes, they have put us away, yes they do hold the trophy, but it's another opportunity for us to take a big scalp which would work wonders for the self-belief in this whole squad."