New Zealand v England: Tourists must step up a level, says Will Greenwood
Last Updated: 21/06/14 12:11pm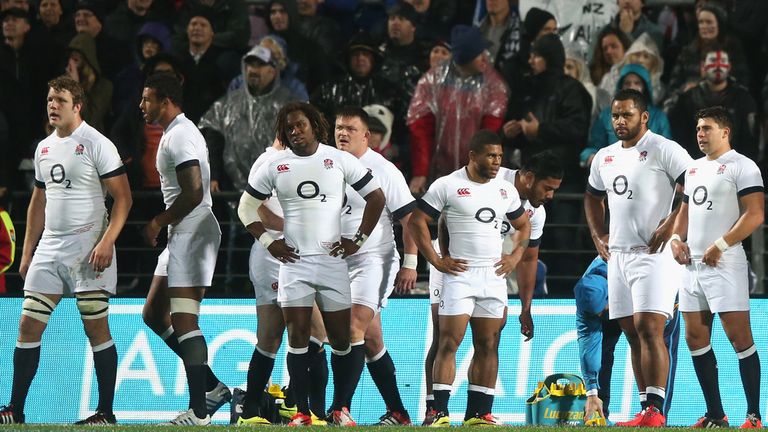 England must seize their opportunities if they are to step up to New Zealand's level in time for the World Cup, says Will Greenwood.
After running the All Blacks close in the first two tests between the sides, England were comfortably despatched 36-13 on Saturday morning in the third and final contest.
New Zealand's victory in Hamilton sealed their fourth straight 3-0 series win over touring teams – but World Cup winner Greenwood says it could have been different had Stuart Lancaster's men taken their chances over the past three weeks.
"The lesson we've learned is you've got to take your chances in international rugby," he told Sky Sports.
"England had chances last week, they had chances today and didn't take them and you're going to get hurt. It's that next step that's the difference.
Against the All Blacks if you make errors, you don't get set defensively early, you slip off tackles they absolutely punish you.
Will Greenwood
"You can't hide away from it – that's why New Zealand are the number one side in the world and hardly get beaten. They've reiterated the fact that against the All Blacks if you make errors, you don't get set defensively early, you slip off tackles they absolutely punish you. We had chances in the second half and last week and didn't take them."
World Cup focus
Despite the whitewash and the comprehensive third test scoreline Greenwood believes there are positives for England to take from their tour of New Zealand.
With the World Cup on home soil next year, Greenwood would now like to see England finalise their ideal XV and ensure they apply what they've learnt from the past three tests ahead of the autumn internationals.
"Let's look at enhancing the squad – without hiding from the fact right now New Zealand and South Africa are the best teams in the world," he said.
"Where we are as a group is a positive one. They're asking questions of the All Blacks and these England boys know they can scrap it out.
"It's just that balance for Stuart, I don't think he's quite sure at the moment what his starting XV is at the moment to give them a run of games.
"The series, the battle, the war is lost for this summer but in the big context of 2015 England have their head above water."
Clinical
Former New Zealand captain Sean Fitzpatrick, meanwhile, was more than satisfied with the level of performance shown by his countrymen in the series finale.
With particular praise for the All Black's first half display – where they racked up a 29-6 advantage – Fitzpatrick commended the clinical approach from the hosts, who were determined to send their tourists home with a clear message that New Zealand are the dominant force in test rugby.
"New Zealand's first 40 was outstanding, carried on from the last 20 in the second test," he said.
"They played very well with a lot of continuity before England obviously stepped up their game in the second half.
"The All Blacks were trying different things. They wanted to make a real statement, they wanted to send England back home 3-0. They wanted to score tries, they didn't want to kick goals. They wanted to expose the deficiencies in the English defence and they did."
And Fitzpatrick reckons the England side can learn plenty of lessons in terms of performing under pressure from the New Zealand team.
"England took two good steps [in the first two tests] and probably three backwards in terms of the way they performed tonight," he said.
"England have made huge strides but they need to go to the next level.
"The All Blacks have worked really hard and England need to go away and work harder than they've ever worked to get to that next level so mentally they can cope with the pressure.
"That's what the first half was about tonight – England didn't cope with the pressure. They made mistakes under pressure."