Rugby Union Expert & Columnist
England, Wales and France handed World Cup wake-up call, says Stuart Barnes
Last Updated: 22/06/14 3:58pm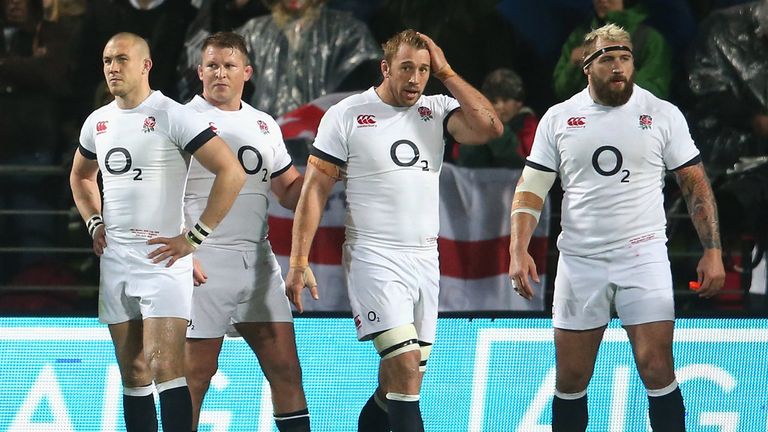 Sky Sports pundit Stuart Barnes reflects on an awful weekend for the northern hemisphere.
Pride of place in terms of performance goes to Wales who came within a few minutes of beating the Springboks in South Africa for the first time in their history. But the divide between a significant win and a savage loss is painfully narrow.
Had Wales won in Nelspruit the victory would have been the perfect psychological launch pad towards the World Cup. Young players like Ken Owens made substantial breakthroughs as Warren Gatland's men showed a strength in depth that a few of us (hands up from this quarter) doubted.
England is not as good as it thought.
Stuart Barnes
Yet instead of a win they lost the game courtesy of a penalty try which Liam Williams will surely agonise over. Had he tried to tackle Cornel Hendricks with a legitimate arm around the attacker, the winger might have scored but Morne Steyn would have needed a touch line conversion. Instead the correctly adjudged penalty try left Wales a point behind. The last few minutes were unconvincing as Biggar lost the composure he showed for so much of the game.
It was a reminder that Wales has a way of losing to the Big Three from the Southern Hemisphere and please don't tell me that the close nature of the defeats convinces players they are almost there. To keep losing to the same team is to look them in the eye and see a team that expects to beat you and usually, in these circumstances, in a tight game, that belief – or lack of it tells.
And this could yet prove hugely significant in a pool where the nemesis of Wales, Australia, awaits them. Admittedly the Wallabies are the only solitary scalp Wales has claimed under Gatland but nine times out of ten (or is it even worse from a Welsh perspective?) Wales lose.
And the Wallabies are heading towards 2014 on a run of victories. They are solidifying up front and have flashes of magic – more than flashes when Israel Folau is involved – behind. They are a fast improving side. They need to be because the All Blacks have long been a long way in front of them.
But in the `pool of death' they are beginning to look a significant player, as if we ever thought the Wallabies would be weak at a World Cup (I was wondering whilst Robbie Deans was in charge). France have been their Northern Hemisphere sacrificial offering in the last three weeks.
Fifty points in the first test and thirty nine in the third is quite some indictment of Philippe Saint-Andre's team. France can point out the fact that only six points were conceded in between but when your own side fails to score a point that argument becomes a good one to avoid making.
France may have won three matches in the course of the Six Nations but they looked a terrible team from the scrambled victory against Italy onwards. Three-nil to Australia is no surprise but the serial capitulation is a sorry statement on the current state of the French international game. The French manager has lost the clubs, the players and – for the foreseeable future – a clue as to where next.
England fall
The final member of the Northern Hemisphere trio to trip up on their trip south is England. There was a lot of noise accompanying their journey to New Zealand and there was a great deal of praise from the great and good of the New Zealand game. But England lost three-nil and England lost their shape, the certainty of their selection policy and even their strategy.
They will bounce back and England has the critical advantage of Twickenham come the tournament but it is disingenuous to suggest – as some would have you believe – that the positives outweighed the negatives.
They cruised into New Zealand on a wave of confidence, not arrogance but a deep seated belief that victory was not so much possible as likely. By the end of the third test it seemed inconceivable to think England had harboured such fantasies. They have to recall that they had the second test under control until they decided to beat the All Blacks at their own game.
The tour should have taught England that the Six Nations is a first rate tournament in terms of atmosphere but second rate in terms of quality. England is not as good as it thought. It is not a case of back to first base but it is a setback which Lancaster must digest and not explain away if England is to be contenders in 2015.
As for individuals from the weekend, huge respect to Alun Wyn Jones for the leadership and ferocity of his game in South Africa; the man was immense. Julian Savea, the man his team mates nickname the Bus was too hot for England to handle. If he is a bus, it corners like none I have seen. Willie le Roux added an extra and much needed dimension for South Africa while Michael Hooper is revving up to take on Richie McCaw when Australia try to stop the All Blacks winning a world record 18th consecutive test match in Sydney. That should be quite some game. You'll be tuning in for that one, I assume.
Anyway that is it for me for a few weeks. Rest and recuperation, a few red wines and a couple of football matches to watch; as ever it has been my privilege to share a few random thoughts with you,
Summer well and see you at the start of September.