The Off Load: The best and worst from the world of rugby
New Zealand still streets ahead, says Rupert Cox
By Rupert Cox
Last Updated: 27/08/14 12:23pm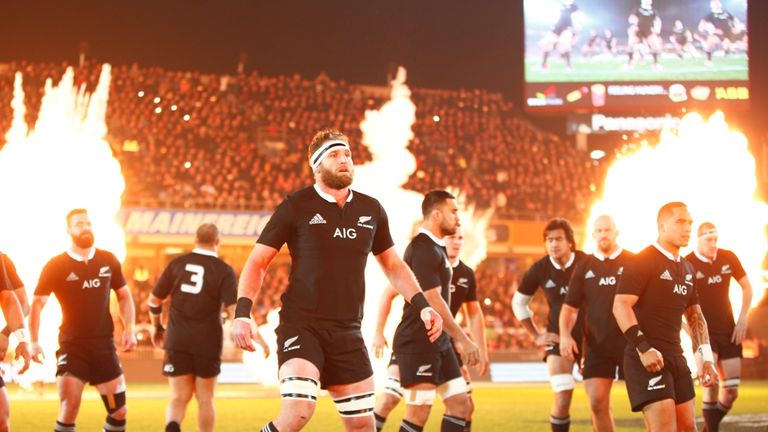 There was loads of great rugby to enjoy over the weekend including a masterclass from New Zealand!
Rupert Cox shares his highlights in his weekly rugby round-up blog...
ROCK STARS
So you're out at a gig, and the support group is onstage. They're pretty good – they play a lively set, bang out the odd catchy tune, and you think to yourself, "Hmm, these guys aren't bad". Well, that was the Wallabies on Saturday. And then on came Richie McCaw, with the real band behind him – the one you came to see – the headline act – the All Blacks. These guys are the genuine article. They are Rock Stars.
After a 17 match winning streak drowned in a Sydney rainstorm last week, the All Blacks turned up the amp with a 51-20 hammering of the Wallabies at Eden Park, their biggest ever total against Australia. "It was close in the end," said the excellent Aussie skipper Michael Hooper. Sure, if it makes you feel better; or, in fact, to quote from some of the global press, it was "a demolition" and "a masterclass". The world's hacks reckon you were "thrashed", Michael, and "outclassed". And they're right. When the All Blacks play anywhere near their best, the Springboks are the only team on the planet that can live with them – even then not for the full 80 – and probably only at home.
If these blokes in black were soccer players, they'd all be on 300K a week. McCaw, Savea, Read and Smith x 3 are your Muller, your Messi, your Robben, your Ronaldo – and they all play for the same team! Chinks in the armour? Ageing? Vulnerable? Peaking too soon? Pull the other one. With Nonu, Kaino, Woodcock, Carter, and multi-sport superhero Sonny Bill Williams all still to return – on this form it's hard to see anyone taking the William Webb off the ABs next year.
DON'T CRY FOR ARGENTINA
In a two point loss to the Springboks in scorching hot Salta, the Pumas were glorious in defeat. They've smashed into this Rugby Championship with a refreshing, expansive game plan, launched off the back of a terrifying scrum up front. Rookie skipper Agustin Creevy is a rock at hooker, and with young Ramiro Hererra and Leicester loose head Marcos Ayerza either side, the Pumas embarrassed the Bok front row in a way we've never seen. They have a belligerent back row, two excellent scrum halves in Landajo and Cubelli, and brave, brazen fly half Nicholas Sanchez – all the ingredients for a quality team. Tuculet and Montero were outstanding out wide. Granted, New Zealand might beat them by plenty in two weeks' time, but just ask Ireland and France how easily that can happen. Argentina's World Cup campaign looks right on track, a 2016 Super Rugby franchise awaits, and a first win in the Rugby Championship is surely not far away. The IRB rankings put them 12th in the world right now. Not at full strength they're not. Vamos, Pumas!
IN LOVE WITH THE COLOUR JAUNE
They do like a sin bin in the Top 14 – no less than 24 players have been sat on the naughty step in the opening two rounds, and two players have been sent off for good. The boys of Brive are the biggest trouble magnets – there were four yellow cards in their game against Clermont on Saturday which adds up to a 29 card haul in the last 8 they've played. Rascals. (Worth pointing out Richie McCaw's enforced break against the Wallabies on Saturday was just his second yellow in 129 Tests.)
Two rounds in, Stade Français and Bordeaux, surprisingly, remain unbeaten, but it's clear that the big guns Clermont, Toulouse and above all defending champs Toulon will be the teams to beat in 2014.
After a hairy one point escape against Oyannax in Round 1, Toulouse were comfortably their old selves against Castres on Friday night. The hugely talented Gael Fickou conjured a moment of magic to get the try scoring started, three more in the second half and a bonus point followed.
Clermont ended a six match away losing streak at Brive. Men against boys up front and newbie Camille Lopez (fresh from relegated Perpignan) kicked 18 points for the tyre-traders.
And newly-promoted La Rochelle, poor fellas, were up against Toulon at the Felix Mayol. Michael Hooper would say La Rochelle came close managing three tries, which is to say: it finished 60-19.  
CANTERBURY TALES
If you want to know why the Crusaders have been so good for so long in Super Rugby, look no further than Canterbury's start in the ITM Cup. After smashing Auckland 48-9 in their opening game, the Red-and-Blacks travelled to Hamilton for round two, and dispatched Waikato with predictable ease. The race for this seasons NZ provincial title looks about as wide open as a Kiwi's wing span. In fly-half Tyler Bleyendaal, Irish province Munster have a very good buy.
BRICKBAT
Before Bledisloe 2 kicked off this Saturday, Eden Park's pre-match fireworks malfunctioned and ended up in the stands. Three fans were taken to hospital, one with serious injuries. Which lame-o came up with the idea of fireworks at rugby games in the first place? As if 80 minutes of passion, guts and broken bones wasn't quite exciting enough. Almost every ground in the world is obsessed with explosions these days; Twickenham and the Millennium Stadium resemble big, fizzing birthday cakes on Test day. Blow out the candles, save the ozone layer, and let the rugby turn up its own heat.
BOUQUET
England under 18's beat South Africa Schools in Stellenbosch on Saturday, to remain unbeaten this season. Not many English teams travel down to the Republic and come away alive, let alone with a win – so real congratulations to John Fletcher and his team. With the Under 20's winning the World Cup back in June, and, of course, England Women lifting their World Cup last week, the Red Rose is in late summer bloom.