Mixing it up
London Irish took time out from preparing for the upcoming Premiership season to trade training tips with UFC fighters.
By Jonathan Witty - Twitter: @JonathanWitty
Last Updated: 22/08/12 3:41pm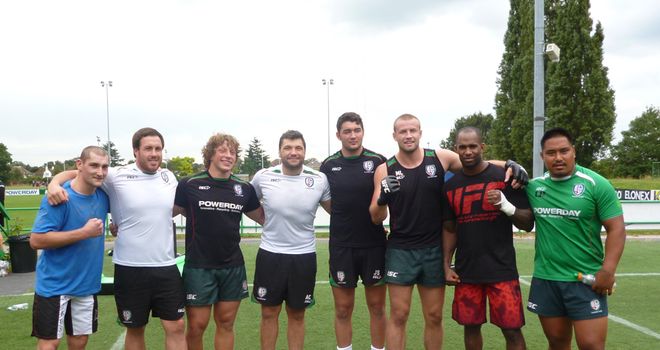 London Irish took time out from preparing for the upcoming Aviva Premiership season to trade training tips with a couple of UFC fighters.
Paul Sass and Jimi Manuwa, who are in action in Nottingham next month at UFC on Fuel TV 5, travelled to Sunbury for a session that involved rugby strength and conditioning training and MMA skills with the Exiles side.
The London Irish players kicked off the session with four sets of prowler shuttle runs which included ruck agility work, before Sass and Manuwa demonstrated their submission skills and then finished the session with a kick boxing demonstration.
England international and UFC fan Alex Corbisiero revealed his delight at seeing the two MMA fighters training with his team-mates.
He said: "It was great to have Paul and Jimi down, unfortunately, due to injury, I was unable to take part in the training session but it was great to see some of the training they do.
"Both sports require the same sort of dedication to be the best you can be so it was great that they were able to share their programme with us."
Sass welcomed the change in scenery too, but reckoned that some of his signature moves would be better suited to the Octagon.
"It's been great to show the team a few MMA techniques," Sass said. "The training we do is actually quite similar, although I'm not sure they'll need my signature triangle armbar, as that would not be suitable to use on the rugby pitch."
UFC new boy Manuwa added: "The players at London Irish have such explosive power, it was really good training practice for me, it really helps to mix things up and spar against athletes of different builds.
"I know a lot of the team are fans of the UFC so I hope to see them Octagon side in September cheering me on in my debut."
Tickets are now available for the Nottingham card from the Capital FM Arena or UFC.com.