LV= Cup: Harlequins boss Conor O'Shea to stick with youngsters for final
Harlequins boss Conor O'Shea will not recall his experienced players for next Sunday's LV= Cup final.
Last Updated: 10/03/13 2:52pm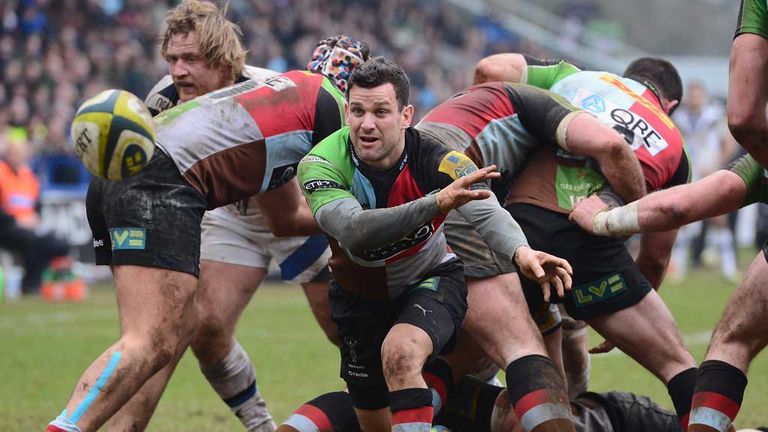 O'Shea named 16 players under the age of 23 in his 23-man squad for the 31-23 semi-final victory over Bath at The Stoop and will give them another chance as the club make their first appearance in the final of the Anglo-Welsh knockout competition.
"I love seeing rugby played like that, but if we don't do a job next week it counts for nothing," said O'Shea.
"But you have days like this that you remember as a group of players and this will stand a lot of young guys in massive stead when they look down in future years of where they had to go.
"My God, they were hurting out there but they just kept coming. If you play rugby like that, I don't really care if you win or lose. That's the type of energy and the type of ambition we want at this club.
"The guys have done nothing yet in terms of this competition - they're only in the final. But they've worked too hard not to put a similar performance out there next week.
Exciting
"We'll really go for it and it's exciting to be part of a group of young guys who are there to put a marker down on their more experienced colleagues."
Bath had targeted the competition as a way into the Heineken Cup and forwards coach Neal Hatley said: "It's a really big blow. This was the quickest route but now we'll have to try and do it through the Premiership.
"Defence let us down today. It was as badly as we have defended all year but credit to Harlequins - they put you under pressure.
"We gave them a 14-point start, which isn't ideal. We kept pegging them back but every time we got within five points they kept going away again. It was very frustrating. We put ourselves in good positions and sometimes discipline let us down."