Lions Tour: Brian O'Driscoll set to take captaincy in Sydney
Brian O'Driscoll says atmosphere in winner-takes-all third Test against Australia in Sydney will be electric.
Last Updated: 02/07/13 6:28am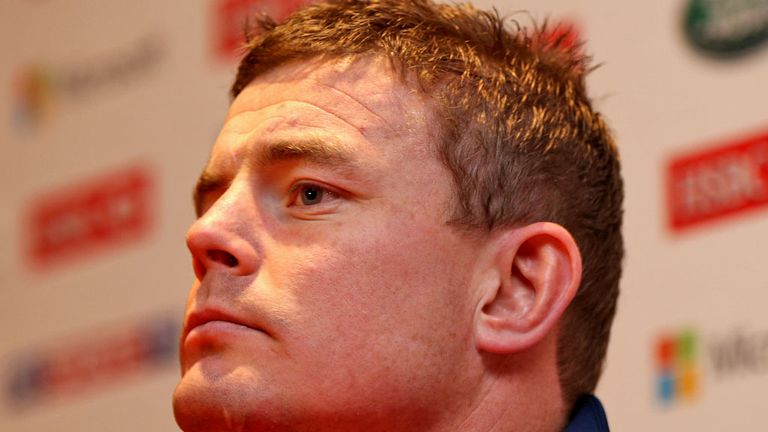 O'Driscoll is set to take over from crocked captain Sam Warburton as skipper and make a ninth Lions Test international appearance, on his fourth and final British and Irish Lions tour.
Lions coach Warren Gatland is due to name his starting line-up on Wednesday, with plenty of changes expected from the team which lost agonisingly by 16-15 in the second Test in Melbourne.
Wales centre Jamie Roberts and England prop Alex Corbisiero should both come into the selection picture if they show no negative effects from respective hamstring and calf muscle injuries, while O'Driscoll's compatriot Sean O'Brien could replace hamstring tear-victim Warburton.
The Irishman was already counting down the days until he got the chance to finally emerge victorious on a Lions tour and said: "It was a really good analogy from Jonny Sexton sitting on a plane today saying it's rare after a cup final that you get the chance to relive it again and put the things you did wrong, right.
Toll
"There is always a mental toll in games of this magnitude. Thankfully, you do get seven days to try to get over one game and have the building process for the next one.
"This game is very much mental as much as it is physical, and all the more so when you play opposition three weeks in a row.
"You definitely get to know each other an awful lot more and you are almost anticipating certain things to happen. There is an element of trying to out-think the opposition."
The Leinster and Ireland centre admitted that the intensity in Sydney on Saturday would probably be greater than anything he has experienced in a decorated provincial and international career.
"You have to have a certain amount of emotion in all games, and in games where the stakes are as high as they are next weekend that has to come into play. But you can't let the emotion take over, " he added.
"I think accuracy is vitally important. Both teams lacked accuracy last Saturday at times. There were some unforced errors from both sides, and to string phases together you have to be accurate.
"They have been two incredibly keenly-contested games. Both of them should probably have gone the other way that they did, and it now culminates with a winner-takes-all.
"We knew we were never going to get it easy against Australia, and it has been proved. Yes, there is disappointment and you have to have a little bit of a mourning period after any loss, but the spirits of the guys have been picked up.
"It is important to be able to feel the disappointment, because if you try to banish it immediately it will come back to you, and it still does at times throughout the day.
"You kind of think how scenarios could be different - having a series in the bag, rather than one still to go and fight for.
"But then after a couple of days you just have to have the ability to shelve it and focus on the target. One more 80 minutes this season is all that is asked of everyone in the squad - the 80 minutes of their lives."
"I am sure over the next 48 hours the coaches will meet and identify the team they feel they want to put out to hopefully win us this series.
"People talk about the momentum going with the team that wins that second Test, and I would have agreed with it in 2001 because it was a comfortable victory they (Australia) had then.
"But just the way the two games have gone, with two points between us in the first one and one point in the second one, just shows how tight it is. I think the team that turns up on Saturday and gets some momentum from early in the game will get the upper hand.
"I wouldn't go and say there is anything particularly that we did 12 years ago (in Australia). Just make sure you don't do too much training. There is a lot in the bank already, so just try to get the detail right and then save the energy for the pitch."