Dave Alred gives his insight into getting the best out of world-class athletes
Read what Dave Alred had to say when Sky Sports caught up with the world-famous kicking coach.
By James Pearson
Last Updated: 16/08/13 6:12pm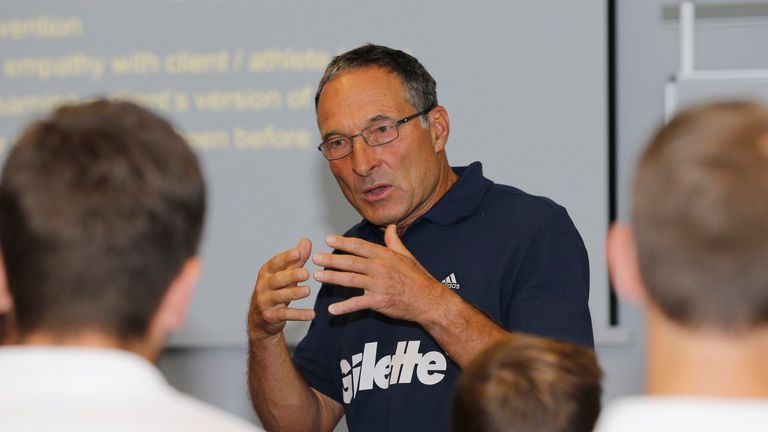 Alred has been labelled a 'performance guy' by golf's former world No 1 Luke Donald, but the world-famous kicking coach is much more than that.
Alred has an impressive CV in an array of sports. He has been working with the likes of Ireland's Jonathan Sexton, Bath fly-half George Ford and golf's Padraig Harrington.
Performing under pressure is Alred's specialist subject and the Englishman insists there is no quick fix when it comes to perfecting technique and eliminating bad habits.
"I know what I judge my results on, it is money lists and world rankings. I think it is performance, but it's performing under pressure and practising and making sure the practice is relevant," he told Sky Sports.
"It's very easy to try to look for the magic fix. The magic fix does not actually exist.
"Very quickly when you un-pick what people do then usually how they practice can be changed a little bit. Their attitude, their attitude can be pretty good to be honest. It really works from there."
Alred has experience in rugby, golf, soccer, Aussie rules and cricket and believes that working in a variety of sports has helped him become a better all-round coach.
Principles
"The principles that underpin performance in all of those (sports) are very, very similar," he continued.
"Clearly in rugby and to an extent Aussie Rules with the kicking, I'm technically far enough ahead to be able do that myself and to a certain extent the same in soccer.
"In golf it's better to work with a swing coach. For example I used to work with Pat Goss with Luke Donald and Pete Cowan with Padraig Harrington. I would often work not necessarily alongside but try to be aware of what they're doing so that the practice that I'm suggesting actually supports what they are developing in their swing.
"It would be unfair to pick out (my) favourite sport, but every sport so far has supported other sports. Definitely working in golf made me more of an effective rugby coach without doubt.
"Working in rugby made me perhaps a far more effective golf coach. In that I had a much more simplistic view about performance and being front-footed and getting the right attitude of a 'can-do' attitude rather than a 'let's see if it is possible' attitude.
"Everything complements one another. The more sports I do it's almost as if a little bit of dust settles on all the others. To me it's just a fascinating learning experience."
Alred still works with former England international Wilkinson. One might not think the veteran Toulon star would need a lot of coaching nowadays, but the experienced coach still has an important role to play.
"I'm still helping him this pre-season. I worked a lot with him at the tail end of last season. Things weren't going quite as he wanted and then the run-in to the Heineken Cup, the quarter-final onwards I was pretty heavily involved with his work to the final in Dublin.
Adaptations
"It's not a question of keeping him on his toes. It's more a question as humans we're quite a complex sort of organism really. We don't get out of bed the same and sometimes we made adaptions without knowing it. Things change without us knowing it and then we pursue that line and that change becomes a fault and then we think 'how did that happen?'
"Often somebody from the outside can look at somebody and in 30 seconds can identify what needs to happen. But it doesn't take 30 seconds to fix, sadly. Being aware of it is the first thing and the second thing is then working out a practice schedule that allows him to change that.
"Phil Mickelson despite winning the Scottish Open and the British Open still works with Butch Harmon. I think there is an arrogance to believe that a player knows it all. The same too with coaching, we don't know it all and the whole issue of performance is a world of discovery still."
Alred is a supporter of Gillette's Great Start Coaching Programme that celebrates the important role of coaches and encourages people to get into coaching by offering grants.
"I think it's fantastic. It's one of the best things that's happened in grass-roots coaching. The national governing bodies to their credit really do work hard on the technical aspects of the sport. What Gillette have done is given a way of delivery to hopefully allow the coaches (a) to enjoy their coaching more and (b) to be able to create more sustainable change to the athletes and the kids that they are working with.
"I hope the aspiring young coaches can go away and actually question the way they deliver and organise sessions so that they become more exciting for the people that are being involved, so that they have a greater longevity within the sport.
"This, to me, it might be seen as something that is 'we're just going to help people', but actually it's giving people the tools to make a much more sustainable change on the individuals. I think it's a fantastic opportunity. Anybody that is coming to the end of their playing career or deciding that coaching is going to be better than playing or whatever else, should really get in touch through the Facebook page and look at ways of getting funded to get started on a coaching career.
"That is where the future of British sport lies as well as this whole issue of the threat of obesity with teenagers, so we need to enthuse about involvement in sport as part, if you like, of the medical challenge which is right around the corner if we're not careful.
Dave Alred supports Gillette's Great Start programme that celebrates the important role of coaches and encourages people to get into coaching by offering grants. To apply for a coaching grant visit www.facebook.co.uk/GilletteUK