Fitzpatrick and Lynagh criticise officials as New Zealand beat Australia
Sean Fitzpatrick says poor refereeing and shady tactics helped New Zealand retain the Bledisloe Cup.
Last Updated: 24/08/13 3:19pm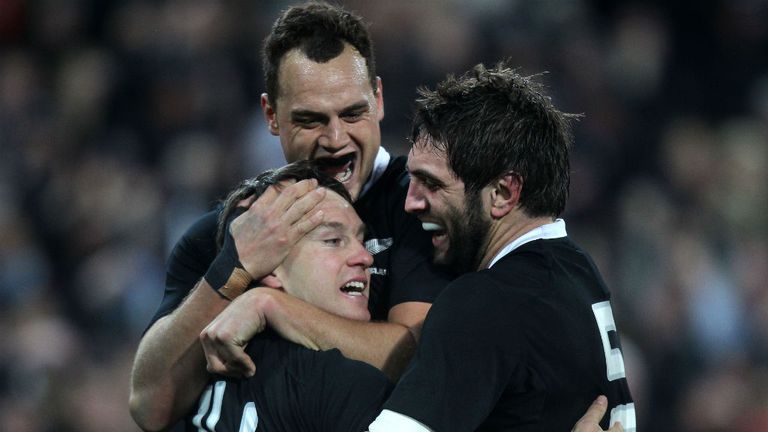 The All Blacks followed up their 47-29 victory over the Wallabies in Sydney last weekend with a 27-16 triumph in Wellington, making it two wins from two in this season's Rugby Championship. Read a full report here.
Fitzpatrick, along with fellow pundit and former Wallaby Michael Lynagh, said the All Blacks were deserved winners at the Westpac Stadium on Saturday, having out played their rivals at the scrum and breakdown in particular.
But the former All Blacks skipper admitted Steve Hansen's side were very fortunate not to have been shown yellow cards for consistently infringing to prevent Australia scoring on several occasions.
"I thought that [Jaco] Peyper, the referee, was very much on the side of the All Blacks in terms of what they were doing," Fitzpatrick told Sky Sports. "I think with the penalties the All Blacks were giving away the referee needed to have a word.
"If the referee is going to let them get away with it - that is why the leadership of McCaw and co is so good - they are going to keep on doing it."
Systematic penalties
Lynagh, who played 72 Tests for Australia, was similarly surprised by how the officials allowed the All Blacks to consistently shut down Australian attacks with foul play.
"There were three rucks in a row where the All Blacks gave away a penalty and there was no yellow card," he said. "They have been doing it for two weeks now - a bit longer actually - but last week was much the same. I just felt that Peyper tonight was very poor.
"I think the All Blacks were the better team and they deserve to win. But when Australia got into [the All Blacks'] 22 or even their half, the All Blacks systematically gave away a penalty."
He added: "If feel that the referee tonight was favouring the All Blacks. Not by any preconceived ideas but just as the game went the All Blacks seemed to get every bit of luck they needed."
50/50 call
Fitzpatrick pointed to the referees' calls at the scrum, which has gone through recent rule changes, as an example of how officials were failing to apply consistency in their decision-making across the game.
"I thought the scrums were a lot better, especially the All Blacks scrums," he said. "But it was still a 50/50 call in terms of which way it was going to go. It was almost guessing. I just think the referees need to be more consistent.
"Last week they were penalising almost every scrum where the ball put in by the halfbacks. Tonight there were no penalties for crooked feeds and a number of feeds were not straight. So we just ask as fans, and I am sure as players, just a little bit of consistency in terms of the way the referees are refereeing the games."
Overall, though, the former All Black was delighted with his countryman's performance in Wellington. He said: "It is job done. They have retained the Bledisloe Cup and continued in much the same vein as last week. They were very clinical, did the job and it was almost a shut-up-shop in that second half.
"They had done enough and they will be very pleased. They dominated the scrum, dominated the breakdown and will be very pleased with that performance."
Inevitability
As for Australia, who have now lost their first two matches under new head coach Ewen McKenzie, Lynagh believes they showed some improvements from last weekend's heavy defeat on home turf, but they are still a long way from threatening the All Blacks.
"They will be very disappointed," he said. "They had opportunities there that they just did not capitalise on once again. I just feel the team played, particularly in the first half, with a lot more pace, a lot more vigour and were driving out of the breakdowns quite well. Just they just could not get over the tryline. Defensive they missed a lot of tackles again.
"I just felt that there was an air of inevitability there where every time the All Blacks got the ball they looked like scoring. Australia, when they got the ball, they struggled. It is a little bit better but still a long way from where we need to be to beat a team like the All Blacks."