The Scottish Rugby Union has backed the 'promotion' of former coach Scott Johnson
The SRU insists former coach Scott Johnson has not been rewarded for presiding over a disastrous Six Nations campaign.
Last Updated: 09/04/14 6:13pm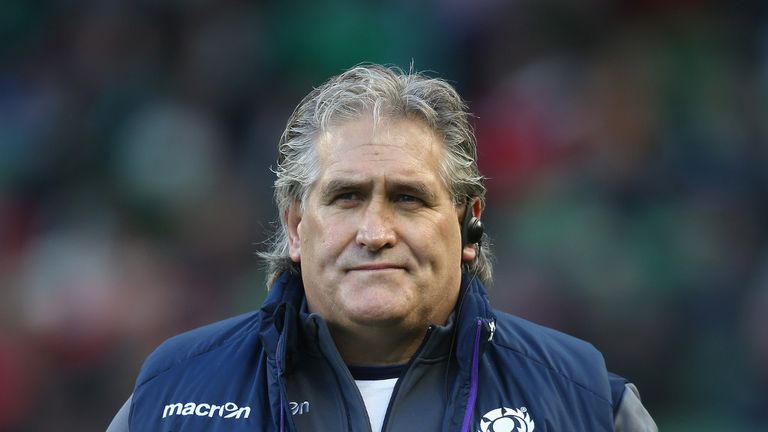 The Australian, who has been installed as the governing body's new director of rugby, led the Scots to four defeats and a last-gasp win over Italy, a run which included a 20-0 home whitewash by England and a 51-3 humiliation at the hands of Wales in Cardiff.
But Dodson has refused to blame the 51-year-old for the poor results, claiming he has fulfilled his remit of introducing new players to the squad prior to long-term target Vern Cotter taking over on a full-time basis this summer.
Dodson said: "We need clarity on this issue. We appointed Scott to be director of rugby first. Then we got Vern Cotter as head coach. We knew we would have to wait for Vern as he wanted to finish the job he started at Clermont.
"We asked Scott to stand in during the interim. He had no ambition to do that
but we asked him. He was happy to do it on one proviso, and that was to bring on Scottish players in larger numbers.
"In the period he's been in charge, he has capped 17 new players, so we have a squad that is richer and deeper than ever.
Backlash
"But as for the backlash about Scott being promoted, I'd say that he was never promoted. He already had the job and now he's going back to that job to develop the plans we have to develop the next generation of new talent, which is his specialism.
"We always knew there would be a problem with the 14-month period but Scott did what we asked him to do and he delivered what we asked him to deliver."
Asked if the wait for Cotter, who accepted the post last May, would be worth it, Dodson said: "Time will tell but our view is yes, he will be.
"Having looked at the people available at that time, we believe Vern was the right man for us. We haven't heard anyone say we have got it wrong."