Aviva Premiership: Conor O'Shea ready for play-off fight after Harlequins beat Sale
Last Updated: 11/04/14 11:20pm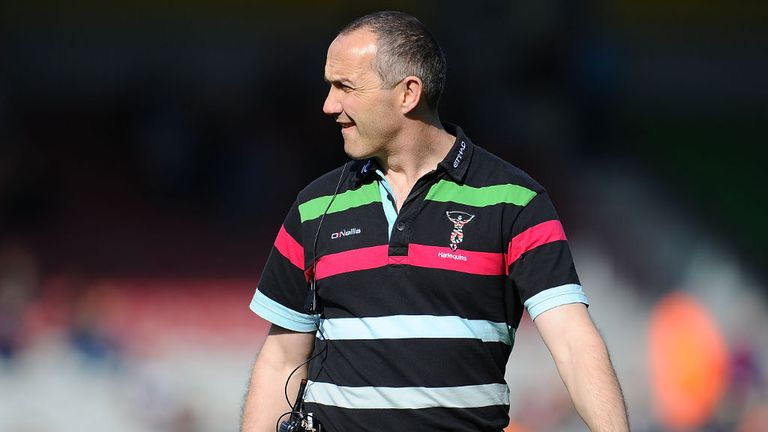 Harlequins' director of rugby Conor O'Shea says his side will fight "to the bitter end" after they beat Sale to boost their hopes of qualifying for the Aviva Premiership play-offs.
Quins' dominant 27-12 win moved them above the Sharks into fifth place, just a point behind Bath in fourth.
Although the West Country team have a chance to put more space between them and Quins when they take on Gloucester on Saturday, O'Shea's men have at least kept themselves in contention for the top four.
"It's game-by-game at the moment." O'Shea said after the victory.
"We're not going to talk about challenging for anything, it's game-by-game. We'll go to the bitter end and, if we play with an intent and intensity, we are a decent side."
Quins have had to deal with a string of injuries and international call-ups this season but, with their England players back from the Six Nations, O'Shea believes that they are beginning to regain top form.
He added: "We've won 10 of 14 since our start so we're not rubbish. Our squad have been incredible, we've had to fight tooth and nail because of what we've been through injury-wise and are still going through.
Tight
"This squad is incredibly tight and they love a challenge. We've given ourselves a mountain but we're going to fight every single step of the way.
"I just like it when we're mentally sharp, when we're going for it, taking quick lineouts and looking to challenge the opposition all the time.
"We've got one ferocious challenge coming down to the Stoop next week (when we play Leicester), but I think the crowd will know that we're back."
Meanwhile, Sale director of rugby Steve Diamond conceded that his side were outplayed by Quins but was frustrated at referee Wayne Barnes' decision not to award them a try midway through the second half due to a knock-on.
Diamond said: "The decision not to award a try was a dominant feature in the game. At 20-12 it could have been an exciting last 17 or 18 minutes, but those decisions are made.
"We accept it, but he was quick to the television match official whereas he wasn't as quick on their two tries. We certainly feel a little bit aggrieved with their fourth try where they were clearly offside and the third try where they were holding people on the ground.
"But he's a world class referee isn't he? We know how good he is and he doesn't make many errors."