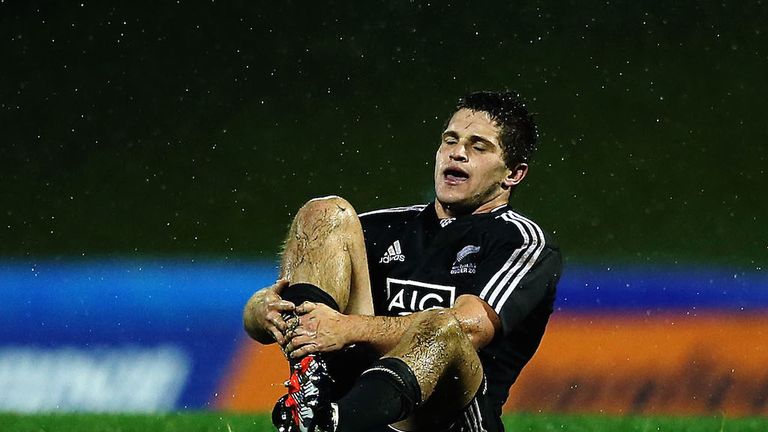 Simon Hickey's Super Rugby season could be over after he suffered an ankle injury at the IRB Junior World Championship.
The Auckland Blues fly-half sprained his ankle in New Zealand's 54-7 win over Scotland in Pukehoke and could be sidelined for as long as six weeks.
Hickey has shone during his first season in Super Rugby with the Blues, leading his team in points thanks to 20 conversions and 24 penalties.
The regular season ends in the middle of July, leaving Hickey with little time to get back to fitness for one of Auckland's remaining three games - they remain on the fringe of the race for a wild card.
The young All Blacks are in action again on Sunday when they take on South Africa for a place in the final against either England or Ireland.
New Zealand Under-20 coach Chris Boyd said: "We're obviously feeling for Simon who is disappointed his tournament is done.
Disappointed
"He is an influential player of real calibre, so we are disappointed to be losing his skills and leadership on the field.
"Fortunately, we do have a couple of good options in players who have all had a run, and we know they will be keen to step up to the mark.
"Simon will continue to support the campaign and team from off the field so it will be fantastic to keep that support and knowledge in our environment."
Blues coach Sir John Kirwan was left to lament another half-back blow with Baden Kerr and Chris Noakes having suffered season-ending injuries and Benji Marshall returning to rugby league.
"I don't know what we've done, we must have offended the gods of first fives," Kirwan said.
"I feel really disappointed for Simon, he's had a great season. We freed him up to go to the New Zealand Under-20s as obviously it's really important for him to put on that black jersey and it's just disappointing that he's had his tournament cut short through injury."
Watch England v Ireland and New Zealand v South Africa in the semi-finals of the IRB Junior World Championship on Sunday from 6am live on Sky Sports 1.