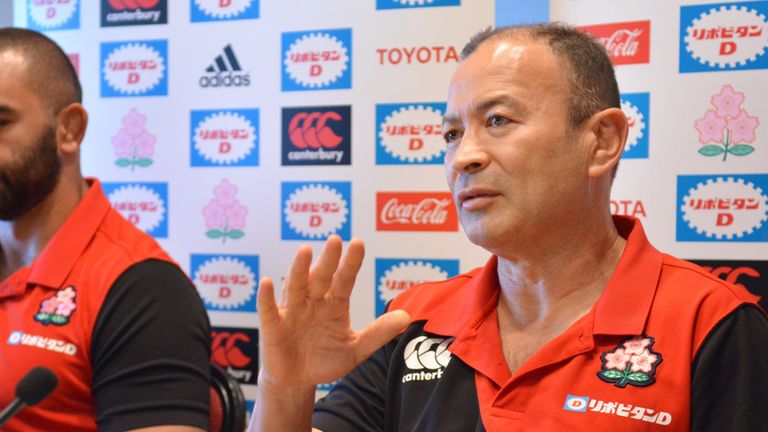 Japan is the only logical choice for a Super Rugby team when the tournament expands into Asia in 2016, according to former Australia coach Eddie Jones.
Organisers SANZAR confirmed earlier this week that Japan and Singapore had tendered bids to run a side in the southern hemisphere's premier club competition.
Jones, a former Australia coach who assisted Jake White during South Africa's 2007 World Cup-winning campaign, currently coaches Japan and insisted Super Rugby would "lose credibility" if they were to ignore the country's application.
"In terms of growing the game you'd think they would choose Japan," said Jones.
"Singapore has no rugby history at all. They would just be coming and plonking a team of Pacific islanders there.
"It can't be the right choice. That's just crazy."
Jones has guided the Cherry Blossoms to a record 10 successive wins, culminating in a 26-23 victory over Italy in Tokyo last month which saw the Asian champions break into the world's top 10 for the first time.
"Japan's 10th in the world, has the world's fourth biggest rugby playing population, the world's third biggest economy. Japan hosts the World Cup in 2019.
"But professional rugby is all about money so there could be other economic factors."
SANZAR will make a decision in September or October with the competition set to be expanded from 15 (five each from Australia, South Africa and New Zealand) to 18 teams.
The return of the Kings from South Africa's Eastern Cape and a team based in Argentina have already previously been confirmed.
And the suggestion that Singapore could be selected in order to cut down on flying times for South African sides was given short shrift by Jones, currently preparing his side for next year's World Cup in England.
He said: "Just because it's 11 hours from South Africa? You have to take rugby to growth centres, not artificial places."