Our rugby experts share their views on Combined Country XV v Lions
Find out what our experts thought as the Lions beat the Combined Country XV 64-0 at Hunter Stadium.
Last Updated: 11/06/13 1:57pm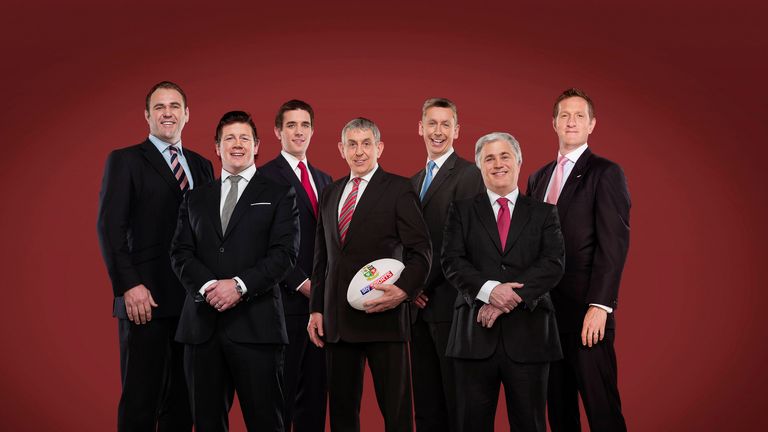 Warren Gatland's men ran in 10 ties but the Lions coach will be disappointed that they lost their concentration in the second half.
Ian Evans certainly put down his marker for a Test berth in the second row while Stuart Hogg proved his worth at fly-half. There will be some slight concerns surrounding the lineout but with 11 days to go before that first test there is plenty of time to get that right!
The likes of Stuart Barnes, Paul Wallace, Scott Quinnell and Dean Ryan give their thoughts as the Lions make it four wins out of four.
Stuart Barnes
On line-out concerns: The line-out was a slight concern tonight but the Lions are going to wrap up their line-out in cotton wool until the first Test. Ditto with the scrums. We cannot see what Australia are doing; they are locked up in their camp, while they can watch every game the Lions play. They are not going to give a lot away. Ian Evans went very well today.
In terms of lesson, I think it is very dangerous to take too much form these sorts of matches. Everything is geared pure and simple towards the test series. Some of the best lessons is when things go wrong, and you look at the line-out and you would look at the fact that their driving game is not great. But if the Lions are working on the line-out then I don't believe they are bringing any of that to these games. If they start working on their line-out systems in these games then the Aussies will see everything. Although the standard of opposition has been bitterly disappointing on this tour I still feel that the Lions are in a better place than Australia come the first Test. They are in a training camp as well and have not play since I don't know when.
It was interesting when Warren Gatland said the Lions won the match against the Reds because in the end they took them in the scrum and the line-out. But the Australians are not going to be a second-string Reds pack and they are not going to be a second-string Waratahs pack. So did that game really tell us anything? I think most of the important stuff preparing for the test matches is going on behind closed doors.
Scott Quinnell
Full-time thoughts: Frustration is the name of the second half.
It should have been 100 points, but they made a huge amount of errors. I have never seen Leigh Halfpenny make so many errors - but how often does he come off the bench? The Lions have to take what they get out of it -they scored some wonderful tires. Did we learn anything with Brian O'Driscoll and Jamie Roberts? No, not really. I was not disappointed how they went, it was just the nature of the game. Was it a game for Roberts to hit up get over the gain line and get numbers to the contact area? No, because nobody actually defended it. When I saw this combination I did think it was strange and wonder why they did not leave this combination until Saturday. I think they will definitely wrap O'Driscoll up for the first Test.
The one thing that does worry about me is that there is a lot of talk about looking at different combinations, but you have got to nail a side down. A team does not come from a second row partnership or a different back row. It comes from playing together, understanding those roles of responsibility. We are not seeing that at the moment and it does not look like we will see it on Saturday. So when it comes to the Tests, those little areas that you need to beat Australia are really under the microscope. It does not matter how many times you do it in training, it is under that team pressure!
On the Lions back row: I think Sean O'Brien is very close but then again you have to look at combinations. O'Brien is all action, loves to carry the ball and wants to get over the top. He gets over the gain line, sets a target for other people and is just a great go-to guy who will get you over the gain line. I think he is a better 6 than he is 7 - all he has to worry about is carrying that ball.
Paul Wallace
Full time thoughts: There were handling errors but there was a lot of dew coming down on the ball and the bench coming on. One of the big things for me was the nuts and bolts of the lineout and the scrum.
Stuart Hogg has probably put his hand up as a possible candidate to fill the bench. He is a fullback and he can cover the wing and he can cover out half. He does bring a running threat (to fly-half) but his game-management would be the big thing. I think it will still be Jonny Sexton starting and Owen Farrell on the bench. But you wouldn't be that nervous of having him cover there if with both outside halves carrying niggles there are injuries.
On centre combination: I think if they are going to be the Test combination of Roberts and O'Driscoll, they need another outing. I would have a look at putting them in on Saturday, play them early on and then bring them off. They didn't quite click. Individually they both played well but I think they need more game time in that combination. They are probably doing a lot of training ground runs but I think under the pressure, especially against someone like the Waratahs, just bring them on early, let them click and then they can pull one of them off.
Line-out concerns: If this had been one game this had happened to their line-out I would have been ok, it is just a bad day. But this has been a recurring theme. I think training wise they need to start doing line-outs under more intensity. We are not privy to the way they do it but you feel that with all the different combinations it is not quite there. I thought both hookers (Richard Hibbard and Rory Best) played very well. Hibbard in particular had a good hard 50 minutes. He played very well around the park. He did some good decoying running but he also has that big power in the scrum. When he went off the scrum was not as powerful. All round I think Hibbard just nudged ahead of Rory Best, who had a couple of misses in the line-out and has more history with that as well. Warren Gatland will be well aware of what happened to Ireland in the Six Nations.
On Sean O'Brien: His link play has been superb, he is showing his dynamism and has shown good hands. I want to see accuracy from the Lions now. We saw Hibbard miss a throw early in the first half. In the harder games you are not going to get the space to get you out of trouble so it is all about getting the accuracy right.
Dean Ryan
On line-out issues: What I liked a about Gatland's selections is that today he picked two traditional No.4's. Neither Ian Evans or Richie Gray are used to calling the line-outs but he gave them responsibility. I think Evans really took that responsibility on. I think they will be disappointed with some of the detail around the line-out but overall they will see Evans and Gray understanding more of the dynamics of the line-out. I think it is always going to be Alun Wyn Jones or a Paul O'Connell who comes into the Test team but we are talking about Gray and Evans being that much better with the knowledge having called today.
On No.8 competition: One of the toughest rivalries has to be the competition for the No8 shirt. In Toby Faletau and Jamie Heaslip we are seeing two guys running into a rich vein of form. Faletau does not make a huge amount of mistakes; he carries well and has a lovely little touch as well. He is playing at the top of his game. Coming into the tour I think Heaslip was struggling but he really put a marker down against the force. He is a different player, likes to sit in the open spaces and runs at holes rather than people. You can just see him growing in confidence.
Scott Hastings
Full-time thoughts: It was a little bit of a frustrating second half but if you look back at history, in 1989 it was 72-13 and then the 2001 game was 46-3. So it was a good bit out for the Lions.
The players are revelling in this atmosphere. Young Stuart Hogg for example is learning so much from his Lions experience; the intensity of working in the Lions team and also playing the patterns and getting used to people.
Sean O'Brien was more of a carrier today while Justin Tipuric was more of a linking player. SO there were lots of little nuances in the game. I was just a bit frustrated with the number of errors in that second half because we fully expected after six tries in the first half that they would go on and score more tries.
If you'd have put Hogg into Saturday's game against the Queensland Reds, would he have played so well? But what I did like, not only his distribution, but the way he hit the gainline. He was right up flat and did really well and he will gain confidence from that.
Is there a bit of a smoke-screen going on within Gatland's main battle plan? I think there probably is and I think there is a lot more to come from this Lions team. As I keep mentioning, when you are in this environment, you actually excel as a player and I am seeing a lot of excitement in the squad. When you hear the interviews it seems to be a happy camp. It is all about the one notch at a time up the ladder.
Half time thoughts: Initially there were some inaccuracies - some lineouts missed but it has been a strong performance. We would have liked to have seen Roberts and O'Driscoll pick up exactly where they left off four years ago but it take a while to get that relationship together. The finishing has been very clinical. Stuart Hogg has looked very comfortable at 10 - this may raise some eyebrows in Scottish rugby. We have been missing a cutting throat 10 - this may be the start of someone who goes and plays fly-half for Scotland in theWworld Cup in 2015.
The Lions will not be under-cooked because they will rise to the occasion. At the end of the day the Lions tours are all about what happens in the Test matches. This is just a building block process to get to the Test matches. We saw in South Africa on the last tour, the top international players were denied the opportunity to play in the provincial games. In New Zealand obviously there is a higher intensity within the provincial rugby so in four years' time it will be very hard.
Rod Kafer
On Wallaby squad: Deans has picked as good a squad as he could have picked. We have had some injuries in the last month which have diminished the prospects for the Wallabies. Quade Cooper was never going to make the squad. Last year the comments he made, the disunity in the team and the spats he had with Deans dictated that. With Kurtley Beale officially back in the squad he will be one of the contenders for fly-half.