Our rugby experts share their views on Brumbies v Lions
Find out what our experts thought as the Lions lost their first game on tour to the Brumbies.
Last Updated: 18/06/13 2:46pm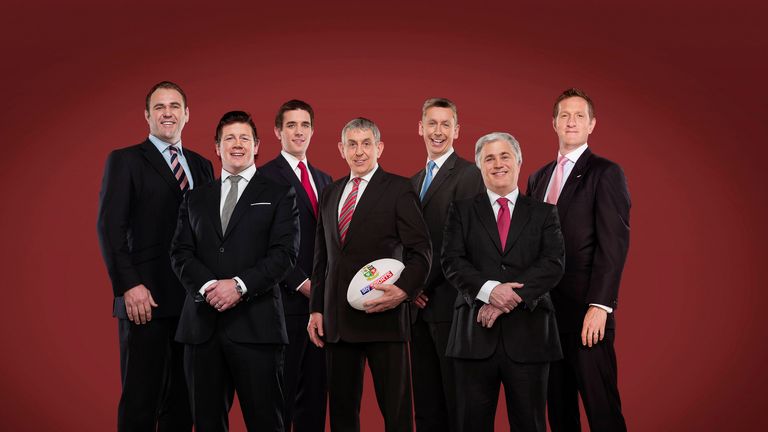 With a lot of changes, the Lions could not seem to gel in the backs as their forwards were outplayed at the breakdown and especially at the line-out.
Despite the replacements coming on and making a difference, it was too late. Rob Kearney and Toby Faletau were the two stand-out players for the Lions but the Lions will be disappointed that they have lost that winning momentum heading to Brisbane and that first Test.
Our pundits, including Scott Quinnell, Rod Kafer and Paul Wallace give their expert views ahead of Saturdays first Test...
Paul Wallace
On Brumbies loss: Defensively the Brumbies played very well. Warren Gatland decided it was all about the Tests and did not bring on the bench that little bit earlier that you normally would have done. When they did come on they did very well. Parling and Hibbard sorted out the line-out, but there was too much to do and the game was really lost in that first half. Everything was just a bit flat and no one really stood up and took responsibility.
On Test preparations: I think it is going to be a bit flatter around the camp; their heads will be done a bit. This loss will reinforce some of the areas where the Lions need to be more accurate at all times - the line-out and the breakdown.
The positives are that Hibbard and Parling's relationship was superb when they came on and I think they did themselves some big favours, especially in the line-out area. I think the scrum improved dramatically when Corbisiero came on. I think you have to make a horses for courses call. Are you going for Vunipola's ball carrying or Corbisiero who is a little more dynamic scrummager.
Scott Quinnell
On Brumbies loss: I think we have got to give the Brumbies a huge amount of credit. We have not seen other sides bring that sort of physicality to the party. They put the Lions on the back foot. The Brumbies took the Lions game plan away from them.
They targeted the contact area where the Lions have not really been challenged. They simplified things - hit rucks, hit mauls, get over the top of the ball and don't allow them to play their game. There was just so many errors in the game - they gave the Brumbies so much.
Is this such a bad thing though? The tour has been particularly easy and this could be the kick up the backside they need.
I thought O'Brien and Faletau were superb, the did all the hard work - they carried when they were going backwards and when they did start to go forward then they showed just how superb they are in that area. You are only as good as your front five. They win you games but as we saw today they lose you games as well if your set-piece does not go well.
On Lions selection: Faletau was superb again tonight but the fact that he played means that they will go with Jamie Heaslip. If they do go for Heaslip then they may go for Lydiate - especially if the conditions are poor. What I champion is the combination, that is more important to me than the individual - I keep on going back to this time after time: if you are going to play Croft then I would play Faletau. If they are going to play Heaslip then I would play Lydiate.
I think Jonathan Davies has been outstanding but another player who could come into contention if George North is not right is Zebo. He has looked sharp when he came on today, he plays the way Warren Gatland likes - looking for work and he comes in around the contact area.
Rod Kafer
It was a good effort from the Brumbies, they are a well drilled side, a simple side and they know how they want to play. They are well coached, Jake White has done a really good job. They make a mess of everyone's ball at the breakdown area and were able to do that tonight against the Lions.
Lions impressions: I have been blown away by the Lions ability to use the ball. We expected to see that power game and not using the ball out wide, but the team has played with width and a real verve. It has been great to watch.
On Australian game plan: Over the last few years the Australian team have had these wonderful openside flankers who compete heavily at the breakdown and I expect on Saturday Michael Hooper to get in there and make a mess of the ball.
I think on Saturday the fly-half will be James O'Connor which is an error. it is a massive, massive gamble. he is a great winger but one of his problems is his capacity to call multiple plays - he doesn't say anything, he just goes out there and plays. You need a fly-half who can lead a team around and he is not that guy. I would play him at 12.
I know Barnsey has written him off but Israel Folau is the real deal. he has 10 games of rugby under his belt but he is an absolute match winner. Remember Jason Robinson - he played a couple of games for England off the bench but came here and lights everything up. this guy will do exactly the same!
Michael Owen
The Lions will go into the first test disappointed with the loss but they have done enough on the tour so far to show that they are going to be confident against Australia. It will be a great contest.
It is tough to go through a Lions tour undefeated but the Brumbies have been superb from minute one, they showed the desire that is necessary to beat the Lions. The Lions cannot have too many complaints because the Brumbies took the game to them, fair play to them.
We always knew that this was going to be a tough game, with all the injuries they have had they needed to put out some new combinations out with players who have just joined the tour. Overall they will be happy with their progress and this is just a bump in the road. They will still go into the first Test very confident, they are more than capable of beating Australia.
The Lions started really week and Shane Williams nearly scored but the Brumbies came back hard and the Lions made too many unforced errors. They were poor for 50 minutes then and then they brought the subs on who transformed the game. The forwards who came on in the pack were really strong. There were also some strong performances from Toby Faletau and Richie Gray - Faletau has been outstanding and I think it will be a touch call between him and Jamie Heaslip for the first Test
Watch the British & Irish Lions take on the Brumbies at 10am on Tuesday on Sky Sports 1 HD - then it's full steam ahead to the first Test against Australia, live on Sky Sports 1 HD on Saturday from 10.30am.