Our rugby experts share their views on Australia squaring the series
Find out what our experts thought as Australia won the second Test against the Lions in Melbourne.
Last Updated: 29/06/13 3:52pm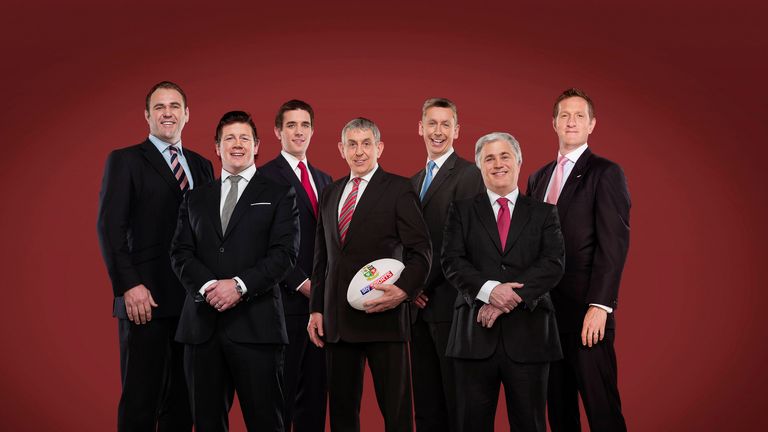 Leigh Halfpenny missed a long-range penalty in the final minute of the game to deny the Lions their first series win for 16 years.
The Lions looked on course to secure a famous victory thanks to Halfpenny's boot but Australia threw everything into attack and despite a brave defensive effort, could not stop Adam Ashley-Cooper from crossing the try line with four minutes to go.
Christian Leali'ifano kicked a tough conversion to clinch the victory and set up a third-Test decider in Sydney next Saturday.
Our pundits, including Scott Quinnell, Sir Ian McGeechan and Paul Wallace gave their expert views on the game, and what to expect in the third and final Test...
Sir Ian McGeechan
The Lions will be disappointed that they gave Australia so much possession and territory in that last 20 minutes. They needed to get that ball up field and take a little bit of possession. I think the Lions need to switch off and have something completely different for a couple of days. Then they can come back and refocus on winning a Test match. They will not change huge amounts for the third Test but they need to isolate areas in the game that did not quite happen, including the back of the lineout ball.
You could see what they were trying to do but the execution just didn't come out. The kick and chase was excellent and their defence was super, it was just too much defence for too long. You want a little bit of possession, a little bit of territory - there was just 10 minutes of Lions control missing from the final 20 minutes of the second half. That would have been the difference in the result. I think the Lions will take control of the game next week and have the win in my book.
On Leigh Halfpenny's kick: From up here we all thought it looked 5m too far. He is a great kicker but that was on the very edge of his distance. I would have like to have seen them have a go again, we had just made 40meteres and unless you make a mistake you can play for 25 minutes - the closer we got to their 22 the less they would have competed because they would not have wanted to give a penalty away. The momentum suddenly comes back to us.
Scott Quinnell
The Lions have to keep their self-belief; they have another get out of jail card in essence. They have to go to Sydney next week and out it all on the line. They have to play a lot smarter if they are going to win. It was difficult out there today - a lot of things did not go to plan; a couple of scrums and line-outs did not go their way.
They put a huge amount of pressure on themselves - you can't just defend for 30 minutes. Australia just kept on coming and kept on coming. We talked about the key messages that would have been play in the right areas, make sure you are clinical; make sure your set-piece is clinical. Put them under pressure when you are inside their 22.
The Lions just did not do that enough in the second half. That allowed Australia to gain confidence - they played very well. They played in the right areas and kept hold of the ball. I did think they were going to give it to us in the end, though! They need to be honest - what didn't go well and why didn't it go well. But then they also need to look at the positives - they were a kick away from winning a game and the test series.
They worked hard at the scrum and the contact area was superb and their defence was magnificent too. The positive message has to be that they can still win this series. It is going to be a tough couple of days but they have to believe they can win - it's about the top three inches. If they don't the Aussies will start to get into them - I know, I've been there and seen it in 2011. They have to believe that they are going to win next week.
Paul Wallace
Australia had 68% of the possession in the second half - you can't just soak that up. I did think it was a brave and stoic defensive game from the Lions though. Dan Lydiate and Sam Warburton as a unit were very good. But in the end, the Achilles heel of this tour - the lineout - played its part. I am not sure if Australia have all the momentum going into the decider, though.
James Horwill may be missing for that third Test and that would be huge. There is a Northern Hemisphere ref coming in too and that gives the Lions players an advantage at the breakdown and at the scrum as to how it is reffed. Then you have the likes of Mike Phillips, Jamie Roberts and Alex Corbisiero possibly coming back into contention as well. I think it is the depth and quality of the squad that could play a huge part next weekend.
I think a lot of players came through - especially Vunipola. He was struggling at the start, maybe down to some scrum interpretations, but the way he finished was very good. I also thought that the intensity in defence and the work at the breakdown was excellent - I thought Sam Warburton had an outstanding game. If he is out injured that would be a massive blow.
Ieuan Evans
The Australians probably deserved to win, in the last 15 minutes they played some outstanding rugby. This was a desperate situation for them - they had to respond from that horrible loss last week and get a win to take it to the final Test next week in Sydney. They did and so the Lions have to respond now. How much have they got left in the tank?
It was as physically intense a game you could ever hope to see. Everyone gave everything they had and more beyond the call of duty. This was always going to be about tiny margins and that tiniest of margins went Australia's way today - last week it went the Lions way. Halfpenny, though, has got nothing to bow his head about - he has been outstanding on this tour and that was an incredibly difficult kick.
The Lions will look at the other aspects of the game that did not work today. The lineout once again was an issue, the scrum was not the dominant force the Lions would have expected heading into this series. Those are the elements that basically cost the Lions this game. I think there is better to come from the Lions but you have got to compliment Australia, they have played very well nullified a lot of the Lions' strengths.
Brendan Cannon
I think Australia have the momentum ever so slightly but that momentum will be cut off at the knees with James Horwill being back in front of the judiciary and he will almost certainly miss the deciding Test. This judiciary hearing will be the biggest circus in Australian rugby for a long time - mark my words, James Horwill will miss the third Test.
I honestly thought that the Lions would finish the series tonight and take the Tom Richards Cup and head to Sydney for a bit of a non-event. The Wallabies showed great character as all Australians love to do. I think the Lions tonight lost a game that they could have easily won. They had great control and great poise but just when the moments mattered, they let it slip.
Will Greenwood
On changes for final Test: Gatland will have to look at who is fit and available. There was an incredible toll in terms of injuries with people hobbling around. He has to go next week with players carrying no knocks because it will be brutal again as the Australians build and build - they have two games under their belt now and are getting stronger and stronger in my opinion.
Stuart Barnes
On changes for the final Test: Warburton played really well today, he is a great bloke and a committed leader, but when Sean O'Brien came on today it added something different. We cannot go to Sydney next week and hang on and hope that Australia will drop as many balls as they did today. The Lions have got to turn Australia around and take the initiative. I think O'Brien is the sort of players who can do that.