Stuart Barnes says England must go on the attack in the autumn internationals
England must be brave and bold against the world's best this autumn, says Stuart Barnes.
Last Updated: 06/11/12 3:51pm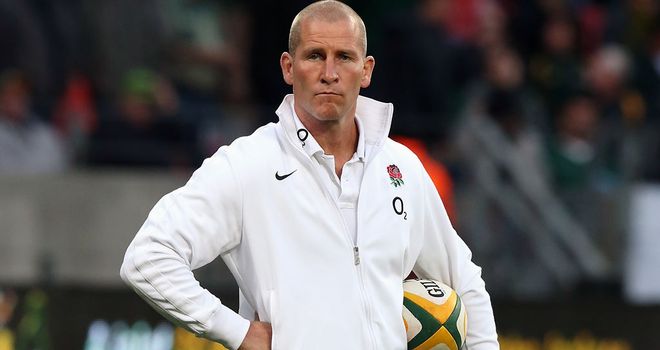 The Six Nations does not tell a team where it is in world terms. Results mask competence. Last season Stuart Lancaster was heralded for a winning start to his career. Four wins from five games is a decent record but it did not tell supporters much.
The wishful majority thought it told them enough for Lancaster to be offered the job full time which he duly was. Yet whatever the weather issues in Rome and Edinburgh England did not prove themselves in any way but a gutsy one.
I attended a Wayne Smith conference in Oxford on Monday and he referred to the last Calcutta Cup match as one Scotland had no right to lose and should never have lost. A Charlie Hodgson charge down and Scotland's chronic inability to turn possession into tries turned a poor performance into a brave win. The take in Italy was the same and it was not until defeat against Wales at Twickenham that England showed much offensive firepower.
Sub-standard France and an early injury in the weak Irish front row magnified the efforts of England. A good set of results but against a second rate set of opponents. The concerns were realised in South Africa with two defeats before English fight and determination came to the rescue and salvaged a draw in Port Elizabeth. This was England's best result to date under the new management but it was another game of almost anonymous attacking.
More is needed in November when the opposition constitutes the world ranking first, second and third teams. Granted home advantage for all these games England is expected to produce at least two wins from the big three games as well as an initial victory against Fiji this Saturday.
Ranking
To achieve this, the side will have to deliver a lot more than it has thus far. If it beats two of Australia, South Africa and New Zealand England will take a stride towards a top pool seeding in the 2015 World Cup and a gigantic step towards becoming world class; ie one of the best three or four teams in the world.
They are currently ranked four but when I asked a patriot like Lawrence Dallaglio at a QBE function last Wednesday whether they were justifiably rated four he stated that Wales were ahead as well. It is a view shared by most neutrals.
Yet Wales, Grand Slam champions of Europe, lost 3-0 to an Australian side that has been vilified in its own country most of the summer. Scotland's win in the wind and rain against a midweek strength Wallaby team apart, it was a summer shorn of wins against the leading nations.
If we judge a team on results in the average Six Nations we must do likewise in the autumn internationals. Supporters cannot have an attitude where winning is all one month and not the next. Therefore, according to the criteria of those who cheered Stuart Lancaster's men last Six Nations, winning is everything; against the best.
Performance
I intend to be consistent - I thought performance was as great if not greater measurement throughout his first few months. I'll not change. There is no need to anyway because the only way England will win three from four of this month's matches is by playing some top class rugby.
Defence alone prevailed against weaker Six Nations teams. It will not suffice against the best. At the Wayne Smith conference the former All Black coach quoted Clive Woodward who wrote recently of the need for teams to score tries. When England drew 26-26 with New Zealand in the mists of time, Woodward apparently told his team to target five tries. They managed three but Woodward is quoted again as saying this was the moment everything changed in the mindsets of the players, so a senior pro like Lawrence Dallaglio said at the time.
It takes a quantum leap to see this team targeting five tries against the big three but a game plan that doesn't stress the need for say, three, is likely to come up short. Let's hear nothing about brave defence and limited attack. Defence, as Mike Catt admitted to me last week, is the easy part, there are a few more frills required in attack.
This England team still has problems with its midfield. Poor Mike Brown seems set to miss out because Lancaster has to start with Alex Goode. The Saracen is a clever ball player but probably not a superior fifteen to the Harlequin but midfield limitations demand the balance of the extra distributor playing second five as much as full back. It reveals the problems elsewhere as well as the often canny selection skills of Lancaster who is an infinitely better picker of players than Martin Johnson was.
Optimistic rugby
Smith talked of the need for 'optimistic rugby' and how such a mindset can liberate players. I am not sure that Wayne does not underestimate the challenge faced with players so technically inferior from an early age to the Kiwis but the point is nevertheless valid. England is only going to improve as an attack force if it emerges from its shell and has a go. Counter attack from deep when opposing wingers are deep; work out strike moves from scrum and line out, spend as much time on support lines as defensive drills; only a fool thinks it will be easy but England is desperately in need of what the New Zealander calls 'optimistic' rugby. No other brand will beat the best.
Against the best England will need to be near its best for the next month and their best requires both attack and defence. It starts with Fiji for whom Akepusi Qera has been drafted in late. I hope the Gloucester man plays. He is a fine performer who deserves a big stage. If Fiji actually have picked on ability and didn't need him originally, I still hope he plays because England will be up against some flanker otherwise!
Fiji is an ideal first game. It allows England to kick out the cobwebs. It allows Tom Youngs - hopefully - a chance to get rid of the throwing demons that snagged him at Gloucester recently. Lancaster was right to pluck him from the Leicester bench to the South African tour and he was right to have him as understudy to Dylan Hartley. The World Cup is a long term project that requires a mix of potential and realisation in the selection process. If he fails to hit his man against Fiji it should not cost England the game although it should cost him a place against Australia. Youngs will feel the pressure but with Geoff Parling - a figure of growing authority at Leicester - to ease him through the nerves, he has a perfect opportunity to find his rhythm.
As do England and, unlike the Six Nations, they will need it if they are to bare scrutiny as an improving team, and a winning one.
STUART ANSWERS YOUR QUESTIONS...
Hi Stuart. Saints appear to be going backwards on the big three (Quins, Tigers and Sarries) in terms of performances and quality of their squad. There play is predictable and one dimensional. Virtually all supporters know the fly half situation is a joke, but the whole team have lacked fizz and creativity this season, and we miss Ashton and Wilson. Supporters on the fans forum are starting to question if Jim Mallinder is the man to bring a major title to the Gardens, or that he should at least shake the coaching team up, with the emphasis being bringing in a new backs or attack coach. One of the richest clubs off the field, and yet never even been to a Premiership final, let alone won one, which is a poor return. What's your thoughts, time to ring in changes come the end of the season? Best regards,
Jay from Banbury
STUART REPLIES: Jay, your concerns are the ones I have been voicing for a few years; I didn't think Jim was ready for England and I always doubted the ability of the team to play with the variety required to win the major trophies. Nothing has changed from this perspective. One thing I would say to a fan however is take your time coming up with thoughts that are as strong as these. A month ago were you stating your worries in so forthright a manner and if the club beat Ulster home and away (the latter I seriously doubt) will you still take the long view?
Hi Stuart. Although I am a staunch Welshman, I do enjoy the Premiership matches so much more. What more does Christian Wade have to do before he is selected for England? Love your show and commentaries.
Martin Steiro
STUART REPLIES: Martin, flattery will get you everywhere. Wade has to show his defensive alignment has improved considerably from last season. He has started well. Aerially he is much improved and as an attacking force he is downright scary. Wayne Smith has lodged this damned phrase 'optimistic rugby' in my mind; well Wade certainly fits that bill.
Dear Stuart. Obviously the season is well under way and we're all enjoying the action but last week's Lions Special left me thinking? Not one of the panel mentioned bolters?? Every successful Lions side has had a bolter? I hope Mr Gatland goes outside the international panels and picks a balanced squad of real class not caps?? You will no doubt have a few earmarked but after last weekend James Simpson Daniel has got to be up there with Sharples and Burns not too far behind? Imagine Burns playing with quality around him on a hard track?? The options for the Lions are exciting and endless. Let's hope for no narrow mindednesss. Roll on June. Best Wishes,
Andrew (Ireland fan & white Knight!!)
STUART REPLIES: JSD for the Lions. I am up for that. Burns is an interesting contender too on thsoe hard grounds......any other Gloucester players in your mind? How about Marshall, Ulster's impact sub scrum half. I reckon he'll be starting nine soon for Ulster in the big Heineken games....so there you are, Marshall and Simpson Daniel with Burns a slightly wilder card.