A team of substance
Barnes says smart win over Ireland was important step
Last Updated: 11/02/13 12:07pm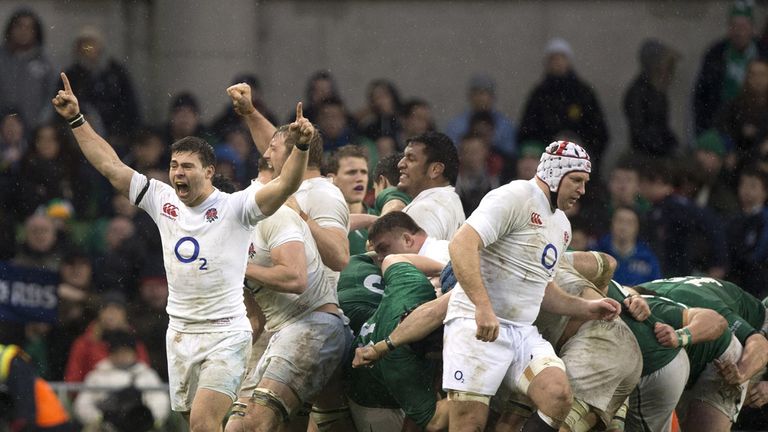 Not quite the excitement and ambition of the first weekend but the Six Nations was again packed with stories.
England's maturity and general good sense, France's slide from one of the best teams in the world in autumn to one of the worst in February and spring - finally - arriving in Scotland.
The assessment has to begin in Dublin where England recorded a first Six Nations win in five games. The dominant element of the game was the elements themselves. It destroyed any thought of an international being played at the tempo England and Ireland has so enjoyed in their previous two matches in which both teams had run up a collective total of 76 points.
The icy rain may have been the enemy of attacking ambition but on the flip side it did the work of the defence itself. Everything was done deeper and slower. The match metamorphosed into a grinding game of chess and England - to their credit - outwitted an Ireland team of more experience.
Two years ago England went to Dublin looking for a Grand Slam and got a hammering. In the aftermath of the defeat the squad was highly criticised for the photographs of celebrations on a day when they had been hammered.
The celebrations were more muted on Sunday even though England had won. Of course, no championship is in the bag but this side has a level headedness to it that the Martin Johnson side never possessed. Johnson's team had, like this fledgling crew, some brilliant moments but the awful ones were only a few minutes away.
In the wake of this sodden Sunday the sense is that England is now a team clear in its knowledge of how it should play and the sort of integrity required to make it something special. As I write the side is NOT a special one. Little England elements have to wait a while before those acclamations have substance. A Grand Slam is a step in the right direction but still only a step.
Not such a quantum one after seeing Ireland off in with intelligent efforts from Ben Youngs (ghosts of Dublin well and truly laid after his public slating two years ago) and Chris Robshaw whose Lions credentials remain standing after yet another rounded performance against high grade opposition.
The possibility of England heading to Cardiff in search of a Grand Slam grows. The next two matches are at Twickenham and France are somehow reduced to tatters. Wales deserved their win but were nothing special. Do not be fooled by those who acclaim the incredible quality of the defence; there was barely an attack worth the name.
Wales stop the rot
Wales just had to win; no marks for style count when you are on an eight-match losing streak.
Ryan Jones was superb as captain which leaves the thorny question of what to do with Sam Warburton. The injured captain is out of form while Justin Tipuric is bang in it. Jones's leadership from the blind side was good as was the balance of the back row. It would be weak of Rob Howley to restore his captain on current form. It is THE selection to keep an eye on.
France - one assumes - will make changes. Philippe Saint-Andre is enduring a shocking Six Nations campaign. It cannot be just the fact I tipped them!
Frederic Michalak is a failed gamble, Morgan Parra is the missing general and Wesley Fofana is being utterly wasted on the wing when he is as good a centre as there is in Europe.
The country has so much talent at its disposal but so little invention. The French manager could twist his squad like a kaleidoscope and something very different may come at England in the next round. Or they could simply not turn up.
Spring flowers for Scotland
Scotland produced the most exciting game of the weekend and the individual headline maker to boot. Stuart Hogg's ninety metre solo breakaway try capped two outstanding weeks of Test match rugby. Full back is a massive area of strength for the Lions but the young Scot is making a determined bid to upset the established order.
That aforementioned try summed up the narrow margins of sport. Hogg intercepted a pass from Luciano Orquera; had the Italian fly half dummied he would probably have scored and the game would have been on at 20-10. Instead one dazzling score and a few seconds later it was 27-3 and stone dead. This might not be the end of Scotland's winning this term.
Italy were not as bad as the score reflects but whereas the pack were superbly marshalled against France the Italian half backs reverted to their usual useless selves and then it doesn't matter how many Parisse's you have to the pound, the wins are not going to come.
Relegation battles
Away from the international stage the big news was both Sale and London Irish winning; London Welsh and even Worcester are back in the relegation fight now. Sale's game at Welsh is a huge collision.
At the other end of the table Leicester took advantage of London slip ups to go top while Wasps and Gloucester enhanced their own play off credentials.
Bang mid-table and not talked about beyond their own borders, Bath have discovered the joy of rugby and are scoring tries instead of trying to grind out wins. Peter Stringer and his rapid service is the element that has ignited them. Keep one eye on them for the rest of the season.
Keep both eyes on England; after a first year where any win was overhyped they are starting to win in a manner that suggests they are finally heading in the right direction.
I might just have a look at the 2015 World Cup odds.
Stuart answers your emails...
Got a question for Stuart? Email him at skysportsclub@bskyb.com or use the feedback form below...
Feeding the scrum
Stuart, when I was a wee schoolboy scrum half many years ago the referees insisted on putting the ball in straight. As a consequence both front rows tried to win the ball, as they had a chance to win the ball, and scums "worked". Now with no obligation to put the ball in straight (in practice if not in the laws of the game) the side without the put-in has no incentivisation to try to hook the ball so goes for disruption and penalty seeking or similar. And the scrums do not work, and this creates a major problem with today's game. If the ball were to be put in straight and both scrums were intent on winning the scrum would that not ensure more positive scrums? With less time wasted on resets etc, and hookers could relearn their role. Do you think referees should be instructed to impose this law? I ask this question because I heard you accuse a scrum half of an error in a recent game when he put the ball in a bit straight and I did not understand the reasoning behind accepting a culture of not straight. Why does it benefit the game to allow scrum halves to feed the ball into the middle row?
Graham Noble
STUART REPLIES: Hear, hear Graham. Straight put ins are still in the law book. Who on earth told referees to ignore the book (yet referees will tell you they have no option but to obey the laws when it is something fashionable like the tip tackle)? I have spoken and written on this subject. A crooked feed takes the technique of the hooker out of the game and turns the scrum into a 'hit' whilst the law book has a set of laws for something different entirely... no wonder the scrum is such a mess.
Punishment for Healey?
Stuart, very disappointed with Ireland on Sunday but I thought England really got into their faces and played with a lot of thought. Do you think that Healey's rush of blood to the head will ruin his chances for Lions selection? On another not, what is happening to the pitches these days? Are they just not up to the wear and tear of professional rugby?
Mark Lupton-Smith
STUART REPLIES: Mark, I do not think Healey will or should be punished as regards his stamp and Lions prospects. I thought the English foot was in the air and not on the ground and the intent was to cause pain for someone Healey perceived to be on the wrong side, no more. As for the pitches, they are simply not up to the constant reset of a thousand scrums...what or who is?
Saints in freefall
Hi Stuart, I wrote to you in the autumn bemoaning the lack of basic skills at both club and England level, well a few months on and everything in the England garden is starting to smell of roses. The performance in Dublin was top draw considering the venue and the conditions, could this be the start of something very exciting... let's hope so. I wish the same could be said of Franklins Gardens!!! As you witnessed on Saturday there were precious few basic skills in evidence from The Saints. I know Sky like to come to The Gardens because there is always a good atmosphere which helps to make good TV. Not anymore and if you want to have any viewers left you need to give it a wide berth from now on. It really was desperate stuff and I wonder what you think the answer is? I have been going down there for 40 years now and I don't know when the club has been in such disharmony, the natives are NOT happy and we are a pretty loyal bunch. The relegation years were not as desperate as the stuff we are having to sit through now, I am sure our aspirations have been raised since those days and the time when you and your Bath mates used to give us a good stuffing but it's all got rather sad. What do you think?
Jim Bryant
STUART REPLIES: Jim, All due respect but I think the relegation year was considerably worse. Like Gloucester you were missing key players which could have changed the shape of the game - could have, not would have; too often Northampton's best fifteen has struggled to find a rhythm. A lack of variety in the way the team plays is clearly fundamental. They have long reminded me of a club version of traditional England teams; big and strong and good at bullying opponents but when someone stands up to the bully....oh well, at least England cheered you up.
Too many kicks?
Hi Stuart, big fan of the column (shocking from a Welshman I know). After watching Ireland/England this afternoon, I felt the only players to emerge with any credit were Goode and Best although admittedly the weather ruined any hope of seeing the finer aspects of both teams. My query comes regarding the scrum halves. Do you find it slightly worrying that the first instinct these days is to put up a box kick? Youngs and Murray managed about a pair of decent ones between them all game. Also, surely George North has put himself in pole position for a test spot, barely got a touch all game and had a magical finish. Apparently some fella called Halfpenny didn't do too badly either.
Dan
STUART REPLIES: Dan, Had I been a fly half in Dublin I would have screamed for my nines to keep boxing the ball. What else could a team do in such conditions? So, given the weather, no not too concerned. I wouldn't be too quick to knock either team on a technical level. As for George North, it is about time he got into the game (something he did through the second half) and yes, Leigh Halfpenny can play but if he wants to be the test fifteen he has some serious opposition doesn't he?
Free flowing game
Stuart, From a great admirer of your since Bath's glory days. No matter how much discussion on individual matches rugby will never rival soccer as an international sport whilst the game itself is so flawed. The fact that the ball is in play for less than a quarter of match time speaks for itself. There are far too many petty regulations which constantly impede flow of play for reasons which the crowd invariably cannot see or understand, and which so often mean the game is won on negative scoring (penalties) rather than through tries (e.g Eng v Ireland). The outcome often therefore depends simply on whichever team has the best goal kicker. Let's find a way to stop scrum collapses, and get rid of all the ineffective regulations (especially the accidental knock-on, which time and again stops a promising flow of play because of an inconsequential fumble which usually disadvantages the attacker anyway). It's time for influential commentators and journalists to look at the wider picture and start campaigning against entrenched views.
R. Hawdon.
STUART REPLIES: Mr Hawdon, fascinating set of questions; it is the quality of the time in play, not the amount that most matters and penalties are not 'negative' scores when they prevent negative teams stopping positive ones. Tries are the litmus test of exciting rugby but not always the only proof. We cannot use the Ireland v England game as an example as conditions were exceptional... the accidental knock on, hmm, to allow that means diminished skills are encouraged, ie catching and passing. However, whilst not agreeing with the small detail of your argument I concur that the game cannot stand still and pat itself on the back; too many games are poor. Reducing conversions to one point and raising a try to six is one of my suggestions along with dropping the drop to one point.
The scrums are another issue altogether with coaches teaching their teams to fool referees. It is a tough contest to call when nobody is hamming when a referee has two front rows with their mind on conning it becomes almost impossible to administer. No lesser a personage than Andy Farrell made this point whilst saying that the scrum should remain a key attacking weapon in the sport.