Stuart Barnes previews the big rugby clashes on Sky Sports this week
Stuart Barnes licks his lips at an enticing menu of top class European rugby on Sky Sports this week.
Last Updated: 02/04/13 11:16am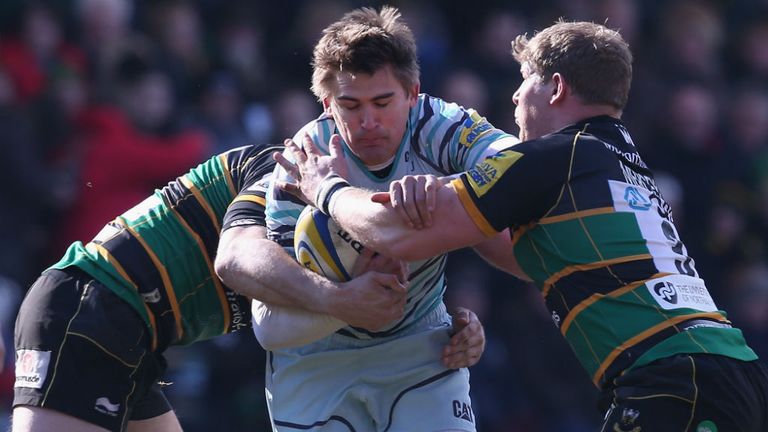 1. Gloucester versus Biarritz, 7pm, Thu Sky Sports 2 HD - The action starts on Thursday night with Biarritz, the reigning champions, trying to grind the Gloucester youngsters down. It is a classic clash of contrasts. Biarritz has a pack and an experience that makes them a threat in Europe, not to mention one of my least favourite sides to watch. The magic of Dimitri Yachvilli's boot has turned many a potential thriller into a dirge.
Watch it and cheer on Gloucester against the sport's club version of the pantomime villains. Gloucester represents the diametrically opposed when they click as they did against Harlequins last Friday night.
Johnny May tore Toulouse to pieces last season and is in the form to do a similar job on Biarritz. If Freddie Burns and Billy Twelvetrees find their best form England will have their starting midfield for the first test against Argentina and Gloucester the ammunition to knock out the boo boys from the Basque country.
2. Wasps versus Leinster, 7.30pm, Fri, Sky Sports 2 HD - Leinster in the Amlin and Brian O'Driscoll on the sidelines? This has been the season of decline for Europe's greatest team. It had to happen at some stage and with injuries playing their part and Clermont in the same pool this was an obvious year for a slide.
Defeat against Ulster only increases that sense of slipping away but Leinster still possesses a superb coach and a host of players needing big games with Australia in mind. Rob Kearney - inconceivable at the start of the season - is no longer a tour party banker, nor Jamie Heaslip; Sean O'Brien is likely, as is Cian Healey, but with strong competition in both positions powerful performances would do no harm.
Wasps have been rising as Leinster have fallen, with Christian Wade heading the youth brigade. Elliot Daly is another bursting with potential behind the scrum. Yet the one that has garnered most headlines is Billy Vunipola but recent weeks has hinted that the blockbusting Number Eight is a little too unpolished quite yet.
Defeats at home to Northampton and Saracens indicates a ceiling for the season might have been reached, although whatever their final achievements who would argue against them being the most improved side in England with a bundle of room for improvement if they can keep some of their developing crop? Leinster are favourites to win the match and the game is favourite to be the most open and entertaining of the weekend.
3. Perpignan versus Toulouse, 8pm, Fri, Sky Sports 1 Red Button - Catch a little glimpse of French club rugby; will Toulouse be bothered or are they focussed on the Top 14 and still in a sulk having been eliminated after a poor pool effort? Perpignan has it all to play for being a few too many points behind Montpellier in the race for the play-offs and automatic Heineken Cup qualification. The atmosphere is bound to be great and James Hook is your Lions watch. Great talent but unfortunately not a great fly half...Perpignan for what will be a shock win this side of the Channel but no great surprise in France.
4. Bath versus Stade, 12.30pm, Sat, Sky Sports 1 HD - The Rec will be bursting for this one. It could be Bath versus Sergio Parisse. The French are in the doldrums but quite capable of picking themselves up for the odd knock out game. Bath are scrambling for automatic qualification for next year but the small matter of a trophy at the Rec would be more than welcomed by the ambitious Bruce Craig. The West Countrymen have been erratic but improving overall. Home advantage and a slick back line could yet overcome the great Italian whose presence makes the game one not to miss.
...And so to the Heineken
I find myself exiled in...
5. Clermont versus Montpellier, 3.15pm, Sat, Sky Sports 1 HD - And not a bad exile en route to Toulon! This is French rugby at its best. A team whose support rivals and, I think, eclipses even Toulon's for sheer noise and passion. The hosts have played the best rugby of this season's tournament by some distance and are the likeliest winners. A great line out, churning ball-carrying forwards, swaggering half backs, giant three-quarters and to top it all, Wesley Fofana. Clermont has not lost for three hundred years (or something like that) at home and cannot possibly lose, or can they?
Montpellier has the smartest coaching brain bar none in France in the shape of Fabien Galthie and in Mamuka Gorgodze someone quite exceptional. They have no pressure upon them and the quality to capitalize if Clermont freeze. Heck, they even have a home semi in their fair city should they win.
6. Saracens versus Ulster, 1pm, Sat, Sky Sports 1 HD - This was the pick of the quarters in some ways when the draw was made although the almost Calvinistic work ethic of both these sides takes a sheen of glamour off them but Ulster's win in Northampton is the best form in Europe outside Clermont's and last weekend's win in Leinster was a timely tonic after a barren spell in the last few months. They beat Munster in Limerick in last year's quarter final so Twickenham will hold no fears - only bad memories. Paddy Jackson needs a good start.
Saracens are England's most consistent performers this season and the manner of their comeback win in Nantes against Racing Metro illustrates both their composure and scoring potential via Owen Farrell's boot. Saracens are in solid form with a superb line out and, if it functions, could deprive Ulster of the ball to nick this match. The home side are five point favourites but Ulster's win will have chilled a few Saracens fans to the marrow.
7. Harlequins v Munster, 1.30pm, Sun, Sky Sports 2 HD - This was a home and hosed banker way back when. Harlequins were contenders and Munster were not the force of old. Munster is still not the force of old. They are meandering mid table in the Rabo and are abject on the road as defeats in Treviso and a fifty point concession of points in Glasgow last weekend shows.
Yet the tight tussles with Saracens at pool stage, combined with Harlequins losing their last three Premiership fixtures makes me wonder. I will NOT be writing Munster off as I did when they smashed Perpignan, even though that was probably a superior Munster team to this one. But they have Heineken history and Harlequins - well as they played in defeat at Gloucester - has lost that winning DNA gene of late. The most possible (not probable, not definitely possible) Heineken shock.
Which supposes that in...
8. Toulon versus Leicester, 4pm, Sun, Sky Sports 2 HD - An away win would not be a shock. Did you see how complete a performance the Tigers delivered in Northampton? Toulon has a squad of superstars but most of them are past their best. Bakkies and Simon Shaw and Jonny and Mat G, all are shadows of their former selves in pomp. OK, that bloke Lobbe is decent and home advantage counts for plenty and Jonny probably won't miss a kick and Steffon Armitage has the biggest point to prove in all of European rugby but a Leicester win a shock?
Hmm, maybe - but I have known this club for many years and an away win would not shock me; Toulon would be stunned by defeat which, if Leicester are in there fighting with twenty to go could give them the edge. Head on the block? Tigers to win with Munster going close, maybe very close, at the Stoop.
If you do not have tickets for any of these matches and are a bachelor, indulge yourself with some ale, red wine and the best takeaways around. If you are in partnership beg - or stand your ground - whichever is the best strategy but don't miss any of the action, Amlin or Heineken.
PS Buy your partner some flowers, the latest Adele CD, anything!
Stuart answers your emails...
Got a question for Stuart? Email him at skysportsclub@bskyb.com or use the feedback form below...
Video call
Hi Stuart, doesn't the current system support the referee the same way that cricket DRS system does? In the same way that unless there is concrete proof to the contrary, the on-field umpire ruling stands, by asking the correct question of the TMO does the same. "Can I award the try - yes or no?" means that the ref isn't sure so you need proof of the score to award it, just like a "not-out" call in cricket. "Any reason I can't award the Try" is the same as the "out" call in cricket, in that you need some definitive proof to overrule the officials' call. In this way the officials aren't afraid to make the calls on the pitch and be supported by the technology, rather than the rugby league scenario where refs will defer complete control to the TMO.
Paul S
STUART REPLIES: Paul, I think the 'any reason I cannot award the try?' is the problem. The question means there is a lack of certainty in the referee's mind and if he is not sure, proof of the score is a prerequisite before it is awarded. If he has no doubt, give the try, any questions in his mind and proof is needed. Hence my concerns; if the TMO could say 'yes, there is a reason, I cannot see a grounding' (which is not in their brief) that would improve the protocols and perhaps make the referee award the score as in the case of the Dylan Hartley try v Wasps.
Lions leanings
Hi Stuart. Though it turned into a rout in the end, I really enjoyed the Saints v Leicester game at the weekend. For me a few interesting thoughts for the Lions/England came from it. Do you agree? Croft - has to go, can't think of another 6 in the world with such gas in the open/from restarts and dominates the line out. Tom Youngs offered a great deal around the park and could be a great shout for the test number 16 shirt to come on with 20 to go. For England - can Ed Slater become the big heavy second row we're looking for? Any idea if Julian Salvi wants to play for England when eligible - couldn't help but notice he is uncapped and he has incredible foraging skills! Kind regards,
Sam Shelley
STUART REPLIES: Sam, Leicester were outstanding and in just the shape required for Toulon but before we start talking immediate Lions remember it is just eighty minutes. Let us talk about these individuals after this weekend. Longer term, Slater is growing and growling into just the sort of heavy hitting bruiser with plenty to his game who can make a mark at test level. I think he should travel to Argentina. The Leicester lock factory is still churning them out.
Saints marching off?
Stuart, if all the rumours are true regarding the exodus of players from Northampton how do you see them competing in the Premiership next year? Are there problems at the club or is it a case of money? Not blaming the players for wanting as much money as they can get.
Ian Mackay
STUART REPLIES: Ian, If all the rumours are TRUE about the incoming galaxy of stars heading towards Northampton who will want to face the Saints? But it is not just a matter of playing personnel. Northampton has to adapt its game to compete with the best as its appalling record against the top teams proves.