Stuart Barnes: How are the Heineken Cup play-offs shaping up after the crucial back-to-back rounds?
Stuart Barnes reflects on the latest Heineken Cup games and reveals who he thinks will make the play-offs.
Last Updated: 19/12/13 11:29am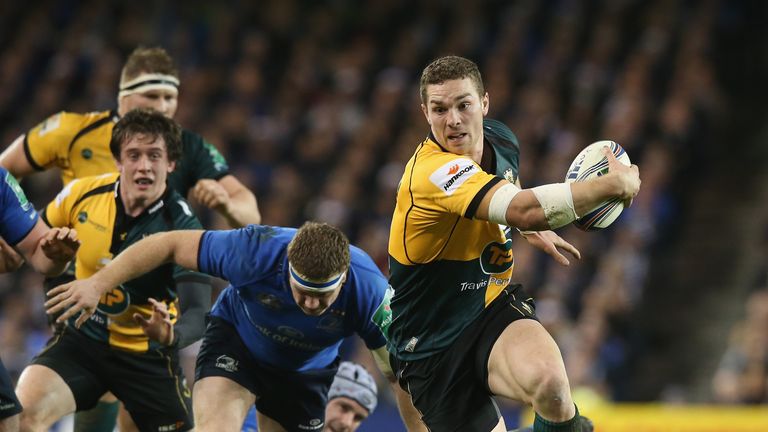 Glasgow itself was great, busy and bustling, the grandeur and welcome of the city bursting through the December gloom but nothing could penetrate the absolutely appalling lack of quality as the home team lost their back-to-back game with the Cardiff Blues.
Credit to the Welsh team; theirs is a squad shorn of experienced players in key positions.
The spirit they displayed was admirable but for all that the home side exercised such a fundamental grip on the game in the scrum that, in a match where adverse weather ruled out much brilliance in the broken field, the only result was a win for the side in control of the set piece.
For Glasgow to somehow defy all logic was astonishing. And it was awful. For the Blues the quality was second to the result.
After humiliation for a half in Exeter they have bounced back to a position where they travel to Toulon joint leaders of the pool.
No wonder the management were backslapping each player as they trooped off, a job well done with Glasgow's inadvertent aid.
Pride
The next day there was something of the epic in Dublin when Northampton turned around a 7-40 humiliation to beat Leinster in the new Lansdowne Road.
Yet at the final whistle there was little in the way of celebration.
Heck, even as Jamie Elliot raced the length of the pitch to break an incredible home side siege in injury time there was no whooping and hollering. Just exhaustion and pride at a job superbly done.
Jim Mallinder must take great credit. To have a team play their tormentors from the previous week with the mental belief in their winning powers is an exceptional effort. He and his coaching team also changed their defensive shape.
Instead of trying to blitz the Irish midfield that thrives on tight contests on the gain line, it gave them the gain line and drifted across the field as Leinster worked their wraparound moves to no effect.
Luck always plays some sort of part in such a huge turnaround and Dom Waldouck's bad luck was Mallinder's good. It forced George North into the Number 13 shirt where his partnership with Luther Burrell was superb in attack and defence. The mature effort from the inexperienced Tom Collins who filled in for North on the left flank only iced their cake.
Up front Dylan Hartley ended any lingering discussion over who happens to be the best hooker in England. He was immense, as technician, captain and all round player. Courtney Lawes was not far behind him while Samu Manoa is fast eclipsing Dan Lyle as the best American to play English club rugby.
Favourites
Leinster are still favourites to go through but the Saints hopes of a best runners up spot took a hammer blow 24 hours later when their near and not very dear rivals, Leicester scored with the last play of the game to beat a brave and much changed Montpellier team.
If they beat Ulster in round six of the competition one of the two sides is likely to reach 20 points, one beyond the Saints who still have a difficult away fixture in Swansea.
With Toulouse and Saracens both already on 15 points and a home match with Connacht and an away game with Zebre to come, that is the other pool of twenty points and best runner up. The Saints are unlikely winners in Europe but my bet for the Premiership title.
Elsewhere Harlequins maintained their decent form against a largely disappointing Racing Metro side. Four points behind Clermont with the French coming to London in round five, you sense they could have done with an extra point here, especially as Racing Metro will offer limited resistance in Clermont in round six.
Munster remains Munster; stylistically unconvincing but huge hearted makers of miracles. Perpignan snatched the win at the end, or nearly. They left Munster enough time to escape from defeat for another sensational victory if not so good a performance. Edinburgh's Sunday win in Gloucester was significant as Munster takes a clear advantage in this pool.
With two rounds of the pool stage remaining here's my guess at the final eight in no order, Toulon, Clermont, Toulouse, Munster, Ulster, Leinster, Saracens and Leicester. What do you think?
Stuart answers your emails...
Got a question for Stuart? Email him at skysportsclub@bskyb.com or use the feedback form below...
Hi Stuart, Please can you explain to me the farcical forward pass law introduced by the IRB?. This law means in effect that no matter how far forward the ball goes, it is not deemed a "forward pass" if the hands go backwards? Whoever made this ridiculous ruling must have failed his geometry exams in school.
1. When a player makes a pass the hands can swing around it an arc angle in excess of 180deg. Therefore the point at which the ball leaves the hands can propel the ball virtually in any direction. Any player can exaggerate this and make sure his hands end up going backwards. Therefore ensuring a forward pass is not given.
2. How is the referee supposed to see this, unless he refers to a T.M.O.
3. The Australian try against Wales was obviously forward, yet Wayne Barnes referred it to the T.M.O. and did not even wait for his decision, instead made up his own mind whilst looking at the big screen.(Not that I think that Wales would have won )
4. The latest diabolical decision was the second try that Toulon scored against Exeter which was at least four metres forward because Matt Giteau has cleverly mastered this art, ensuring the hands go backwards. Would love this to be discussed and demonstrated on the RUGBY CLUB. However, please tell me your opinion.
David Williams
STUART REPLIES: David nothing I can add to that superb soapbox effort. I am still puzzled how the Giteau pass wasn't signalled forward WITHOUT the TMO.
After another fine performance for Quins on Sunday, do you think Luke Wallace will get into the England team in the next few years? For the moment England seem happy with 2 x 6.5s in the back row (and when they include a proper 8, it seems to work), but will they switch to a specialist 7, and if so should Wallace get a chance?
Alan Debonair
STUART REPLIES: Alan, Luke Wallace is playing well, with that I agree but I can't share this media driven opinion that Robshaw cannot be an effective seven. He has a habit of continually improving his game and is, I think, a fine leader and a good seven.
Stuart, don't you think that the amount of money and foreign players in the league is damaging the national sides? France is suffering internationally due to the influx of foreign players; do you not think this might happen to England if this big money route is continued by the English clubs? On Saturday, 1 to 15 on Leinster were Irish Internationals. Shouldn't English clubs be trying to replicate this rather than copy the French model of big wages and big foreign players? Rugby is all about the grassroots and it seems like the lack of trust in blooding English players is going to hurt England in the long run.
Ruairidh Norman
STUART REPLIES: Ruairidh, Rugby is not all about the grass roots. You may wish it was but the very rich gentlemen that own clubs are concerned first and foremost with the success of their clubs. Whether this means spending big globally or developing via academies in the Harlequins and Exeter manner the priority is club not country.
Hi Stuart, what would you say are the main positives that the Irish side can take from the last month overall ahead of the 6 nations. Have we discovered anyone or have we enough to do the business. The smaller pick we have I feel we need to find a few every year.
Enda Cassidy
STUART REPLIES: Enda, with Joe Schmidt in charge you have found the one key man. Luke Fitzgerald's return is a boost but don't expect too many new faces.