Toulouse: Win over Saracens should be warning for rest of Europe
Stuart Barnes looks at the form book ahead of the final group-stage games in this term's Heineken Cup.
By Stuart Barnes
Last Updated: 13/01/14 6:02pm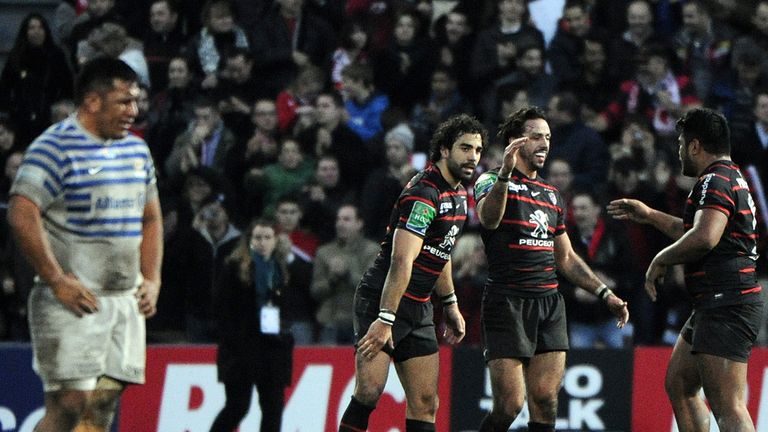 Saracens flew to France as England's standard bearers (although I personally think Northampton is the best team in England) and were ruthlessly dismantled.
Once again the step up from the Premiership to Heineken has found an English team out.
Saracens have been working on a faster and more fluid game in a bid to escape the stranglehold the big French teams have had them locked in for a few years.
Clermont, Toulon and Toulouse have all had an excess of breakdown dominance in an area where Saracens usually rule the English roost. The plan was to play with more pace as well as the extra firepower that the likes of Billy Vunipola were signed to bring.
So well has the game style developed that Saracens have metamorphosed from the beast to the beauty of the English game, leading the attacking way as top try scorers.
Going into Sunday's game I lost count of the number of times I heard them described as the top try scorers in Europe as well.
Stay away from statistics as scoring bundles against Zebre has nothing in common with taking on Toulouse.
Ditto the romps they have enjoyed in England; an eternal front foot and constant attack. When Toulouse took that away from them at Wembley the Saracens were squeezed.
In France they were crushed. Saracens scrambled superbly but rugby is not always about tries. It can be about points and Saracens could only prevent the power and pace of Toulouse by a series of indiscretions which allowed Jean Marc Doussain - outstanding at fly half - to boot them to a decisive win.
Conjecture
When the breakdown battle turned again against the English team they needed to switch tactics quicker. They needed to kick into touch more to take the tempo out of Toulouse's counter attack which was a focal point for the rest of the team all afternoon.
But they kicked too long and were outkicked in the base line game, while the entire strategy required kicks to be higher not longer and get the runners after it.
There is a case to make that the decision to start with Neil de Kock over the clever kicking game of Richard Wigglesworth was a clue to how Saracens wanted to play. They wanted to move the pack around and run the legs off them. There is much conjecture that the English clubs are fitter.
Nothing wrong with this as an initial plan but when the Toulouse pack are taking metres out of Saracens at every tackle, when they are driving them off ball at the breakdown it should have altered and quickly.
In the end a brave Saracens team ran themselves into the ground against a Toulouse team that played with immense accuracy in just about everything they did.
If they get a bonus point win in Zebre next week (complacent attitudes are consigned to Toulouse's frequently complacent past) they are sure to be at home in the quarter final. Nobody will fancy them on this form.
Indeed, back Clermont to score four tries against Racing Metro, the tournament's most disappointing team (having beaten Clermont in the face of all logic in round one) and join Toulouse as a home team.
Perform
So that is two of the four semi-finalists and that is bad news for Saracens and the loser of next weekend's main match at Welford Road.
The Tigers went so close to beating Toulon in last season's quarter final. Had they done so I reckon they would have won the tournament. A win and they will be at home and with players returning from injury nobody will fancy Leicester. A loss and they will head quite possible to one of these grounds - or Toulon again if the French perform in Glasgow.
The same applies to Ulster. They are a win from the considerable advantage of Ravenhill and a loss from a horrendously tough away task. Munster are being Munster, unfussy and slowly growing and a threat to any team. Indeed they probably have as good a chance as a shock away win in France as any side remaining given their knock-out history.
They still have their own hopes of a home quarter-final. Toulon needs to lose in Glasgow. Few will give Glasgow a chance but Toulon is dependent on a pack that won three penalty-tries against Cardiff to give the score line a flourish.
I was in Glasgow pre-Christmas to see at first hand the hammering Glasgow dished out to the Blues. If Glasgow stand firm in the scrum that is the game where a shock result could ensue and send Toulon on the road and Munster to a home quarter-final.
Edinburgh has enjoyed a decent season but if Toulon opens the gate Saturday the men in red will kick it down the next day.
Forlorn
Finally Leinster; the performance of the season remains their win in Northampton. The loss a week later knocked them out of their stride but an impressive win, albeit a patchy defensive performance in Castres, puts them in control of their pool.
Northampton need to win with a bonus point at home to Castres and Leinster must lose to the Ospreys without picking up a bonus point. The Ospreys have recorded some famous wins in Dublin in recent years but while Northampton can still hope, the hope of Leinster picking up nothing looks forlorn.
But nothing is 100% certain in sport and I'm heading to Dublin, expecting Leinster to book an away quarter-final but you never know. Then to Leicester Saturday night where home advantage and a great away day avoidance is up for grabs in the game of the weekend.
Ulster has led this pool since beating Leicester on day one but the typically tenacious Tigers have chewed and gnawed their way into a position where they will start Saturday night as favourites but Ulster, having thumped Montpellier in France when the French were flat out, will be confident.
It should be quite some game.
Stuart answers your emails...
Got a question for Stuart? Email him at skysportsclub@bskyb.com or use the feedback form below...
Hi Stuart. He didn't make the England squad this time around - but do you think Miles Benjamin is entering Stuart Lancaster's thoughts for the future?
Shaun Geedy
STUART REPLIES: Shaun, he has to be on the radar. He brings pace, power and finishing to the party and there simply are no wingers with a position set in stone. However, having not been selected for the EPS one wonders whether time is against him as the New Zealand tour is possibly the last chance to break into the squad, unforeseen circumstances like injuries to others aside, before the squad narrows its focus toward the World Cup. He might need a bit of luck as well as sustained from to break in.
Stuart, After seeing George North's fantastic try against Ospreys, how highly do you rate the Northampton and Wales wing? Cheers.
Mark Robinson
STUART REPLIES: Mark, about as highly as I did years ago... there are not many world-class, match-changing players in Europe but North is definitely one of them.
Hi Stuart. Love the column! Of the sides who have booked their Heineken Cup quarter-final spots, which has impressed you the most so far? Many thanks,
Michael Morris
STUART REPLIES: Michael, Leinster's win in Northampton was the most dynamic performance to date, Toulouse's display of power and control Sunday the most intimidating. But neither side is guaranteed to retain peak performances and so it looks a hugely open competition this season.
Stuart, How important is it for England to have Danny Care fit and firing for their Six Nations trip to France? His pass for Matt Hopper's try was superb!
David Lawrence
STUART REPLIES: David, It was a cameo moment of absolute class but as Stuart Lancaster currently has him as his number three scrum half maybe the answer is not that vital. I don't see him starting although the sort of touch we saw for the try makes him an asset off the bench.