Stuart Barnes: Irish provinces are in pole position to challenge Clermont Auvergne
Stuart Barnes believes that the Irish provinces could all challenge Clermont for Heineken Cup glory.
Last Updated: 20/01/14 2:11pm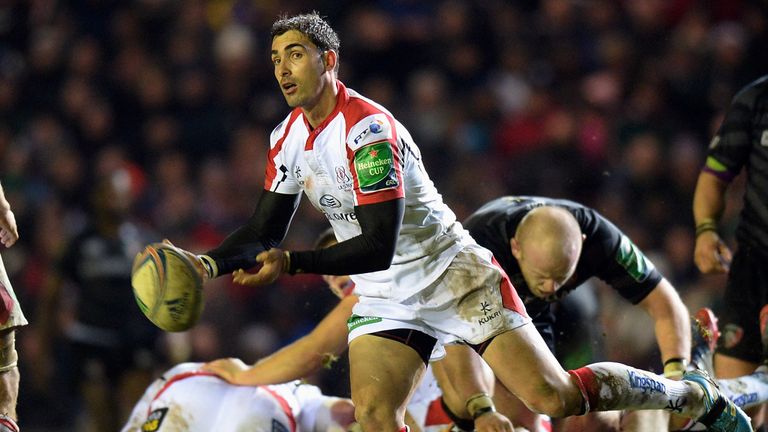 The Irish team left their home ground with what they required to qualify and Clermont departed with the bonus point win to push them up to second seeds and with it, all-important home advantage.
The top and tail games were similar affairs. In both instances the scoreboard failed to register the commitment of the well-beaten opposition. In both games cards played a deciding role in eliminating any prospects of a shock away win. Ian Evans was red carded early at the RDS and Racing Metro saw a trio of players yellow carded in the Auvergne.
Even with such handicaps some credit should go to the teams that had nothing but pride for which to play for. There have been times in this tournament when the weaker team hasn't managed that. Despite the scorelines, Ospreys and Racing Metro defended with heart and left this season's competition with heads held high.
In between these comfortable wins, Leicester and Ulster fought out the best and most significant game of the weekend. Ulster overcame the Welford Road factor and left as deserving winners. Their defence, spirit and rugby nous is impressive. The reward for them is huge. It is not that Saracens will be easy, far from it, but it means they avoid Clermont Auvergne away. Clermont have gone 71 games without their flag being lowered at home. It is not mission impossible for the Tigers who need the match-winning assets of Manu Tuilagi in a hurry, but it is the toughest of the Heineken Cup draws.
Revenge for Ulster
Avoiding Clermont is some reward for Ulster and their magnificent scrum-half, Ruan Pienaar. From being the outsiders they will be favourites to inflict revenge for the defeat at the hands of Saracens in last season's quarter-finals.
Saracens themselves dismissed any chances of a shock home defeat at the hands of Connacht with a veritable rout. It was a slick performance but it did nothing to answer the questions that surround Saracens against the powerful French sides. Beating mediocre opposition and being physically smashed by strong teams are two different worlds.
Ulster, it is noted, are not French and Saracens have beaten them at this stage within the last twelve months but that was in England. This time they are in Belfast and Ravenhill will finally be completed. It makes a din when the place is a building site, when complete it will be some psychological advantage for them. Saracens are not afraid on the road but with the statistics of the Heineken showing the home teams win three of the four quarter-finals, they have to start as underdogs, albeit ones with a better shot at an away win than Leicester who have the odds stacked against them.
Munster proved the biggest winners of the weekend. The odds were on Toulon, Clermont and Toulouse all doing what they needed to do to qualify for the three other home ties alongside Ulster or Leicester. Toulon eked out a satisfactory win in difficult conditions to head home for the quarter-final but it was in Italy where the shock scoreline - not result - sent Munster into seventh heaven.
Scoring just the one try against Zebre, Toulouse wasted much of the good work from the previous week when they devastated Saracens. So often so good at home, so often so awful on the road, they gave Munster a chance to pinch that fourth home tie which Munster were always going to do. They don't do a complacent attitude, they do what they have to and against Edinburgh they played with conviction and a determination to score the four tries. They did it with something in hand and will now play Toulouse in Limerick. I would not have written them off in France but suddenly, instead of a puncher's chance, the semi-final is in their hands. Toulouse won the game but they may have blown their chance.
At the end of our coverage on Sunday afternoon, Alex jovially apologised for sending them on the road in the semi-final. I wouldn't be so sure about that. They face the winners of Toulon versus Leinster. Whilst home advantage favours the French, Leinster has the game and the self-belief to beat the reigning champions. Leinster are the likeliest team to be the one in four away winners. If that happens the semi-final will be at new Lansdowne Road - where it would have been had Munster been drawn at home!
With the winners of Ulster or Saracens facing Clermont or Leicester in either Ireland or England, I would make a tentative guess that we could be in store for an all-Ireland set of semi-finals, with Clermont the only non Irish semi-finalist.
Amlin Cup
In the Amlin, Harlequins and the Scarlets produced a fine game in difficult conditions. Harlequins' reward is no sort of reward at all, a trip to second placed Top 14 team, Stade Francais. Still, Quins have history beating Stade and they have realistic hopes although the French, with a good Amlin record has to be the favourites. Bath, playing some sweet rugby on Thursday against an outclassed Bordeaux Begles team, should beat Brive while Wasps against a slowly resurging Gloucester and Sale against Northampton are compelling English clashes.
With the dust settled it seems that England's clubs still look short of the highest level. With five of their six strong contingent filling the best runners up spots and the three Amlin qualifiers there is nothing wrong with strength in depth in the top to middle ranks of the English game, but three French and three Irish teams standing tall as the top six seeds tells its own tale of the current state of affairs on the field.