Rugby Union Expert & Columnist
Jonny Wilkinson the 'greatest English fly-half of all time', says Stuart Barnes
Former England star announces his retirement at the end of the season
Last Updated: 19/05/14 1:01pm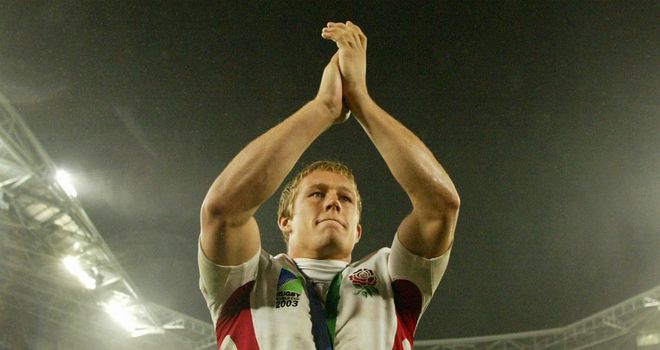 In that period he cemented his reputation as the greatest English fly-half of all time. Injuries and a loss of form came but the way he's finishing his career with Toulon; winning the European Cup and playing brilliantly; being the European Player of the Season last year; and playing superbly as they try and win a double of Europe and domestic this year, is quite incredible.
Jonny is an unbelievable rugby player because you wouldn't say he was the most naturally gifted; the work he put in to the game to become what he's become is quite astonishing and he's undoubtedly the greatest professional - in terms of work ethic - that professional rugby has ever seen.
He redefined the art of defending from fly-half and because he was so fit, so determined, so fiercely focused; he relished the contact. Naturally he's not a big bloke and a lot of the injuries came from contact, he really has tested his body.
Day in day out he's worked longer than anyone. On the morning of the matches he'll be there practising. The fans in Toulon absolutely idolise him and that doesn't go to his head; he's a modest bloke and he loves the fact that they demand something of him with a smile.
Wilkinson has been outstanding for Toulon but Toulon has also been very good for Jonny Wilkinson.
Anxious
It is an anxious week for coaches. Saracens await the news on Steve Borthwick's fitness for the Heineken Cup final while Stuart Lancaster nervously waits to find out whether Mike Brown, another key performer, has been removed from his New Zealand challenge - or at least part of it. The end of the season is taking its toll.
This comes as no surprise. The two teams contesting the final of the Heineken Cup are not setting new standards in terms of the quality of their game or the execution of their finishing and neither wins awards for out-and-out ambition.
But when it comes to power and defence, we are seeing something not too far from a quantum leap in the way the club game is being played in the Northern Hemisphere.
Saracens are at their best with their noses in front when opponents are forced to chase the game. That is when the destructive qualities of their defence wreak havoc and turn a good team into tattered remnants as happened with Clermont.
It is impossible to even imagine this experienced French team coming out of the tunnel in Cardiff and throwing the ball away. Ditto Saracens - although the English have slightly more ambition and tempo than the French it will not be a game suited to Saracens oppressive defensive style in the same way the Harlequins match was not but the constant pressure cracked Harlequins in the end and Saracens will expect even Toulon to succumb.
The midfield battle is one I will pick out as both significant and potentially thrilling. Marcelo Bosch has been a brilliant signing and his partnership with Brad Barritt next to Farrell is a sharp fanged defensive system, especially with Jacques Burger standing one out from the breakdown and chopping down anything that moves.
Cream of the crop
Toulon's defence is equally powerful in this area with Wilkinson, Giteau and Mathieu Bastareaud seeking the front foot in the tackle. But if Toulon has one advantage it is in the balance of the centres attacking game. The Australian is good enough to unpick anything but the perfect rush while Bastareaud's power tests the tightest defence. If it comes down to anything other than a last man standing shoot- out between the kickers, the battle for supremacy in midfield and (it goes without saying) at the breakdown will be the difference between winning and losing.
There is no question that rugby's cream has come to the European surface. The finalists of Europe are both hunting the double while one day before Northampton has their own crack at the double, albeit a lesser version. Of the four Anglo-French finalists only Castres are not on next weekend's European stage.
Amlin
The Amlin final between the Saints and Bath is fascinating. Bath, like Leicester last Friday, had nothing else to worry about which is potentially advantageous. Northampton does not have the home advantage. Their support sounded remarkable against the Tigers. But then again Bath are not as good a team as Northampton. They drew at the Rec recently and were hammered at the Gardens while Northampton's higher league placing tells its own tale. Bath, against both Exeter in the LV Semi and Harlequins in an effective Premiership quarter-final knock-out, failed to perform when it counts most in knock-out rugby - in the final stages.
All things being equal this is Northampton's game but they will be feeling the bruises form the win against Leicester and, perhaps more importantly, the Saints have the diversion of what is a more important game against Saracens in the Premiership final eight days later. Whether this will cause Jim Mallinder to shuffle his hand and weaken his (admittedly potent) squad is the question whose answer is keenly awaited.
It is a tense week ahead for fans, coaches and players of these clubs. It is also a nail biting time for Stuart Lancaster. A tense but terrific two days of European rugby awaits.
Stuart answers your emails...
Got a question for Stuart? Email him at skysportsclub@bskyb.com or use the feedback form below...
Hi Stuart, what to do make of Mark Hammett's appointment as director of rubgy at Cardiff? Joe.
STUART REPLIES: Joe, Hammett comes with a great deal of experience as a player and latterly a coach from a part of New Zealand peerless when it comes to producing rugby men so overall it's pretty positive.
Hi Stuart, does Danny Cipriani deserve this chance with England? And how about the four Exeter boys - Luke Cowan-Dickie, Dave Ewers, Sam Hill and Henry Slade - do you think any of them will be in the final squad? Would love to hear your views, Simon.
STUART REPLIES: Simon, Cipriani and the four Exeter boys are the starting point of a truncated selection process that will change with some rapidity. Cowan-Dickie could feasibly make the trip given the absence of hookers (this would be ahead of schedule) while the others may have to settle for Barbarians duty. Does Danny "deserve" this chance? A chance to show Lancaster his attitude is what he requires? He probably does but I still think Burns will be picked ahead of him unless he has an exceptional week in camp. Lancaster is interested in Cipriani whereas much of the media is obsessed. Danny is nowhere near the player he was, not yet and that's my final seasonal word unless he plays in New Zealand.
Hi Stuart, I'm a huge Sarries fan, and just about recovered from another great weekend. What a servant to the game our captain Steve Borthwick has been. It seems unjust we may miss both finals with injury. Can we win the double? Lee.
STUART REPLIES: Lee, It would be a tough way for your skipper to bow out. His attitude has always been exemplary and his consistency as a club player is undoubted. Fingers crossed he is fit. Can Saracens do the double? Yes. Will they? They'll be a great team if they do. The same applies to Toulon who are in exactly the same position themselves.