Rugby Union Expert & Columnist
Freddie Burns: England fly half does not merit start against New Zealand
Last Updated: 04/06/14 3:39pm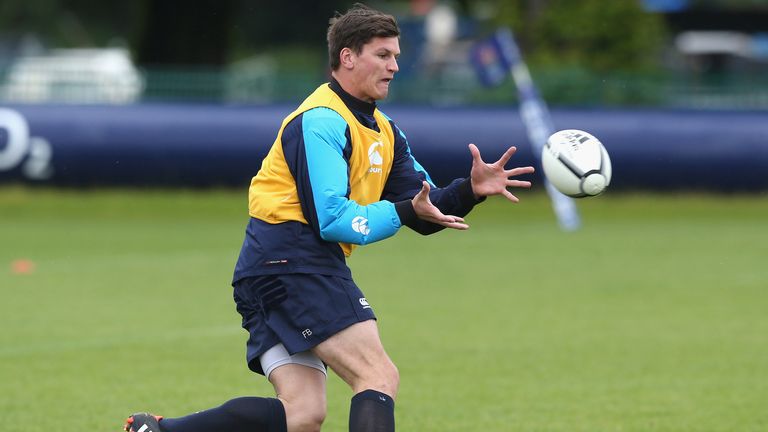 A passionate, powerful if not perfect game of rugby rounded the English season off at Twickenham with Northampton winning in the final seconds of extra time.
A first Premiership title in their history and well deserved. Congrats to the Saints team, management and fans. A marvellous occasion, a stirring atmosphere with the Saints fans, in particular, in superb voice and, for Stuart Lancaster watching in Auckland's early hours, no injuries.
Andy Farrell may have been expected to root for his old club but I suspect all the England management cared about was their contingent of tourists coming through without injury.
On all playing form Burns does not merit inclusion on the tour, let alone a team start.
Stuart
From that perspective it was a green light with only Owen Farrell and Billy Vunipola limping from the fray. Neither suffered anything worse than the immediate agony of severe cramping - although the regularity of the England fly-half's cramp issues is perhaps a cause for minor concern.
The greater concern for England is who will fill Farrell's competitive boots this Saturday. The leaks suggest the answer is Freddie Burns with Danny Cipriani warming the bench. It makes a mockery of Stuart Lancaster's claim that players are picked on form.
Whilst Cipriani has not been quite the superstar some newspapers would have you believe, his form has been consistently solid, while Freddie Burns' career has nosedived since his sparkling cameo against the All Blacks in 2012.
Confidence in his club shirt crumbled long before Gloucester's pack did and well before the disconcerting fuss over his move to Leicester. His representative game for England A (Saxons if you have a disregard for the poor old Angles, Celts, Picts etc) against Ireland's second string at Gloucester was a horror show.
On all playing form he does not merit inclusion on the tour, let alone a team start.
Character
So what is going on here? Well, Lancaster places great store by players' performances in training, both the quality of their work on the field and the character shown in camp.
LIVE ON SKY SPORTS
New Zealand v England
First Test
8am, Sat, Sky Sports 1
This is the stuff we in the media cannot see. Whether the manager is right to place such trust in knowledge of systems and ability shown under no pressure will be put to the test on Saturday.
So far in his managerial career the England coach has had the knack of getting more from his players than the clubs tend to get. It is a happy knack and one that reflects exceedingly well on the organisation and coaching of the team.
Whether it is Burns as expected or DC playing his way into the team with a series of superb training sessions, the pressure is very much on Danny Care to take the major share of responsibility as the half-back decision maker.
He has been one of England's most improved players in the past six months. His running game is, as ever, a threat and his kicking game has acquired more accuracy than previously but maturity and decision making will be imperative with a fresh face at fly half.
Inspire
The other Harlequins also have a huge role to play if England is to be competitive against a New Zealand side whose players are finding some form and fitness at the right time.
Chris Robshaw has to make more of an impression at the breakdown than he did in the Six Nations against Richie McCaw and this clever All Black breakdown outfit. Mike Brown has to inspire England as he did throughout the autumn and the Six Nations.
Yet for once all three of these Harlequins may play second fiddle to Joe Marler.
The absence of the injured Mako Vunipola means England lacks the thrust of eighty minutes the combination of the two have been providing. Given the All Blacks' potential weakness at hooker it would be a shame if England could not at least try to target the New Zealand front row.
On the other side of the scrum, with Dan Cole out injured, this is a magnificent opportunity for David Wilson to steal a march on the tight head. But with less experienced cover the question is how hard, fast and long can the pair go? If England takes the game to New Zealand up front these guys are going to be at the heart of the effort.
Other interesting selections centre around inside centre where Kyle Eastmond, dropped by Bath, could be a shock inclusion if Billy Twelvetrees is not fit enough to train flat out as I write (3.30 NZ time Tuesday) and tomorrow.
Cavalry
The All Blacks appear likely to take even an under-strength England threat seriously and are unlikely to try many fresh faces. Strong favourites for the first Test they may be but if England can make a game of it, with the Twickenham cavalry arriving, this could be quite a series.
At Auckland airport I had the pleasure and privilege of bumping into the great Sitiveni Sivivatu heading home for a month break before starting with his new club Castres. He believes England is, at the very least, going to be extremely competitive - and he is not the only one.
Elsewhere, watch out for a strong Australian performance against France as their rebuilding continues.
So much for what is to come; finally a word on what has been.
Both Jonny Wilkinson and Brian O'Driscoll ended their careers with domestic trophies. Wilkinson kicked his goals and dropped another off his 'wrong' foot in what was an ugly affair, while O'Driscoll only lasted nine minutes of Leinster's comprehensive beating of a brave Glasgow team.
Congratulations to those clubs and these men. We will see their like again - maybe not for a while, though.
Stuart answers your emails...
Got a question for Stuart? Email him at skysportsclub@bskyb.com or use the feedback form below...
Hi Stuart, great work as always. After seeing them sign off, does the retirement of O'Driscoll and Wilkinson signal the end of a golden era of Northern Hemisphere rugby?
David
STUART REPLIES: No, how can it be a golden era when we only won one World Cup and one Lions series against a troubled Oz team? BOD and Wilkinson were magnificent players but the future will throw up players to match and surpass them. That's the nature of the game, David.
Hi Stuart, I agree with Edward Griffith that the TMO decision system is a shambles, what can be done to sort this out?
A disgruntled Saracens fan
STUART REPLIES: DSF, it is a shambles. It needs a conference to rethink all the problems that have cropped up all season not a quick paragraph from a man who has just landed in Auckland and is typing through jetlag in a hotel lobby awaiting a room!
Hello Stuart, I'm really looking forward to watching the New Zealand Tests but is it just a case of damage limitation? Or is there a realistic chance we can cause some damage?
Peter
STUART REPLIES: Peter, England has a serious chance of winning either the second or third Test. The NZ press is not treating them lightly and nor is Steve Hansen and the All Blacks.