Bath still hopeful of building new stadium on Recreation Ground site
By PA Sport
Last Updated: 22/09/16 6:57pm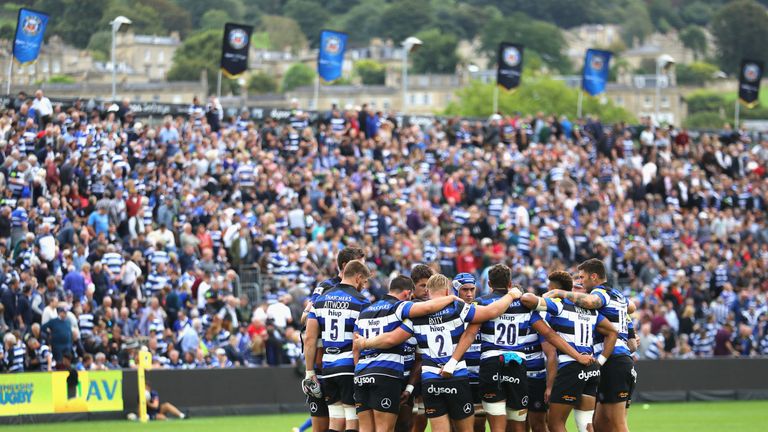 Bath hope a small group of residents will not block their attempts to build a new stadium on the existing Recreation Ground site.
The long-standing aim of creating a new 18,000-capacity stadium that keeps the club in the city centre reaches a critical point on October 20 when the charity that owns the land - Bath Recreation Ground Trust - meets those objecting to the proposal before a Charity Commission panel.
A final decision is then expected two to four weeks later, at which stage Bath will know whether they have the green light to develop a multi-sport facility that will cost a minimum £20m and potentially far more.
"There are three or four people who don't want it to happen who live nearby, but overwhelmingly the vast number of people want to see it happen," Bath's managing director Tarquin McDonald said.
"It's unfortunate that from a legal point of view it's a dog's dinner of a site. It's complicated and that means there are all sorts of challenges that people can throw in the mix.
"This is the situation we've been in for a period of time now. The people objecting are not anti-Bath rugby, but they're not Bath rugby fans as such. They're local people who have their reasons and we respect that.
"It's just such a shame that something that would benefit so many people, the sport and the city hasn't been able to go ahead."
The club hopes next month's Charity Commission hearing will ratify a set of guidelines about how the site can be used and if this happens, a planning application will be drawn up in spring 2017 and with building potentially beginning in 2018.
"People in Bath see the club as part of the cultural lifeblood of the city. It's not just a museum town, rugby keeps it alive and fresh," McDonald added.
"We want to be rooted to the centre of Bath, it's an important part of who we are. We want to know if it's possible to develop at the Rec and if it isn't we'll have to look at other options
"I'm hopeful and optimistic that the key hurdle in the next few months can be overcome. People in sport would love to see it happen because it is an iconic venue and to keep rugby in an amazing facility in the centre of the city would be brilliant."
Watch Man Utd v Leicester, the Ryder Cup and the EFL Cup as part of our three months' half-price offer.