Blitzboks will come out firing in London despite having sealed the series, says Rosko Specman
By Keith Moore
Last Updated: 19/05/17 3:09pm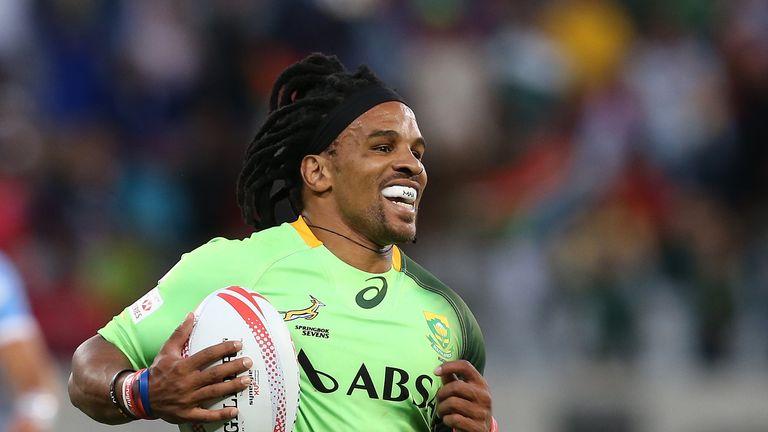 South Africa Sevens star Rosko Specman spoke to Sky Sports about winning the series title, playing with a smile, and meeting Tom Cruise.
The Blitzboks wrapped up the 2016/17 World Sevens Series last weekend when they lifted the Paris Sevens title after beating Scotland in the final.
Despite the fact that no team can chase them down in the standings, Specman maintains South Africa's relentless pursuit of silverware will continue in London this weekend.
"That's now behind us," Specman said of the series win. "This is the perfect time for us to defend our title.
"If we can go back to the basics and work hard from game one then we can build from there.
"If you treat this weekend like a fun tournament then your opponents will see where they can capitalise on your weaknesses, and they will notice that when you're on a high you don't work hard at the next tournament."
The 28-year-old says the team has been strengthened by prior heartbreak in the series, which has brought about their devotion to success and near-perfection.
"We set high standards for ourselves. In the last four years we were runners up, and this year we made sure to build our campaign around our culture and what it stands for.
"We try to make sure we tick every box in every game. We make sure our defence is there, as well as our set phases.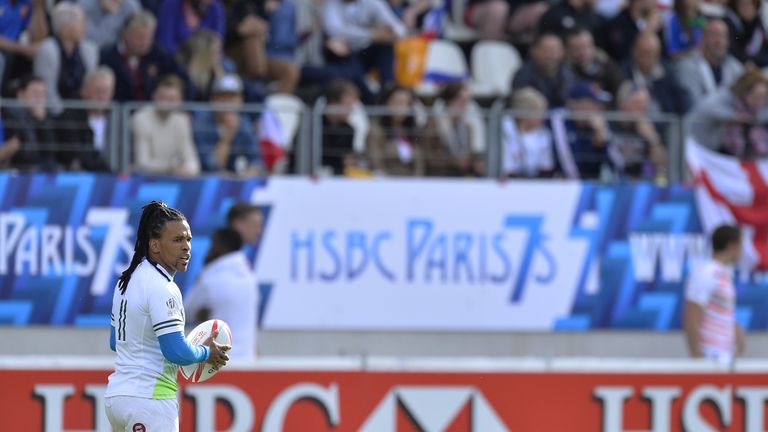 "Especially our defence, we make sure it's 100 per cent because we're not the biggest guys and certain players will always try run over you.
"Everyone can attack, but not everyone can defend so we make sure to put effort into it - there's always at least one per cent where we can improve every day."
Specman said that the team is honest about their frailties, working hard to fix them, but maintains there isn't a part of their game that can't be bettered.
"Sometimes you can lose focus when you're good in one particular area. You don't work on it because you think it's always there so you work solely on your weakness, but with us we work on both.
"We push both up to a point where we are executing at 85 to 90 per cent, and we try to stay up there throughout the tournament."
Specman joined the Sevens circuit in 2014 on the back of a promising career as a winger in the 15-man game. The year prior to his move he played for the South Africa President's XV against Georgia, and was named the Currie Cup First Division Player of the Year at the SA Rugby awards.
But Specman has no regrets about the move, saying he was welcomed into the Blitzboks' fold from the outset, and what was immediately apparent to him was a lack of hierarchy within the squad.
"I came in and there was no senior or junior players, everyone was on the same level. For me as a sweeper, I have to talk to the guys to get the line as strong as possible from the back, so if I'm scared to tell a senior player to move around then it won't work.
"I think the balance is perfect in the team, and that's where the culture comes in. Everyone buys into one thing, rather than one guy running the show and everyone following him.
"We have one goal, and if we all work hard for the same goal there's a 99 per cent chance we'll get it right."
The successful dynamic on the field is a direct result of the closeness of the squad, according to Specman.
"We like to spend time with each other - everything we do on and off the field is done by the 12. Sometimes we will invite the coaches and management too, but just to play pranks on them!"
Specman says he is driven by his passion for the game ahead of a desire for success, though the former often brings about the latter.
"That's the only thing that I know; if I'm smiling and enjoying myself then I know I can play good rugby. If I'm grumpy and someone is shouting at me the whole time then I don't enjoy my rugby.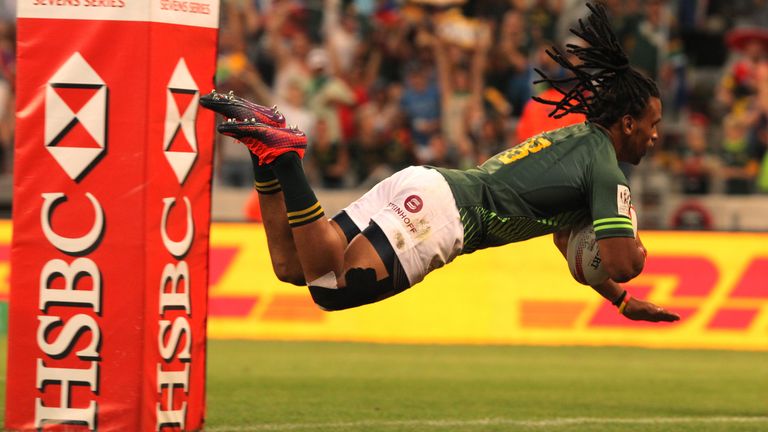 "It's what I try to remind the younger guys - you will feel nervous, but you must smile because you never know when it will be your last tournament."
Not his last tournament but his most recent, the Paris Sevens, will stand out for Specman thanks in part to a surprise meeting with Tom Cruise on the set of Mission: Impossible 6.
"I didn't know what to say," Specman said. "We were sitting in the bus on the way to the airport and suddenly the bus stopped and we were told to get out.
"We weren't sure what was happening but then a boat with cameras arrived, and we were told to walk towards it where it was docking. When we got there we realised it was Tom Cruise - we were in a state of shock.
"He's so humble - he chatted to all the guys."
A chance meeting with a Hollywood star is exactly the reason to treasure each moment on tour, says the Grahamstown-born star.
"That's the thing with this game, it takes you places. You never know who you're going to meet, so it's important to enjoy yourself and keep smiling."
Both days of the London Sevens will be broadcast live on Sky Sports this weekend, starting at 9am on Saturday on Sky Sports 3.