The British and Irish Lions departed London on Monday en route to New Zealand and a date with the world champions.
The Lions have not won a Test series in New Zealand since 1971 but hopes are high that Warren Gatland's men can secure a place in history.
The squad flew out after a pair of week-long training camps in Wales and Ireland, and now face the intensity of a six-week tour, which will feature a three-Test series against New Zealand.
The Lions will also take on five New Zealand Super Rugby sides and the Maori All Blacks, following next Saturday's tour opener against a Provincial Barbarians XV.
Wales fly-half Dan Biggar is among the Lions squad and will have to be in superb form to earn Test selection, with Johnny Sexton and Owen Farrell also among Gatland's 41-man squad.
Biggar says he is enjoying spending time with the other No 10's and that they are working together towards the common goal.
"What I have found interesting (with Johnny Sexton and Owen Farrell) is the amount you pick up off them, and that goes for other players as well," said Biggar.
"We have chats after training and talk about tactics. The two have so much knowledge, and it is really interesting.
"Johnny and I have got on really well, and after playing so often against him, it is good to be on the same side.
"I am looking forward to challenging him and Owen, and being with them gives you a good perspective on 10 play.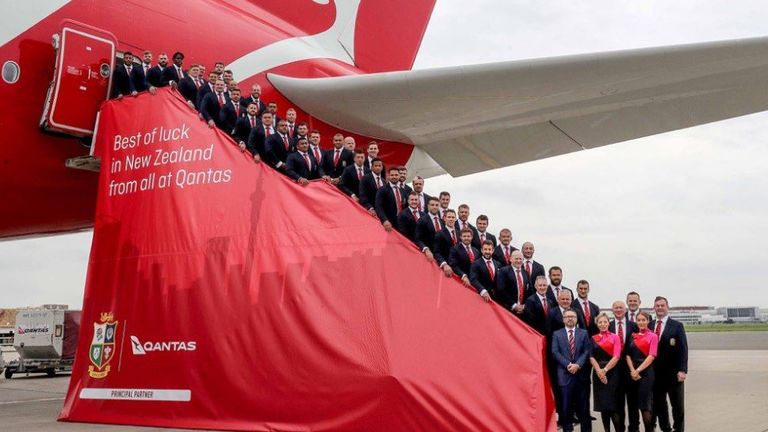 "We are not holding anything back from each other. The greater aim is to win the Test series so, if any of us has any knowledge that can help the team win games from small detail, it is important we put it out there.
"We are all confident characters who are not afraid to speak our minds and say what we think. That will suit the team well.
"We are competing for the same position and we all want to play in that 10 shirt.
"But the most important thing is not the battle for places, but that we do everything on and off the field and back whoever is playing in all the games, because we have the chance to achieve something historic."
Biggar also said the squad are keenly aware of the task they face, adding: "The majority of New Zealand's Super Rugby teams are flying and playing really good rugby.
"It will be a huge task for us, and not just the three Tests.
"The games against the Super teams will be hugely important as well. They seem to have a conveyor belt of talent. They lose (Dan) Carter, and they have (Beauden) Barrett and (Aaron) Cruden.
"The challenge is going to be huge in the Test series, and there will be no greater one in your career. We all have the opportunity to paint ourselves in a really good light."
Catch all the action from this historic series live only on Sky Sports.