Johnny Sexton ready to combine with Owen Farrell for Lions against All Blacks
Last Updated: 17/06/17 11:26pm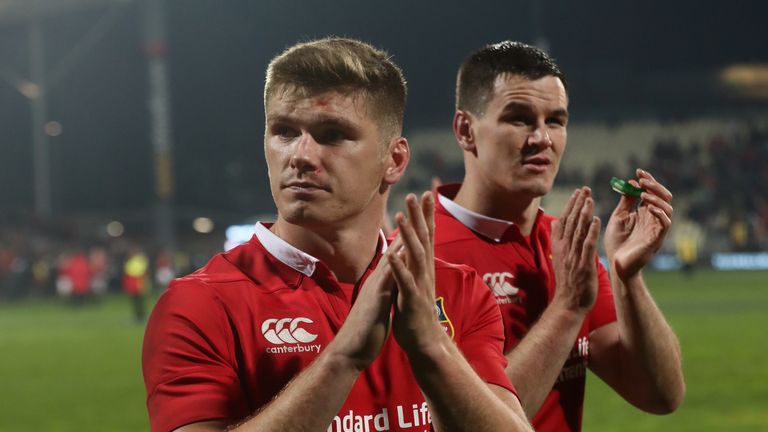 Johnny Sexton and Owen Farrell have less than an hour's rugby in tandem but the former says they are ready to forge a combination when the British and Irish Lions face the All Blacks next weekend.
Ireland fly-half Sexton believes Saturday's first British and Irish Lions Test against New Zealand in Auckland will be the toughest challenge of his career.
The Leinster playmaker could yet start at fly-half with Farrell at 12, after Lions boss Warren Gatland moved to allay fears over the England star's thigh injury.
The Lions have continued to insist Sexton and Farrell have not trained to pair up at 10 and 12, and that their only time in harness has been when thrown together due to injury in the 12-3 win over the Crusaders.
Sexton said: "We played 50 minutes together against the Crusaders and I think we went well together.
It's great when you've got somebody at 12 who can help you out that much.
Johnny Sexton
"At times, he was at 10 and I was able to be his eyes and at other times, I was at 10 and he was able to be mine.
"It's great when you've got somebody at 12 who can help you out that much.
"When he was at 10, I tried to help him as well. I thought we played well together but it's up to the coaches now.
"We all want to play in the Test team, but it's a 23-man game as well. I'm sure there will be different combinations.
"If you know the game like Owen does, if he plays 10 or 12, he'll be a huge asset to any team. He's a top-class player.
"It's going to be obviously the toughest game I'd say I have ever played. I have got to make it that way as well. It's all geared up towards next week."
But Sexton does not think that the All Blacks Test team will pay too much attention to the Lions' victory over the Maoris on Saturday.
He added: "The only way you earn their respect is by beating them.
"This is a much bigger challenge than the 2013 tour. The guys that were there can use the experience they gained with regards to the pressure.
"It's a huge opportunity that doesn't come by very often, there have been legends of New Zealand who have never played against the Lions and they'll be well aware of that.
"I'm sure they'll be under big pressure as well with the expectation of trying to live up to what happened 12 years ago and it's a rugby-mad country so the pressure is on."