Conor Murray treatment by All Blacks irks Lions coach Warren Gatland
By Mark Ashenden
Last Updated: 25/06/17 1:52pm
Warren Gatland revealed his frustration at the way Conor Murray was roughed up by the All Blacks in Saturday's opening Test and called for a clampdown on dangerous play.
The British and Irish Lions boss feels the hosts were deliberately diving "blindly" at Murray's standing leg whenever he launched a box kick in the 30-15 defeat in Auckland.
Munster furiously claimed Glasgow targeted Murray's standing leg during the Irish province's 14-12 Champions Cup win at Scotstoun on January 14.
France's Jerome Garces will referee Saturday's second Lions Test against New Zealand in Wellington, with Gatland saying he will raise the issue in meetings with the officials before the must-win encounter.
"There were a couple of times from Conor Murray where there was a charge down where someone dived at his legs," said Gatland.
"And I thought that was a little bit dangerous. And after he's kicked he's been pushed a few times and pushed to the ground.
"It's just making sure he's being looked after and protected and not harassed after he's box kicked. So we'll probably just get some clarity from the referee later in the week.
"We can't complain about the referee in terms of the way he controlled the match."
When it was pointed out to Gatland that Murray had received similar treatment earlier in the year, Gatland added: "Yeah he has and it's a little bit tough.
"When you see someone dive at someone's leg and it's blind, you feel for the player, and it's a little bit concerning that they are actually not trying to charge the kick down, because they are nowhere near it.
"They are actually diving blindly and hitting someone's leg. So for me it's just about protecting the players, making sure they are safe and that's my biggest concern.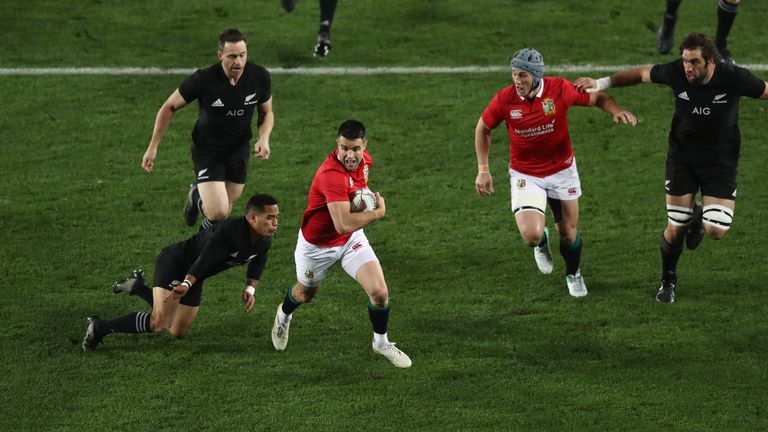 "So I'll just be asking politely that the officials look at that and make sure they protect him."
Rory Best will captain the Lions in Tuesday's final midweek clash, against the Hurricanes in Wellington.
The All Blacks dominated the Lions in the tight-five exchanges in Saturday's opener and Gatland admitted he had questions over the lineout maul officiating.
"There are a few things I want some clarity over in terms of the sacking of the lineouts, just for me to get some understanding about that," he said.
"But there are lots of things we need to concentrate on for ourselves and fix.
"And we said all along that we weren't coming here to bitch and moan about the refereeing and we needed to make sure that we played and looked after things ourselves and were in control of our own things."
Grab a £14.99 Sky Sports Month Pass and enjoy the Lions Test matches, The Open, England v South Africa and much, much more. It's an unmissable summer of sport on NOW TV.