Sean Fitzpatrick rates New Zealand's Jordie Barrett as 'hottest prospect in world rugby'
Last Updated: 07/07/17 8:30am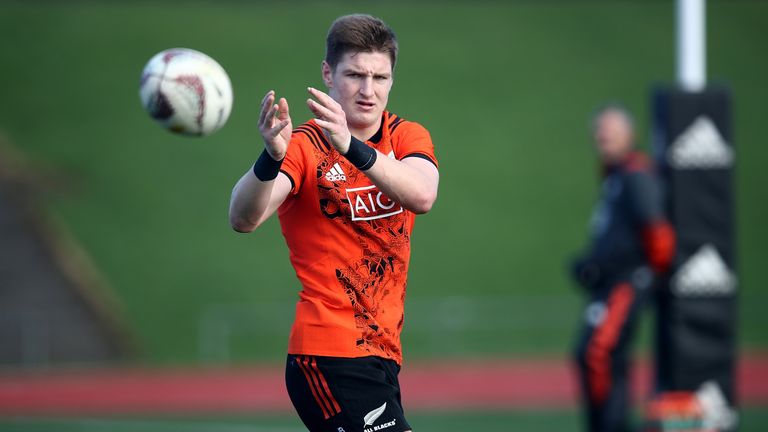 Sean Fitzpatrick believes the Lions will be up against the hottest prospect in world rugby in Jordan Barrett in their series decider.
Barrett is one of three replacements who have been drafted into the New Zealand starting line-up for the third and final Test at Eden Park on Saturday, where he will play alongside his brother, fly-half Beauden.
A third sibling, Scott Barrett, is among the replacements for the game, but former All Blacks captain Sean Fitzpatrick believes it is Jordie Barrett who will require special attention.
"If Ben Smith had been fit, I think he'd have played," said Fitzpatrick. "But Jordie Barrett is probably the hottest prospect in world rugby at the moment, he's sensational.
"They pulled him out of the under-20s and that gave us an indication that they were looking at him.
"He played very well against the Lions for the Hurricanes in the Tuesday match last week and they've thrown him in there.
"I've got no concerns at all, I think he's a real talent and he's an option to kick if his older brother isn't doing too well."
Fitzpatrick was part of the New Zealand side which won a Test series against the Lions 2-1 in 24 years ago and he says the current All Blacks will be under huge pressure to repeat that series scoreline this weekend.
"The build-up to that match in 1993 was one of the worst weeks in my life," he said. "The pressure to perform was huge and we weren't a shade on the team of 2017.
"We weren't a great side but we won and that was important. I think most of the public feel that if we play well then we should win."