RFU reveal Day's Cueto defence
Christian Day told RFU disciplinary chiefs that he wasn't "gouged" by Mark Cueto.
Last Updated: 13/04/11 7:29pm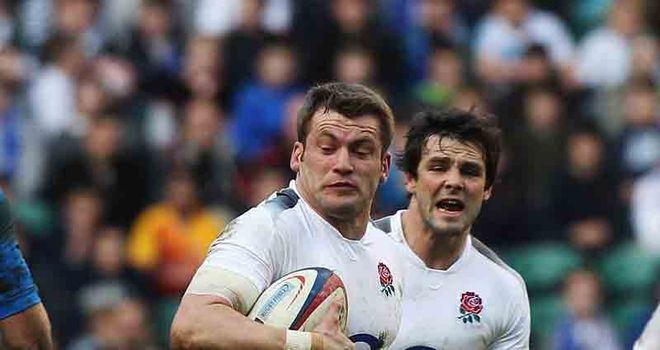 Northampton forward Christian Day claimed he was not "gouged" by England wing Mark Cueto in written statements to Rugby Football Union disciplinary chiefs, it has emerged.
Cueto this week received a nine-week ban after being cited for making contact with Day's eye/eye area during an Aviva Premiership game between Northampton and Sale Sharks on April 2.
The Sale skipper admitted the charge, but a recommended punishment of 18 weeks for what the RFU disciplinary panel deemed a mid-range offence was halved due to Cueto's remorse and good character.
Cueto can play again in early June, meaning he is available for England's entire World Cup preparation period this summer.
Television footage showed Cueto placing his hand on Day's face, with his fingers seemingly bent like a claw.
The RFU panel's written judgement of the hearing, released on Wednesday, outlined two written statements made by Day.
In the first, Day said: "I made a tackle on Mark Cueto and ended up on my back. I felt a strike to the back of my head and reacted to this strike, assuming this was Mark Cueto, and we wrestled to the ground.
"As we were getting up, I felt a hand push me in the face. It was a pushing motion from an open hand, and I felt no contact with my eye area."
In a second statement, when asked to comment on still photographs of the incident, Day added: "I understand that the photographic evidence appears damning, but that was not my recollection of the event.
"I can only describe what I felt at the time of a split-second occurrence. Pressure was not sustained into the eye socket.
"Instead, a 'pushing' motion was experienced consistent with a shove to the face. If a finger inadvertently entered my eye then it was, in my opinion, accidental and was certainly not my lasting memory of the event.
"I have had the unfortunate experience of being 'gouged' before, but this was not in any way similar."
References
The panel were asked to consider written references, testimonials and letters of support for Cueto from England manager Martin Johnson, RFU rugby operations director Rob Andrew, Sale Sharks owner Brian Kennedy and Cueto's first club Altrincham Kersal.
The panel agreed Cueto's offence was "not committed intentionally or deliberately," although it had been reckless in that he knew there was a risk of committing an act of foul play.
In its judgement, the panel, chaired by Antony Davies, said: "We considered the substantial and compelling mitigating factors in this case, and particularly the written references.
"The player is clearly extremely well thought of at every level, from his continuing links with the amateur club where he started, through Sale Sharks and into the England playing and coaching squad.
"He is described as a model professional player who has always conducted himself in an exemplary fashion.
"The player has clearly understood the seriousness of the matter and its potential implications for his participation in the World Cup in New Zealand later in the year.
"He has faced up to what he has done and not sought to argue that it was purely accidental and to exculpate himself from any blame. He is clearly genuinely embarrassed and remorseful."