Stevens - A special feeling
Matt Stevens says the feeling of reaching the Premiership final is all the more special after he turned his life around after a drugs ban.
Last Updated: 27/05/11 5:46pm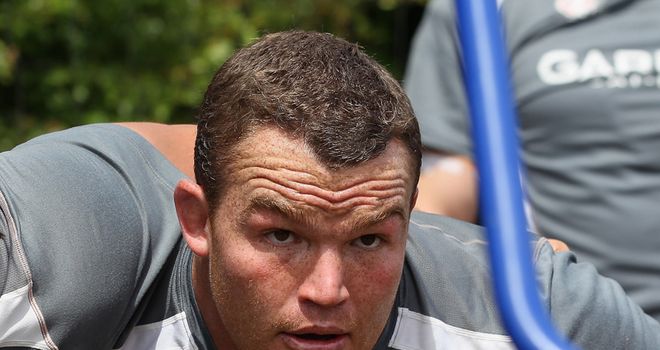 Matt Stevens says the feeling of reaching the Aviva Premiership final with Saracens has been made all the more special thanks to the new perspective he has gained on both life and rugby.
The prop will make an emotional return to Twickenham on Saturday for the first time since November 2008, when he won the last of his England caps against New Zealand.
Stevens failed a drugs test the following month and the fact he had to be reminded about his appearance against the All Blacks perhaps suggests his state of mind at that time.
In an attempt to cope with both the pressures of life as a professional rugby player and some personal issues he was struggling with at the time, Stevens began using cocaine.
A random test while playing for Bath in a Heineken Cup game at Glasgow resulted in a two-year ban. However, Stevens has turned his life around since then.
Now involved in a long-term relationship and the father of twin daughters, Stevens has found the personal stability that has enabled him to return to the sport he loves.
Saracens have not lost since Stevens joined them in January and they head into the final against Leicester on the back of a 12-match unbeaten run.
"I have thought a lot about what has happened over the last couple of weeks, as we went through the semi-finals and now into the final, and how different it has been," said Stevens.
"I have a really strong base for myself at home. My fiancee and my kids have been such an anchor in my preparations and so important to me that everything now means so much more.
"That is quite foreign to think about because it meant so much to me back then - but it means more to me now.
Regret
"I will always regret what happened. When people say they have no regrets, I don't know how that is possible but every day I am looking forward to playing rugby and looking forward to being with new family, all the amazing things I have in my life.
"Playing at Twickenham was never a novelty. It was always a special experience and one this Saracens team will hopefully hold in their memory for a long time.
"It's hugely exciting. It is what everyone has been working on for so long. When I was banned all I was thinking about was getting back to playing rugby.
"I would always have hoped for this to happen. We were very ambitious as a squad and aiming to be in the final.
"It was a whirlwind to start with but it has been great. I have been happy with the progression I have made.
"I definitely think there is a lot of improvements to be made but I think I am on course to make them."
Stevens is also on course to return to the England fold in time for the World Cup later this year - a target he set his sights on during his ban.
He will link up with England Saxons for the Churchill Cup on Monday and aims to break into Martin Johnson's World Cup training squad, where his versatility could prove invaluable.
"Someone who has been out of international rugby for more than two years has to prove themselves. That is my obstacle," said Stevens.
Fresh
"I have been told that what is in the past is in the past. I have done the time and they are looking at me with a fresh sheet, if you can do that.
"There is every chance I can be in the World Cup squad if I perform to the standard I know is in me. That is what I have got to do.
"The ball is in my court. I have just got to perform well."
Saracens have made just one change from their semi-final victory over Gloucester, with Neil de Kock starting at scrum-half after winning a coin toss with rival Richard Wigglesworth.