Williams eager to impress
Despite being the son of a former Wales and Lions scrum-half, Lloyd Williams prefers to take his advice from his fellow squad members.
Last Updated: 21/07/11 12:03pm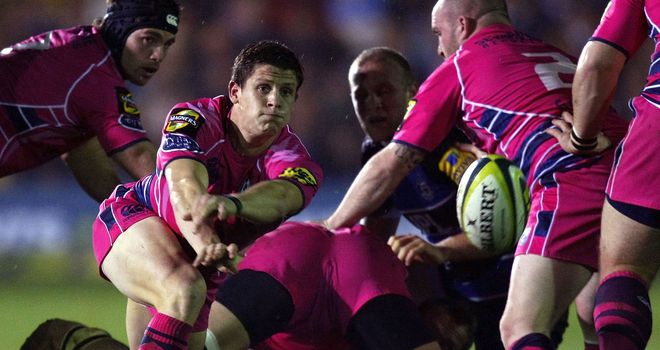 Despite being the son of a former Wales and Lions scrum-half, Lloyd Williams prefers to take his advice from his fellow squad members.
The Cardiff Blues scrum-half admitted that he avoids talking rugby with his dad Brynmor, a dual-code international who won three Wales caps and made three Lions appearances in the 1970s and early 80s.
Williams, who is currently on his second international training camp in Spala, Poland, prefers instead to absorb all he can from the players and coaches around him.
In particular, 21-year-old looks to his boyhood hero and fellow half-back Mike Phillips as a source for inspiration and learning.
"Mike has been the player I've watched in the last eight years or so," said the former Wales Under 16s, Under 18s and Under 20s international.
"He is the one in possession of that starting jersey at the moment and rightly so," said Williams, speaking as one of three scrum-halves on the current pre-Rugby World Cup training camp, alongside Phillips and Tavis Knoyle (Scarlets).
"It's just a pleasure for me to be playing alongside him instead of watching him, which I was doing not so long ago.
Determined
"But Tavis is going really well too, I would put them both in front of me in the pecking order, but that's not going to stop me trying.
"We are all working hard to get in the coach's plans for the summer and for New Zealand.
"I'm picking up advice all the time from the likes of Mike and James Hook and, in particular, Stephen Jones has been a great help to me since the second I arrived in camp.
"When I speak to my dad we actually try to stay off rugby, he knows what it's like and that there is so much to take in, so he knows to just leave that side of things."
Williams has developed a particularly close relationship in training with Jones and is determined to learn all he can from the 100-cap fly-half.
"When you have someone like Stephen, pointing you in the right direction on the field, you can't go far wrong," he continued.
"He is very good at letting you know precisely when and where he needs that ball in his hands.
Opportunity
"As a scrum-half you need that from your '10' and there's probably no better communicator than Stephen, so I'm literally learning all the time.
"But the whole experience can also be bewildering at times. I've looked up to Mike for a long time and coming from the Blues region someone like Martyn Williams is a living legend for me.
"Who wouldn't relish the chance to be playing with him or someone of Hooky's talents. I'm just trying to drink it all in at the moment."
Williams, who broke into the Blues first team towards the end of last season remains uncapped but featured for the Barbarians against Wales in June.
And, with Wales due to play two World Cup warm up matches against England and another against Argentina over the summer, he is determined to make the most of the opportunity he has been given ahead of the tournament in Australia and New Zealand.
"I've been given the glimmer of a chance and I know I have to take it with both hands," he said.
Mind-boggling
"The coaches have made it clear that past reputations aren't going to count too much and they are judging us on what they see, which is great for us youngsters.
"I have to work hard every day and get as much as I can out of this environment.
"There's a chink of light at the end of the tunnel where I can see the games against England and Argentina looming and if I get a chance of a cap that will just be amazing.
"It goes without saying that it is every rugby player's dream to play for their country and this is a world cup year.
"It's mind-boggling to think I'm in with a chance, but equally I don't know any different at the moment.
"That may be something that the youngsters may have over the more experienced players. We are all working as hard as each other, but maybe the youngsters are a bit fearless.
"We have nothing to lose and no expectations, we just have to go for it and, with the likes of Scott Williams and Justin Tipuric, that's what we are doing and we are just lapping it up and enjoying every moment - as anyone would in this situation."