North learning from Ashton
Teenage Wales wing George North admits he has tried to learn from watching England counterpart Chris Ashton.
Last Updated: 03/08/11 3:39pm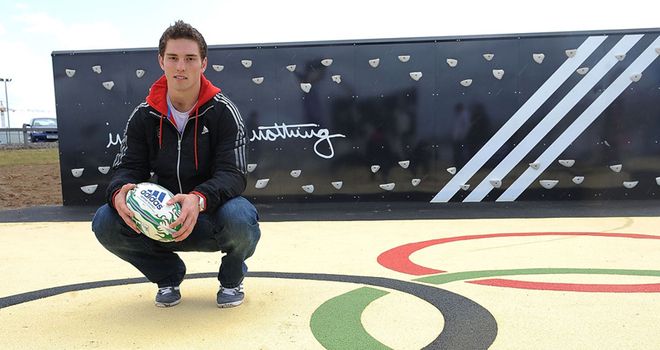 Teenage Wales wing George North admits he has tried to learn from watching England counterpart Chris Ashton.
Northampton's Ashton has rocketed into the international limelight with a haul of nine tries in just 12 England appearances.
Scarlets prospect North - at 19, five years Ashton's junior - burst on to the Test match stage last autumn by marking his Wales debut with two tries against world champions South Africa.
The World Cup beckons for both players in New Zealand next month, but first they will go head-to-head in Saturday's warm-up international at Twickenham.
"I think Chris Ashton has done great in the way he has switched from rugby league to union - he is a great athlete," said North.
"I have watched him and tried to take on board the things he does well. His work-rate and his hunger to get on the shoulder of runners is what impresses me most.
"If you watch him, he is always there in the right place to take an offload."
And should North mark his first Twickenham appearance with a try, could a capacity 82,000 crowd expect a spectacular celebration similar to Ashton's famous swallow-dive?
"That's not me," he added. "I am more about just getting the ball down and going again.
"Plus, I am slightly heavier than him, so it would be a bigger collision with the ground! I don't think it would do me any good."
World Cup aim
At 6ft 4in tall and just over 17 stone, the Twickenham faithful will struggle to miss North should he start for Wales on Saturday, and there is no doubt he could make a significant World Cup impact.
But North's affable, unassuming nature does not allow him to talk up his billing as a world star in the making.
"This time last year I wanted to pass my exams at Llandovery College and have a good pre-season with the Scarlets," added North, who was born in King's Lynn but moved to Anglesey 17 years ago.
"So if I am lucky enough to go to this World Cup, I just want to put in good performances and cement my place in the squad.
"We are all still learning and I am just enjoying my time. I am trying to take in as much as possible.
"I have obviously never been to a World Cup, and I've spoken to a lot of the older lads about how it works. It has just made me want to go even more."