Ford fit and ready
Following an extended break, Scotland's Ross Ford is raring to go against Ireland on Saturday.
Last Updated: 05/08/11 9:19am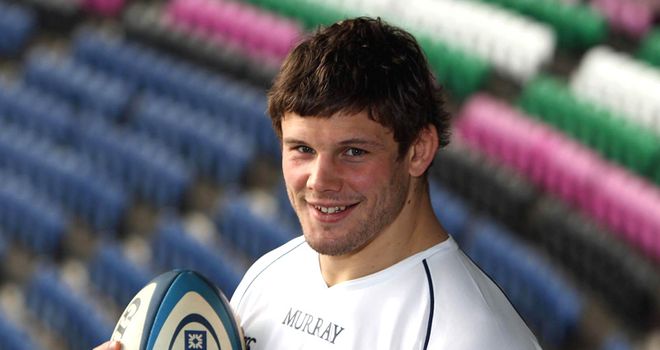 After enduring taunts of ''holiday maker'' following his extended leave of absence, Scotland hooker Ross Ford is ready to take on Ireland and prove his readiness for the forthcoming Rugby World Cup.
The 27-year-old Edinburgh hooker was one of five Scotland players withdrawn from club service after the Six Nations, but will pack down for the EMC Test at Murrayfield for his first action since the victory over Italy on March 19.
The enforced break came as something of a relief for Ford, who had played continual rugby for the previous two years, including the British and Irish Lions tour to South Africa in 2009 and Scotland's trip to Argentina a year later.
There were also physical symptoms relating to the decision to rest Ford, with an elevated heart rate a sign of fatigue which could have become serious had he not been ordered to reduce his workload.
Tired
Ford said: ''The past two or three years have been pretty full-on. I've enjoyed it, but it's just built up.
''It was good to be given that opportunity at the end of the season to go away and take it easier for a couple of weeks.
''I was a little bit surprised but I was quite pleased because I wasn't performing as well as I'd like.
''I was feeling quite tired, so it was good to have that chance to get over the bumps and bruises and be able to improve my fitness and work on skills.
''There was still training to be done - I got the same amount of time off as the rest of the boys - but while they were training for the games at the end of the week, I was only doing three days a week.
''There was a lot of banter from the boys 'here comes the holiday maker', 'just taking it easy'.''
Ford, Allan Jacobsen and Richie Gray will start their first fixtures since the Italy clash against Ireland this weekend, while Alastair Kellock has been named on the bench, but John Barclay has been left out of the matchday 22 to continue his recuperation.
Ford is relishing a return to the Test arena, with Scotland seeking to avenge the 21-18 loss to Ireland in February.
''I'm excited to get on with it now,'' he added.
Developed
''We've put in a lot of hard work over the past six to eight weeks. We're now looking forward to putting everything we've been doing into practice.
''It was a close game in the Six Nations. I'm excited to see how we've developed from there and I'm just looking forward to getting a hit out against another team.
''It's a good benchmark to see where you're at.''
With Kellock, Scotland skipper during the Six Nations campaign, named among the substitutes, Rory Lawson has been handed the captaincy, with Ford promoted to vice-captain and leader of the forwards.
Ford does not anticipate the senior role will impact on him too much.
He added: ''If there's something that needs saying during the game, I'll bring the forwards in and speak to them.
''Bar that, not much else will change for me. I'll try and lead from the front and put in a solid performance.''
Ford is taking nothing for granted in terms of World Cup selection, despite his status as vice-captain.
With three hookers in the 38-man squad, which will be reduced to a 30-man party on August 22, Ford knows he must earn his place in New Zealand.
He added: ''I don't read into that too much. I still have to be able to perform well.
''I've got to make sure my game is right to put my hand up and say to the coaches I'm good enough.''