Paterson on verge of record
Chris Paterson is on the verge of becoming the first Scotland player to appear in four World Cups.
Last Updated: 27/08/11 12:36pm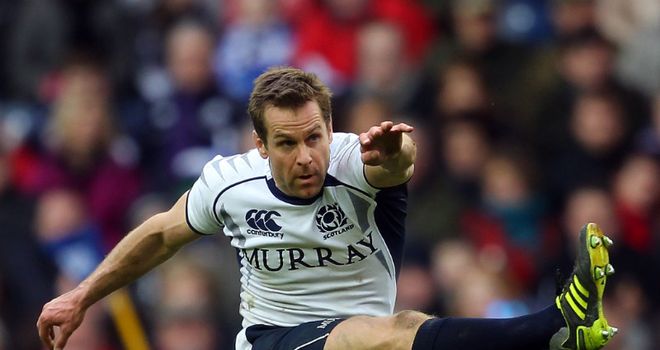 During a Test career spanning over a century of caps Chris Paterson is now on the verge of becoming the first Scotland player to appear in four World Cups.
His Test career may have been in doubt when he damaged a kidney against Wales in the 2010 Six Nations, yet his return surpassed expectations when Scotland enjoyed a stunning win over South Africa in November 2011.
It could have appeared to most that Andy Robinson would have been willing to do without the 1999 Scotland debutant, but consistent performances saw the full-back force the door to re-open.
"Chris fought to get himself back in," Robinson said. "He is a great competitor. That is why we love Chris Paterson.
"There have been barriers in his way since 1999 but he has been able to break down those barriers and fight his way back in. In areas we have asked him to improve, he has improved," added the former England flanker.
"That is why I feel Chris Paterson has done so well and been in the game for so long."
Paterson will now travel to New Zealand as Scotland's first choice No 15, while also providing fly-half cover for Dan Parks.
Few of his fellow Scotland internationals have been described as "world-class", yet Paterson has established himself as one of the global game's best goal-kickers.
Paterson's tally of 786 points from 105 appearances, both national records, has been invaluable, especially while his team-mates have found it hard to pass over the try line.
And given the importance of his each and every attempt, it makes Paterson's record of 36 consecutive goal-kicks from August 11, 2007 to June 7, 2008 all the more impressive.
Fourth World Cup
Speaking after the squad announcement, Patterson said: "It was a huge goal of mine to make this World Cup. I'm delighted to do that, but the hard work starts again tomorrow when we get back to training and fight for that starting place."
The group stage England match could determine whether Scotland make it through to the last eight but Paterson warned his team-mates not to lose sight of the challenges immediately in front of them.
"It will be a big game. The Scotland-England rivalry is second to none," Paterson said.
Paterson will now look to cement his point scoring record out in New Zealand and take Scotland beyond the group stages.