Robinson calls for fast start
Scotland have named their strongest possible side as they bid to make a winning start against Romania in Pool B on Saturday.
Last Updated: 08/09/11 4:13pm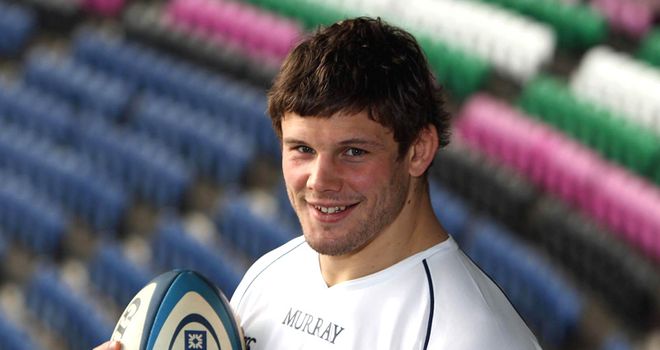 Scotland have named their strongest possible side as they bid to make a winning start against Romania in Pool B on Saturday.
Chris Paterson is to start at full-back, becoming the first Scot to appear in four World Cups, Ross Ford is set to win his 50th cap at hooker, while captain Alastair Kellock will start at lock alongside Richie Gray in arguably Scotland's first-choice pack.
Sean Lamont will start at inside centre in place of Graeme Morrison, who is not being risked after picking up a leg injury during the training camp in Australia.
"The World Cup is a long time. We wanted to come in and really hit the ground running when we arrived and have game focus," said head coach Andy Robinson.
Focus
"That's what we're able to do - really focus on the match on Saturday.
"The guys are used to doing that. When we're playing away from home in the Six Nations we'll travel a couple of days before and go and perform."
Robinson stressed his team selection was determined only by the Romania match, but the proximity of the second game - against Georgia on Wednesday - came into his thoughts when it came to Glasgow centre Morrison.
The head coach added: "He would have been fit to play but we felt that he wouldn't have been able to play in two games because of the physicality of the games.
"Because of the turnaround we felt he couldn't play in both games, so we rested him for the first game.
"We want him to play in the second game (against Georgia)."
Lamont will line up in midfield alongside Joe Ansbro, with Ruaridh Jackson reclaiming his place at fly-half from Dan Parks, Mike Blair given the nod at scrum-half and Chris Cusiter named on the bench.
Having beaten Italy in their final Six Nations clash before the warm-up successes, Scotland are seeking a fourth straight win.
Scotland scored six tries at Murrayfield in defeating Romania in the 2007 World Cup and are anticipating a physical tussle.
Another stern test awaits against Georgia on Wednesday ahead of the September 25 clash with Argentina and the October 1 fixture with England.
Robinson added: "I think the Romanians will target a number of areas, not just the scrum - the lineout and the contact area as well.
Develop
"It's a key part of the game. We're really pleased the scrum is a key part of the game.
"We've been, with Massimo (Cuttitta), working really hard to develop our scrum and it's something I think is improving well.
"The guys are looking forward to showing that in the games."
Kellock recognises the set-piece will be key for Scotland and believes the pack will demonstrate the improvements made in Australia.
Kellock said: "We know we've got to be scrummaging at our best against a team like Romania.
"Our lineout - I personally was quite disappointed with the way it went in the second half against Italy.
"It's been a real strength of ours in the last couple of years. We did a lot of work trying to put that right and I'm confident we've done it."
Scotland's 30-man squad were presented with their World Cup caps in Bluff, the southern-most town in New Zealand, following their official Maori welcome on Thursday.
Now with the festivities over, Scotland will turn their attentions to the action.
Kellock added: "We all know that no matter what's gone before to get us here that it's about what happens from now on that's important.
"We've got to earn these things (the caps) and that will happen with the performances we'll put in over the next few weeks.
"We hope that we will do Scotland proud."