Cueto frustrated by attention
Mark Cueto admits the England team are frustrated by the attention they're receiving on the streets of New Zealand.
Last Updated: 22/09/11 10:35pm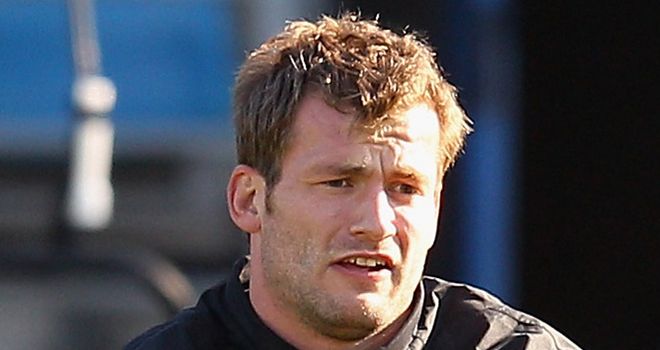 Mark Cueto admits the England team are frustrated by the attention they're receiving on the streets of New Zealand during the World Cup.
Cueto, who has recovered from a back injury to face Romania on Saturday, was also angered by the way a drunken night out involving a number of England players - although not him - ended up being reported around the rugby world.
The Sale wing recently re-Tweeted a message from Rio Ferdinand which read: "Let's try + help/push our England rugby team not ruin them!"
And he claims multi-millionaire Premier League footballers are the only people who truly understand what the team are going through at the World Cup.
Asked if a siege mentality had developed within the squad following the reaction to that now infamous night out, Cueto said: "Maybe a little. You've only got to read some of the things the footballers are writing.
"They seem to be the only people at the minute who sympathise with the position we're in. The reason for that is because they are more used to it than we are.
"On the one hand it's a positive thing because we know how excited people are and how much they expect - but on the other hand it's frustrating.
"Over here it is a massive goldfish bowl and you do get a bit of a feel for what it's like for those Premiership boys in England, when you can't walk the street without people asking for photos and autographs and everything else.
"It is nice - but to be experiencing it every time you walk out the hotel is difficult."
While frustrated by the attention, Cueto would not want to be locked away in a hotel as the England football team were during the 2010 World Cup in South Africa.
And he knows that means accepting the responsibilities that come with the freedom the players want.
Responsibility
"Everywhere you go round here somebody wants an autograph or a picture and everything else - if you don't want that the only thing to do is to stay locked in your room," said Cueto.
"It can become a boring place stuck in your room 24-7.
Cueto's view epitomises the clash of cultures that exists in the modern professional game, and led in part to the issues that followed the Queenstown booze-up.
On the one hand players want to be able to enjoy a night out in the same way as rugby teams have always done - but some players now command a celebrity status which makes that difficult.
Mike Tindall is married to the Queen's grand-daughter Zara Phillips while Ben Foden's partner is Una Healy from The Saturdays, two relationships which transcend rugby.
England manager Martin Johnson has said he would want nothing to do with rugby if the tradition of players mixing and socialising with supporters had to be ended.
But veteran England lock Simon Shaw fears rugby is on an inevitable slide towards players locking themselves away from the supporters.
That said, the issue is magnified in a place like New Zealand where all rugby players are celebrities and Cueto believes there is a better balance back at home.
Balance
"I think the balance we've got in England is pretty good at the minute. You can walk the street and not get noticed," he said.
"We know we are where we are in a World Cup in New Zealand which is the biggest rugby nation in the world. So you've got to accept it to a degree and we know it probably won't be as bad when we get home.
"It's just something you have to deal with."
Cueto missed out on England's patchy victories over Argentina and Georgia but has regained the left wing jersey from Delon Armitage.
England were heavily criticised by Johnson for their performance against Georgia.
Cueto believes that kick up the back-side, combined with the controversy that has been swirling around the camp, will stand them in good stead.
"I think there's a huge amount more to come. With everything that's been going on, it probably has galvanised us a little bit," he said.
"Ultimately we're here to play rugby and win games and that's what we're doing.
"In a crazy sort of way it's quite positive we can be stood here feeling disappointed with how we've played - yet we're two from two with nine points.
"That in itself proves the ambition of everyone within the camp - and the excitement and anticipation of everyone outside the camp."